Suspected Maker Of Hate Film Held For Questioning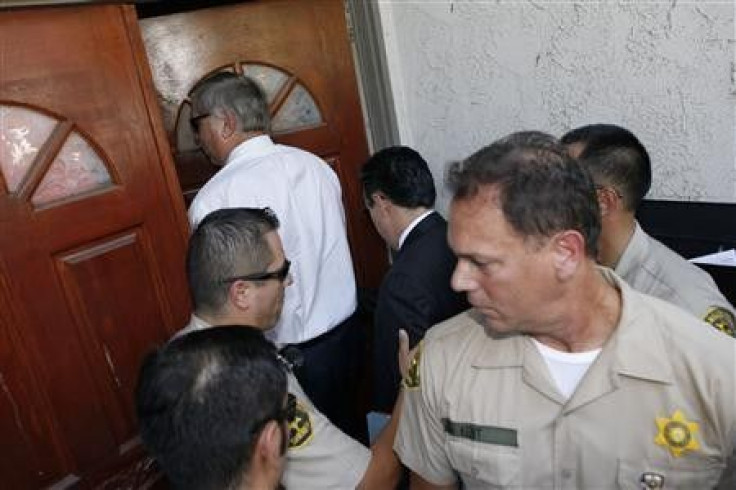 The filmmaker suspected of making the anti-Islamic movie that has set off violent anti-American protests across the Muslim world was taken in for questioning shortly after midnight Saturday by California authorities.
Video from CBS station KCBS in Los Angeles showed Nakoula Basseley Nakoula, 55, with a hat on and towel around his face, and wearing a winter jacket in the summer heat, being escorted from his home in Cerritos by Los Angeles County sheriff's deputies.
Nakoula, a Coptic Christian, is thought to be the filmmaker behind "Innocence of Muslims," whose attacks on the Proophet Muhammad were apparently dubbed onto the footage without the performers' knowledge.
The Sheriff's Department told KCBS it is helping federal authorities with their investigation and questioning Nakoula on a possible violation of his parole terms. He was convicted in 2010 of bank fraud, and was not allowed to use the Internet.
"Nobody is arrested. Nobody is detained. Nobody is in custody," said a sheriff's spokesperson.
Nakoula left his home voluntarily, Los Angeles County Sheriff's spokesman Steve Whitmore told Reuters.
"He will be interviewed by federal probation officers," Whitmore said. He said Nakoula had not been placed under arrest but would not be returning home immediately. "He was never put in handcuffs. ... It was all voluntary."
KCBS reported the probe centers around possible probation violations by Nakoula stemming from the making of the movie, as he was not allowed to use computers or access the Internet as part of his probation.
Nakoula has denied involvement in the film in a phone call to his Coptic bishop, Reuters said.
Two attorneys visited Nakoula's home hours before he was taken in for questioning. They said they were there to consult with him.
The terms of Nakoula's prison release contain behavior stipulations that bar him from accessing the Internet or assuming aliases without the approval of his probation officer.
A senior law enforcement official in Washington has indicated the probation investigation relates to whether he broke one or both of these conditions. Violations could result in him being sent back to prison, court records show.
Clips of the film posted on the Internet since July have been attributed to a man by the name of Sam Bacile, which two people linked to the film have said was likely an alias.
A telephone number said to belong to Bacile, given to Reuters by U.S.-based Coptic Christian activist Morris Sadek who said he had promoted the film, was later traced back to a person who shares the Nakoula residence.
Stan Goldman, a Loyola Law School professor, said whether Nakoula is sent back to jail over potential probation violations linked to the film, such as accessing the Internet, was a subjective decision up to an individual judge.
"Federal judges are gods in their own courtrooms, it varies so much in who they are," he said, noting such a move would be based on his conduct not on the content of the film.
Besides his fraud conviction, Nakoula also pleaded guilty in 1997 to possession with intent to manufacture methamphetamine and was sentenced to a year in jail, said Sandi Gibbons, a spokeswoman for the Los Angeles District Attorney's Office.
© Copyright IBTimes 2023. All rights reserved.