Suu Kyi Proxy A Step Closer To Myanmar Presidency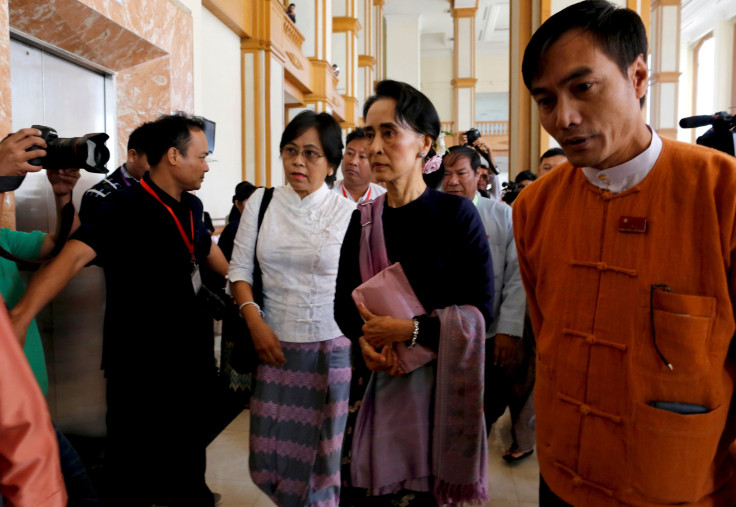 Myanmar's lower house of parliament voted on Friday to confirm a close friend and confidant of Nobel laureate Aung San Suu Kyi as its presidential candidate, bringing the top office a step closer for the man expected to rule as Suu Kyi's proxy.
The vote in the lower house for the presidential nominee was never in doubt as Suu Kyi's National League for Democracy (NLD) holds an outright majority following a crushing electoral win in November. NLD candidate Htin Kyaw received 274 of the 317 votes cast.
A vote by the full parliament next week is also likely to be a formality given the NLD's dominance of both houses, making Suu Kyi's candidate a near certainty to become the head of the country's first democratically elected government since the army seized power in 1962.
Suu Kyi, wearing a blue dress and white sash, was the first NLD lawmaker to vote on Friday. She is barred from holding the presidency herself under a junta-drafted 2008 constitution because her children are not Myanmar citizens.
She has said that she would run the country regardless through a proxy, named on Thursday as Htin Kyaw. He runs a charity founded by Suu Kyi and has been a trusted member of her inner circle since the mid-1990s. He is not a lawmaker, but was in the parliamentary complex when the vote took place.
Under Myanmar's indirect system for electing a president, three candidates are nominated - one by the lower house, one by the upper house, and one by the military bloc in parliament, who under the constitution hold a quarter of seats in both houses.
Both houses will come together to vote in a joint session on March 15, with the winner elected president and the two losing nominees becoming vice presidents.
The NLD holds a comfortable majority in both chambers, so it controls both the lower and upper house nominations.
On Thursday, Suu Kyi's party nominated Henry Van Thio, as its upper house candidate. He is member of the Chin ethnic group from the country's northwest.
The party wants Van Thio to represent Myanmar's myriad ethnic minorities in a national reconciliation government as Suu Kyi seeks to bridge the bitter divisions that are the legacy of nearly 50 years of military rule.
The military has yet to make its nomination public.
The president picks the cabinet that will take over from President Thein Sein's outgoing government on April 1, with the exception of the heads of the home, defense and border security ministries who will be appointed by the armed forces chief.
© Copyright Thomson Reuters 2023. All rights reserved.