Swastikas, Nazi Slogans Daubed On Hundreds Of Jewish Graves In Eastern France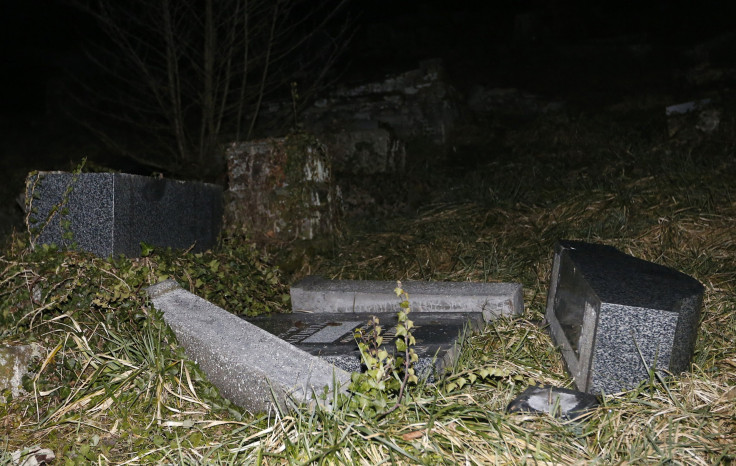 Hundreds of Jewish graves at a cemetery in eastern France were vandalized on Sunday, in what French Prime Minister Manuel Valls called a "vile, anti-Semitic act."
The attack took place at the main Jewish cemetery in Sarre-Union in eastern France, near the German border, where up to 400 gravestones were damaged by being kicked over, with swastikas and Nazi slogans daubed on them in red paint, The Daily Mail reported, citing France's Interior Minister Bernard Cazeneuve.
"This was an odious act against religious freedom and tolerance," Daily Mail quoted Cazeneuve as saying. "France will not tolerate this latest attack which harms the values all French people share … everything will be done to establish the identity of the perpetrators."
The incident this weekend took place amid growing insecurity among French Jews, especially after the killing of four Jewish people when Islamic radicals attacked a kosher market and the office of Charlie Hebdo, a French satirical newspaper, in Paris last month.
Many of the Jewish graves in Sarre-Union were linked with the Second World War Holocaust, when nearly 76,000 French Jews were killed in German concentration camps, according to the Daily Mail.
While Jewish and Muslim graves and places of worship in France have been the targets of frequent vandalism, the latest incident is said to be of a significantly larger scale, The Associated Press (AP) reported, adding that a monument to Holocaust victims was also damaged during the attacks.
"France is determined to fight relentlessly against anti-Semitism and those who want to attack the nation's values," AP quoted French President Francois Hollande as saying.
France, which has Europe's largest Jewish population, also has the most violent anti-Semitic incidents reported in 2013 worldwide, with 40 percent of all crimes in the country directed toward the Jewish community.
According to Natan Sharansky, head of the Jewish Agency for Israel, an estimated 10,000 French Jews moved to Israel in 2015, up from 3,300 in 2013 and 7,000 in 2014, Reuters reported last month.
© Copyright IBTimes 2023. All rights reserved.