Syria Conflict: Turkey Targets ISIS, Plans Safe Zone As Ceasefire Deal Crumbles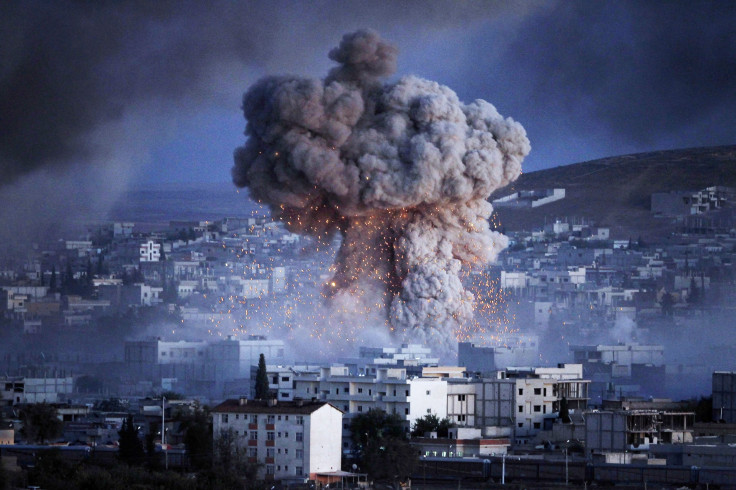 Following the failure of the U.S.-Russia brokered ceasefire deal over the weekend, the Turkish military announced Monday its planes attacked the Islamic State group, also called ISIS, in northern Syria. The airstrikes reportedly hit three targets used by ISIS — a shelter, an ammunition store and the group's military headquarters.
The ceasefire crumbled over the weekend following multiple violations, including a U.S.-led air strike Saturday that resulted in the deaths of over 60 Syrian soldiers. The U.S. military said it believed it was targeting ISIS fighters and offered condolences, saying the airstrikes were a mistake.
Turkey's President Recep Tayyip Erdoğan announced Monday he will discuss the Syrian war at the U.N. General Assembly meeting in New York. Monday's U.N. summit will discuss the large-scale forced displacement of nearly 65.3 million people, focusing on the ongoing war in Syria, and hopes to agree on a deal that could tackle the crisis.
Erdoğan added that Turkey-led coalition forces in northern Syria will go further south once they create a 1,931-square-mile safe zone in war-torn Syria. The proposed safe zone is reportedly 85 times the size of Manhattan and is one of Turkey's largest foreign military interventions in modern history.
Erdoğan claimed that Turkish forces had already rid nearly 347 square miles of Syria of "terrorist groups." The latest offensive will extend nearly 19 miles from the Turkey-Syria border near the ISIS stronghold of al-Bab.
The U.K.-based Syrian Observatory for Human Rights reportedly said four airstrikes had hit Syria's Aleppo city but did not reveal who carried them out. The airstrikes resulted in the death of one woman and injured several others. The monitor added that 10 people, including one child, died when two barrel bombs hit an opposition-held town in Syria's Deraa province.
"Today [Sunday] was the highest death toll since the truce began," the monitor's director Rami Abdel Rahman said.
The ceasefire proposed by Russia and the U.S. last week, which was to hold for seven days, hoped to deliver humanitarian aid to hard-to-reach or besieged areas and to reduce violence. However, many places including Aleppo did not receive aid.
"I am pained and disappointed that a United Nations convoy has yet to cross into Syria from Turkey, and safely reach eastern Aleppo, where up to 275,000 people remain trapped without food, water, proper shelter or medical care," the U.N. Under Secretary General for Humanitarian Affairs Stephen O'Brien said in a statement Monday. "The people of Syria have suffered long enough. Millions of Syrian civilians continue to face horrific deprivation and violence, especially those trapped in besieged and hard-to reach areas."
Washington received flak after its Saturday airstrike, with Russia announcing Sunday that the U.S. action severely compromised the ceasefire. The Russian foreign ministry said the U.S.-led action was "on the boundary between criminal negligence and direct connivance with Islamic State terrorists." Washington "not only turned out to be unable to give an adequate explanation of what happened, but also tried, as is their custom, to turn everything upside down," it said, following an emergency U.N. Security Council meeting held after Saturday's airstrike.
U.S. ambassador to the U.N. Samantha Power said Russia calling for the emergency meeting was a "stunt" that was "uniquely cynical and hypocritical."
"Since 2011, the Assad regime has been intentionally striking civilian targets with horrifying, predictable regularity ... And yet in the face of none of these atrocities has Russia expressed outrage, nor has it demanded investigations, nor has it ever called for a Saturday night emergency consultation in the Security Council," Power said.
U.S. Secretary of State John Kerry reportedly said that unless a seven-day ceasefire was observed in Syria, the U.S. would not collaborate with Russia in targeting ISIS and the Syrian Conquest Front, a former affiliate of al-Qaida that was earlier called the Nusra Front. The military partnership was an important part of last week's ceasefire deal.
Australian Prime Minister Malcolm Turnbull admitted Sunday that Australian warplanes were part of the U.S.-led airstrike and expressed regret for the unintentional loss of life it caused. He reportedly added: "As soon as the coalition commanders were advised by the Russian command in the region that Syrian forces had been affected, that sortie was discontinued."
© Copyright IBTimes 2023. All rights reserved.
FOLLOW MORE IBT NEWS ON THE BELOW CHANNELS