Syria Crisis: About 50,000 People Displaced Amid Surge In Fighting In Aleppo Province, Red Cross Says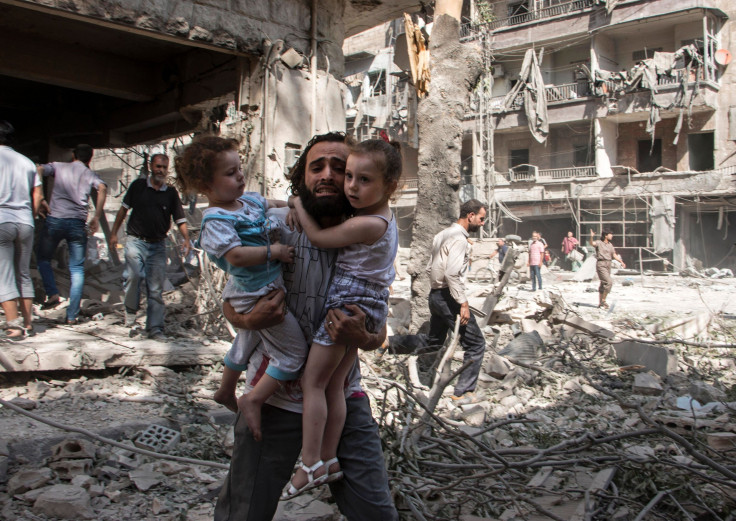 About 50,000 people have been displaced after a surge in fighting in Syria's Aleppo province, the International Committee of the Red Cross (ICRC) said Wednesday. The crisis in northern Syria has escalated after the government began an attempt to recapture Aleppo from rebel factions.
The Swiss-based agency said the humanitarian situation in Aleppo is deteriorating rapidly and has put civilians under "enormous pressure" after supply routes for aid were cut off. The ICRC statement comes just days after the United Nations warned that as many as 300,000 people in eastern Aleppo could be deprived of humanitarian aid if government forces encircled the city.
"The temperatures are extremely low and, without an adequate supply of food, water and shelter, displaced people are trying to survive in very precarious conditions," Marianne Gasser, head of the ICRC in Syria, said in a statement.
In the past few days, ICRC has delivered food for 10,000 families and water for about 10,000 people, mainly in northern Aleppo province, the agency said.
"The situation is extremely difficult for tens of thousands of people because of the upsurge in violence. The situation was already desperate for many people before this latest violence," Gasser said. "It is difficult to access many areas because of the fighting. But, working with the SARC (Syrian Arab Red Crescent) and local authorities and groups, we will continue to do our best and deliver more aid in the coming days."
Meanwhile, the U.N. Security Council once again urged Russia Wednesday to stop carrying out airstrikes in support of its ally, Syrian President Bashar Assad. The appeals came ahead of Thursday's meeting between key parties in Munich, Germany, aimed at restarting the U.N.-brokered peace talks, which fell apart in Geneva a week ago.
"The [Syrian] regime and its allies cannot pretend they are extending a hand to the opposition while with their other hand they are trying to destroy them," François Delattre, France's U.N. ambassador, said, according to BBC.
Vitaly Churkin, Russian ambassador to the U.N., reportedly said that his country would not be "apologetic" for its actions in Syria. He also accused other Security Council members of exploiting the humanitarian situation for their own political gain.
Russia has claimed that its airstrikes in Syria are aimed at destroying terrorist strongholds, including that of the Islamic State group. However, several Western countries believe that Russia's offensive in Syria is aimed at eliminating opposition groups fighting Assad's regime.
Bouthaina Shaaban, a top adviser to Assad, said Wednesday that the regime, backed by Iranian ground troops and Russian airstrikes, was trying to "liberate cities and villages that were controlled by the terrorists."
Earlier this month, the Assad regime began a massive operation in Aleppo, with Russian planes dropping bombs on the province's central and northern suburbs. The Syrian Observatory for Human Rights said 506 people had died since the regime launched the offensive on Feb. 1.
About 4.6 million people have reportedly fled Syria since the civil war began in 2011. Another 13.5 million are said to be in need of humanitarian assistance inside the country as tensions escalate.
To Syria's north, Turkey is currently facing immense pressure from the European Union to take in up to 35,000 Syrians who are stranded near the border while trying to escape the violence in Aleppo. Turkey's Deputy Prime Minister Numan Kurtulmuş said Sunday that the country now has a total of 3 million refugees, including 2.5 million Syrians.
© Copyright IBTimes 2023. All rights reserved.