Syrian Explosion Leaves 25 Dead in Damascus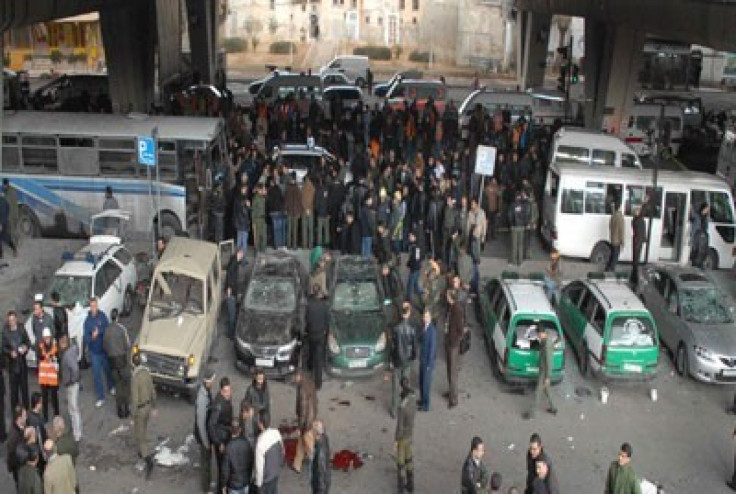 The second suicide attack in two weeks killed up to 25 people as an explosion rocked a busy intersection in Damascus Syria, Friday. The explosion hit a police bus, which was left with blood splattered on the seats, pooling onto the asphalt.
Mohammed Shaar, Interior Minister of Damascus, said in a statement that a suicide bomber detonated himself with the aim of killing the largest number of people.
According to The Associated Press, Syrian television showed paramedics carrying human remains. The explosion left blood and flesh in the streets, according to an AP reporter on the scene.
The attack comes two weeks after twin bombers targeted intelligence agencies, killing 44 people. According to the United Nations, more than 5,000 people have died in Syria since the uprising began. On Dec. 27, the Arab League sent observers to Syria to oversee Syria's compliance with a peace deal drafted by the league. However, in the time the observers have been there, more than 400 people have been killed, according to Syrian activists.
The government opposition doesn't believe that terrorists are behind the attacks, according to the AP. They reported that some have alleged that the Syrian government themselves are behind that attack - using them as a way to undermine the opposition's support and portray them as radicals. The government on the other hand, has said they consider the uprising the work of terrorists, not of the people.
It is a continuation of the regime's dirty game as it tries to divert attention from massive protests, Omar Idilbi, a Syrian resident, told the AP. We call upon for an independent international committee to investigate these crimes that we believe that the regime planned and carried out.
No group has taken responsibility for the attacks yet, though Air force Col. Riad al-Asaad, leader of the main armed group fighting the regime, denied responsibility in an Al-Jazeera interview. He said his organization doesn't have the experience to carry out such explosions and said the regime is the plotter for this attack..
© Copyright IBTimes 2023. All rights reserved.
FOLLOW MORE IBT NEWS ON THE BELOW CHANNELS