Syrian Forces Kill 40 Protesters Seeking Protection [PHOTOS]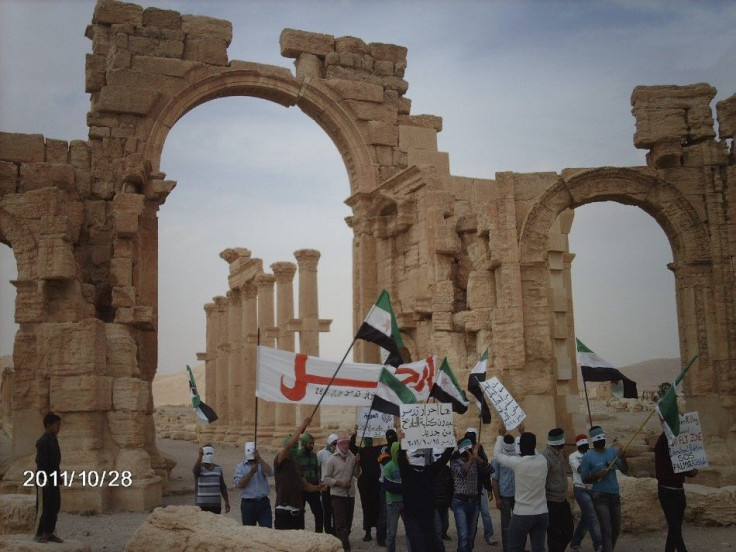 Syrian forces shot dead at least 40 civilians Friday when they fired on demonstrators demanding international protection from President Bashar al-Assad's crackdown on pro-democracy protests.
Many protesters were wounded and hundreds arrested in one of the bloodiest days in seven months of protests demanding an end to 41 years of Assad family rule, according to Reuters. Most of Friday's killings occurred in the central cities of Hama, where Assad sent tanks and troops to crush large demonstrations three months ago, and Homs, a center of protests and increasingly armed opposition to his autocratic rule.
Syria's opposition National Council has called for international protection. It has not explicitly requested military intervention, although street protesters have increasingly voiced that demand.
The anti-Assad protesters have been energized by the death of Libyan strongman Moammar Gadhafi last week. The demonstrations have spread to the countryside since tanks stormed several cities three months ago, forcing protesters to change their tactics of assembling in main squares and large, open spaces.
Syria, a nation of 20 million people, the majority of whom are Sunni Muslims, is dominated by Assad's minority Alawite sect -- an offshoot of Shiite Islam.
Assad held an inconclusive meeting on Wednesday with Arab ministers seeking to end the bloodshed by mediating a dialogue between him and his opponents and pushing for political reforms, Reuters reported.
Syria has barred most foreign media, making it difficult to verify reports from activists and authorities, who blame foreign-backed armed groups for the violence.
© Copyright IBTimes 2023. All rights reserved.