Thailand to Suffer 'Sizeable' Economic Impact from Floods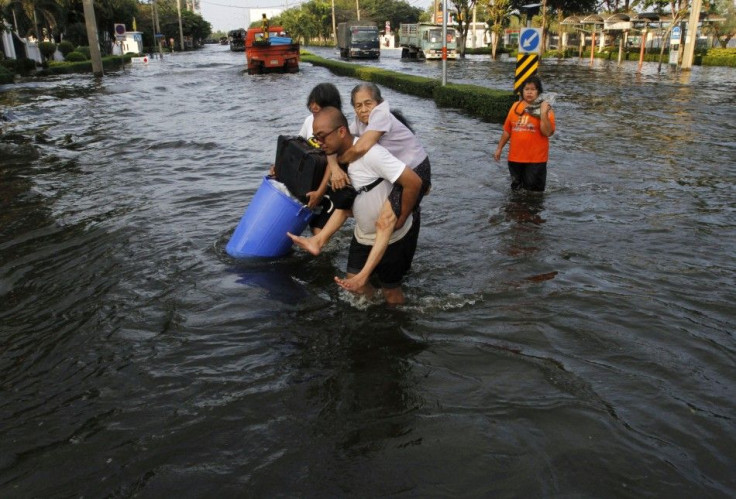 Tens of thousands of people have fled the capital of Thailand, Bangkok, by truck, boats, and trains, as floodwaters descend upon the metropolis of 12 million people, with severe flooding expected over the weekend.
Some parts north of the city are reportedly 90 percent submerged underwater already – residents in these have already largely evacuated.
Bangkok's Governor Sukhumbhand Paribatra has already ordered the evacuation of Don Muang, Bang Phlad and Thawi Wattana districts, which are just north of the city.
This is the first time I am using the term 'evacuation', the first time I'm really asking you to leave, he stated.
The floods, which actually started in July following unusually heavy monsoon rains, have thus far claimed at least 373 lives and are the worst such calamity in the nation in five decades.
About one-third of the country has been inundated by the massive flooding.
Prime Minister Yingluck Shinawatra, who took office in August, warned the Thai public: It's a crisis, because if we try to resist this massive amount of floodwater, a force of nature, we won't win. But if we allow it to flow freely then people in many areas are prepared.
She further warned that flooding could linger in Bangkok for up to a month.
Thai officials have declared a holiday that will extend through Monday in Bangkok and about 20 other provinces that have been hit hard by flooding.
Rachel Harvey, a BBC correspondent in Bangkok, wrote: "Those who can, appear to be heeding the advice to get out of Bangkok, at least for the next few days. Many major roads leading north -- towards the areas worst affected by the flooding -- are largely impassable. Those leading south and east are reported to be clogged with traffic, made worse by the number of cars that have been parked on elevated sections of roads to save them from the approaching waters."
As Thailand copes with the flooding, the country's economy is sure to be negatively affected by the rising water levels.
IHS Global Insight of London has downgraded its forecast for Thailand's economic growth this year to 2.5 percent from 3.7 percent.
"The situation has been worsened by the inability of several large dams to cope with excess water, triggering emergency releases," IHS said in a report.
"Some 700,000 homes have been destroyed or severely damaged."
IHS indicated that the floods have caused serious damage to Thailand's principal rice-producing areas and several key industrial areas, which are "home to a large number of international auto component suppliers and other export-oriented factories. Many have been forced to halt their production."
IHS warns that the economic impact on the economy will be "sizeable" -- given that all economic sectors, ranging from agriculture to industry to services, have been affected.
"Regarding the automotive sector, apart from the impact at the local level, the floods are likely to have a harmful effect on the supply chains of automakers in other countries since Thailand is one of the biggest manufacturing hubs in Southeast Asia for a number of suppliers," the economic group stated.
"With the flooding expected to continue until late November, the number of casualties and the economic costs are likely to rise further."
Last week, the Bank of Thailand warmed that the floods will "substantially curtail economic growth" for the rest of this year.
© Copyright IBTimes 2023. All rights reserved.