Syrian Rebels Covet Missiles To Take Down Assad's Air Power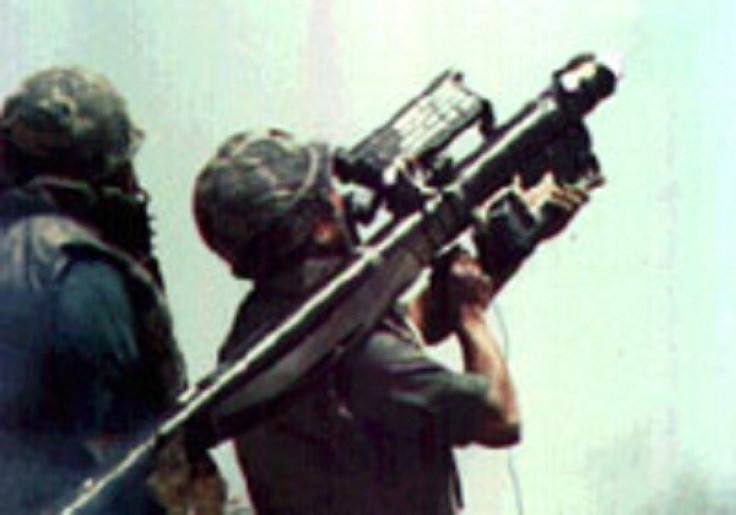 A soldier readying a Stinger missile, a "light-weight" air defense missile system. Photo: Rokestan
Speculation abounds that Syrian rebels may now be getting access to portable surface to air missiles, possibly through the black market for arms or, if the rumors are to be believed, even delivered by Western or allied intelligence operatives.
MANPADS or "man-portable air defense systems" are small missiles that can hit at a range between two and a half to three and a half miles. The Stinger, a U.S.-designed MANPAD produced since 1981, measures only 5 feet long, weighing a scant 33 pounds. That makes it easy to carry and hide on battlefields, easy to operate, and a dread to helicopter pilots, low-flying fighter pilots, and civilian aircraft.
Stingers were delivered by the CIA to the Afghan Mujahideen in the 1980s in an effort to assist them in shooting down helicopter gunships and planes flown by occupying Soviet forces. The strategy worked: Stingers are often cited by defense experts as having a major effect on making the conflict much more costly for the USSR, which eventually withdrew in disgrace in 1989.
Libya possessed thousands of MANPADS before NATO bombings on the country began in March of 2011, many of which are now unaccounted for and missing.
Analysts are concerned that the flow of the highly effective weapons into Syria could also increase the potential that they would fall into the hands of jihadists or terrorists now thought to be operating or infiltrating the country. Those weapons could then be transported out of Syria, eventually moving elsewhere around the world through murky networks, until finally used in terror strikes against civilian airports.
Al-Arabiya, the popular Saudi-funded pan-Arab news network, noted last Friday that anonymous sources in the Syrian opposition had said they were now in possession of limited numbers of Stingers. Fourteen Stinger missiles may have been delivered across the Turkish border to the Free Syrian Army (FSA) last week.
Financing for the weapons is speculated to have come from Saudi Arabia, though it is unknown whether they were delivered by private arms dealers or foreign governments. Rokestan, a Turkish defense contractor, makes the weapon locally under license from the original U.S. developer, Raytheon.
The UK's Daily Mirror, a tabloid newspaper, has thrown caution to the wind, and claims the weapons directly came from the CIA.
The use of small surface to air missiles by the FSA could increase the risk to Syrian government pilots, helping the rebels make their bombings and strikes against civilian and opposition targets dangerous enough to make the regime reconsider them.
Last Friday, Malik al-Kurdi, the FSA deputy commander, flatly denied possession of Stingers by his group in an interview with Al-Jazeera, but hinted that he would like to have some.
"We're using these anti-aircraft guns to force their planes to fly higher so they can't hit their targets so accurately. If we had those missiles, we'd use them straight away," said Al-Kurdi. He added, "We don't have Stingers. But if we could shoot down their planes, the regime would have to stop using them."
Getting the weapons into the hands of the FSA or to the Syrian border may be the easier part -- tracking them afterwards through the chaos of war may be next to impossible.
Stingers in the hands of the Afghan mujahideen. Photo: Reuters
Voice of America News, the external broadcasting news agency for the U.S. government, quoted Syrian opposition activist "Tony" Al-Taieb in Aleppo as saying that the FSA now considers acquiring MANPADS a major objective.
A military jet shot down last week in Deir el-Zour province, thought to be a Soviet-made MiG-21 or MiG-23 fighter, was claimed by rebels to have been brought down with light anti-aircraft cannon. A low-flying jet on strafing or bombing runs can in fact be damaged or even shot down by machine guns, but MANPADS would prove far more deadly and accurate. The Syrian government says the jet was experiencing "technical difficulties".
The U.S. State Department noted last Thursday that it remained deeply concerned about terrorists entering Syria, saying that "extremist terrorist elements - al-Qaida elements - may be trying to take advantage of the lack of governance, of the chaos, of the violence in Syria for their own agenda."
"We are, in our work with the Syrian opposition, making clear that they need to take a strong stand, not collaborate with these kinds of extremists, speak against violence, and that they must defend the rights and protect the freedoms of all Syrians under their care. We make that point in all of our conversations with Syrian opposition members."
© Copyright IBTimes 2023. All rights reserved.