Syrian Rebels Say US Train And Equip Program Lacks Clarity, Support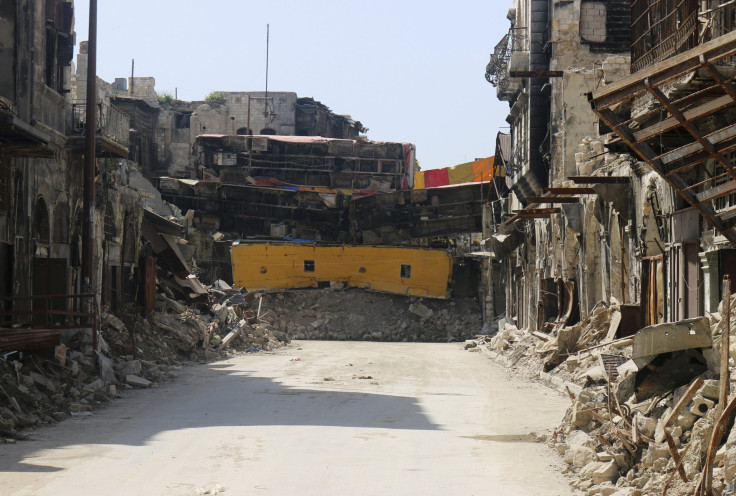 ISTANBUL -- On paper, the American program launched in Turkey this week to train and arm moderate Syrian rebels in a campaign to eradicate the Islamic State group presents a clear path toward a well-defined goal. If all goes according to plan, the militant group -- also known as ISIS or ISIL -- will be contained and eventually defeated by forces other than those bent on unleashing violence against the United States, Europe and their allies.
But where paper gives way to the battlefield, matters get tricky. As the United States began to deliver the weapons -- planes landed on Friday at military bases in central and eastern Turkey with the first shipments -- the moderate rebels who were supposed to be on the receiving end were in conspicuously short supply. And Turkey is at best a reluctant ally for the U.S.-led coalition, experts say, focusing more on ousting Syrian President Bashar Assad than on ridding the Middle East of ISIS.
"One would expect Turkey to be fully aligned with the anti-ISIS coalition," Marc Pierini, a former European Union ambassador to Turkey and Syria, said. "But it is not. It is putting emphasis on getting the Assad regime out rather than fighting ISIS like the coalition wants. And there is some ideological sympathy in the Turkish electorate toward the anti-West narrative."
'We Had Many Questions'
The Syrian rebels themselves express skepticism about the American commitment to their cause. In fact, some of the rebels first approached by the U.S. Department of Defense several months ago refused to take part in the program, citing a lack of clarity in the program's mission and command structure.
"We refused to be part of this plan even though we were approached by the Pentagon team. We had many questions about who would be in charge," said Oussama Abu Zayd, a military and legal adviser for several of the rebel groups in Aleppo, Syria, that were once affiliated with moderate leaders, but have since dissolved because of a lack of funding and weapons. "We didn't want any part of the program."
For Washington, the train-and-supply program was supposed to fight extremism with moderates and defeat not just the Islamic State group, but also the local al Qaeda affiliate, Jabhat al-Nusra. But rebels say that plan is unworkable.
"The Pentagon team only wants to fight ISIS. The team of fighters it recruited has been instructed not to fight the regime," Abu Zayd said. "Now the rebels that are best at fighting ISIS and are fighting ISIS every day do not want to be a part of the program. If the program doesn't include these groups, it is not a good plan."
Abu Zayd is part of a coalition of Syrian rebel groups that were once backed by the CIA, but have largely dissolved. The Pentagon's program was originally supposed to target those groups, but their members have folded into more extremist groups like al-Nusra itself and Ahrar al Sham -- an Islamist faction that now controls much of Idlib and the areas around Aleppo.
In short, experts say, any arms injected into the area by the United States would likely wind up in the hands of the extremists. In northwestern Syria, extremists groups already wield such authority that they are establishing government institutions while distributing food to local people.
Rebels in Aleppo told International Business Times that the U.S. and Turkey are arming groups that include some of the Islamist fighters now prevailing in the north of the country, including factions within Ahrar al Sham, which enjoys the backing of Turkey and Qatar.
The U.S. Defense Department and the Turkish prime minister's office both declined to identify which groups are receiving their arms and support.
"We are only accepting candidates from recognized groups," Pentagon spokeswoman Elissa Smith said, declining to name any recipients. "We define recognized groups as groups that have a hierarchical structure, a recognized tribal and geographical affiliation and that are easily identifiable with regard to their allegiance, beliefs, ideological spectrum and organizational scope."
Shifting Alliances
But those kinds of rebel groups no longer exist in northern Syria, said Syrian activists living in Turkey who requested anonymity. Several groups, including Ahrar al Sham, are attempting to combine forces with other rebel groups to consolidate power in the region, but there are still shifting alliances, those activists said. Rebels will also move from group to group depending on salary, fighters in Ahrar al Sham said.
For the Americans, those shifting alliances are making it difficult to vet would-be program participants: How to separate the moderates from the extremists is simpler on paper than in practice.
According to Abu Zayd, and several other rebel commanders who requested anonymity for security purposes, the Pentagon is working with the Turkish government to recruit fighters from camps near the Bab al Hawa border crossing into Syria, which is controlled by extremist groups. Those so-called "military camps" aren't regular refugee camps; the Turkish government allows only Syrian fighters and their families there. The camps were established by Turkey at the beginning of the civil war in 2011, and the government provides militants living there with Internet access, food and medical services -- and a place where it can also control their activities.
"The Pentagon team came to Turkey to meet with these fighters in the military camps and moved them to bases to train them about 20 days ago," Abu Zayd said. "It was all very secret. These fighters didn't tell anyone that they had been recruited. None of the armed opposition groups in the northern part of the country trust this group of men."
Smith, the Pentagon spokeswoman, said that more than 3,750 Syrians have volunteered for the train-and-equip program, but only about 400 have passed the initial stages of vetting. All of them have been approved by Turkey as well as by the U.S.
Turkey is supposed to be a key player, but although the Turkish government has claimed that it has cracked down on foreign fighters trying to cross into Syria, Syrian rebels affiliated with the now-defunct moderate groups said Turkey is in fact sending weapons and ammunition to groups like Ahrar al Sham.
Looking The Other Way
Turkey is still sometimes looking the other way when foreign fighters cross into Syria and join ISIS, Pierini said. "Fighters are still able to get through the border. Things have improved somewhat, but there are still many issues. And there are suspicions that there were weapons transfers at the border." This week, the New York Times reported that a truck filled with fertilizer that can be used to make explosives passed through the border into Syria.
The lack of cooperation from Turkey has not only frustrated European countries, Pierini said, but it has also made the U.S. skeptical of its role in Syria.
That uncertainty, though, has been cast aside for now because of necessity, and the U.S. strategy in Syria relies on Turkey more than ever -- not only for locations to train rebels, but also to track foreign fighters flowing through its borders and share intelligence with the rest of the coalition.
The strained alliance between the U.S. and Turkey underscores the uneasiness that rebels in the northern part of the country say they feel about the new train-and-equip program. Four rebel commanders said in interviews that they do not want to be a part of a mission that fails, like the CIA-led program to assist the disbanded, moderate Free Syrian Army did. They said they do not trust that this U.S. mission will be any different than the last, one that promised weapons that were then never delivered in full.
And, they added, the mission focuses on only one of Syria's two biggest problems.
"This training makes the situation in the north more complicated because this group who is trained by the U.S. and is going to go inside to fight is only going to take on ISIS," Abu Zayd said. "In Syria we have two enemies, ISIS and President Bashar Assad. We can't be part of a plan that doesn't include fighting Assad. We are revolutionaries. Our revolution is against the Assad regime."
© Copyright IBTimes 2023. All rights reserved.