Taiwan A 'Chess Piece'? Southeast Asian Nations Hesitant To Take Sides As US-China Animus Escalates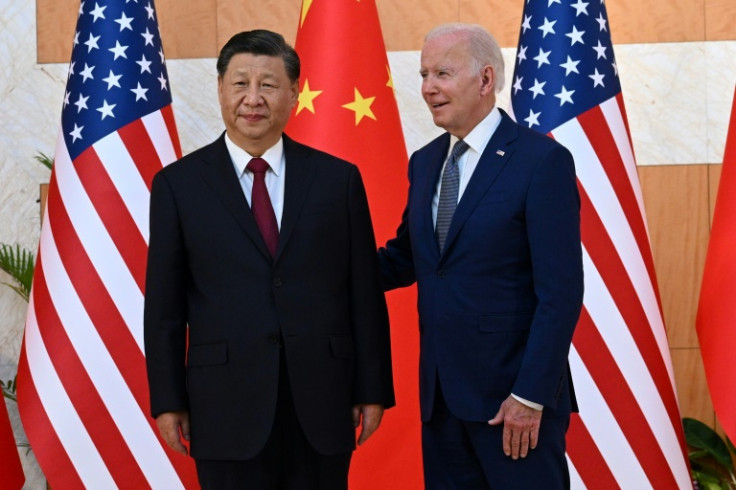 KEY POINTS
Singaporeans prefer peace on all sides: RSIS' Benjamin Ho
Vietnam 'sympathetic' toward Taiwan, but will avoid taking sides: ANU's Hunter Marston
Cambodia likely doesn't have a 'desire' to get involved: KAS Cambodia's Chayyheng Soth
Thailand more concerned about internal regional conflicts: ISIS Thailand's Thitinan Pongsudhirak
As Washington and Beijing go down a path of escalation over Taiwan, Southeast Asian nations -- which cannot escape the fallout of any hostilities -- are still reluctant to take sides.
Former Singapore foreign minister George Yeo said earlier this week that "Taiwan is only a piece on the chessboard" and the self-governing island can't decide on its own "the issue of war and peace." Instead, it's the relationship between the U.S. and China that will decide the fate of the island.
China considers Taiwan, a democratic island that it has never ruled, as its terrirotry. The United States recognizes the position held by Beijing that there is only one China and Taiwan is an inalienable part of China; Washington officially does not support Taiwan's independence.
Yeo's comments came on the heels of China's criticism of the U.S.-Taiwan Initiative on 21st-Century Trade First Agreement Implementation Act, which seeks to bolster trade between the two sides.
"China strongly opposes official interaction of any form between China's Taiwan region and countries that have diplomatic relations with China," the Chinese foreign ministry spokesperson said in a statement.
Beijing also criticized Taiwanese vice president Lai Ching-te's "stopover" in the U.S. during his Paraguay trip earlier last month. "Lai Ching-te clings stubbornly to the separatist position for 'Taiwan independence.' He is a troublemaker through and through," the Chinese foreign ministry said at the time, adding that it "firmly" opposes Washington's arrangement of the stopover.
As Taiwan is caught in the middle of great power competition between Washington and Beijing, the other countries in the region, especially Southeast Asia, have been reluctant to take sides.
Singapore
Benjamin Ho, assistant professor and coordinator of the China Program at the Institute of Defense and Strategic Studies, S. Rajaratnam School of International Studies (RSIS) in Singapore, told International Business Times that he agrees with Yeo on Taiwan being a chess piece. However, "it's a chess piece with significant value – certainly not a mere 'pawn,'" Ho argued.
Ho asserted that the both the U.S. and China won't go to war "because or on behalf of Taiwan." Still, Taiwan is a matter of "great national interest" for Beijing, while for Washington, losing Taiwan will deal a significant blow to its primacy in Asia.
Singapore is watching from the sidelines and, in general, the Singaporean public is "happy with Taiwan the way things are," Ho said. He said Singaporeans prefer that all sides be on peaceful terms, especially since the city-state's interests are best served if relations between Washington and Beijing are good. "It's better to continue to maintain good ties with both countries and not try to push the Taiwan issue."
Singaporean Prime Minister Lee Hsien Loong said in April that Singapore "rigorously upholds our 'One China' policy," adding that the West is embracing an "alternative" narrative and the difference in views is causing concern.
Vietnam
Earlier this month, Vietnam reaffirmed its commitment to the "One China" policy, telling Beijing that it will not engage in official contact with Taiwan, as per a press release from the Chinese foreign ministry.
Hunter Marston, Southeast Asia competition expert at the Australian National University's (ANU) Department of International Relations, told IBT that Yeo "correctly diagnoses" the root cause of the Taiwan Strait conflict is more likely the two economic giants "overreaching," instead of Taiwan upsetting the status-quo by declaring independence.
But in Vietnam, there could be avoidance in taking a public position should further conflict arise. The Vietnamese government, like other Southeast Asian nations, prioritizes positive ties with Beijing.
Marston said that while many Vietnamese may be "sympathetic" toward Taiwan's autonomy struggles, the country doesn't necessarily see the issue as one of "democracy versus authoritarianism as Washington tends to" paint it.
Cambodia
Earlier this year, Cambodia reaffirmed its support for the "One China" policy, saying Taiwan was "an inalienable part of China's territory as well as China's internal affair." As with Vietnam, the Cambodian government said it will not forge any official relations with the island.
Chhayheng Soth, program manager for Foreign Affairs at think tank Konrad-Adenauer-Stiftung's (KAS) Cambodia office, told IBT that based on his personal observations, a majority of Cambodians either have neutral views on Taiwan or support their government's stance.
Soth noted that Cambodia, being a small nation, "could hardly find any desire, relevance and capability to play a substantial role in this issue." On the other hand, the country has advocated for a rules-based international order and prefers dialogue to resolve conflicts in the region.
Thailand
Last year, Thailand reaffirmed its support to the One China policy. It also called for "utmost restraint" from all sides involved in the conflict and to resolve differences through peaceful means.
Thitinan Pongsudhirak, a Thai political scientist, senior fellow at the Institute of Security and International Studies and professor of political science and international relations at the Chulalongkorn University sees Taiwan as a "combustible" issue. He told IBT that Taiwan can be a "potential catalyst for war" due to the power-grab antics by the U.S. and China. He was concerned about what he called the self-fulfilling goals of Washington, and of Beijing's narrative that the West is trying to contain it and prevent its rise. But he said Taiwan was still "peripheral" in Thailand.
He said the Thai people were indeed concerned "but nowhere near how Washington sees it." Thailand is still pretty much more worried about internal conflicts in Southeast Asia, such as the Myanmar crisis.
"There is a lot of warmongering disconnect in Washington and to a lesser extent in Beijing that much of Southeast Asia does not share," Pongsudhirak said.
Southeast Asian Divide
Internal conflict remains the greatest threat to Southeast Asian unity, wrote Joseph Liow, dean and Tan Kah Kee chair professor of comparative and international politics at the College of Humanities, Arts, and Social Sciences in Nanyang Technological University. In addition to the Myanmar crisis to which Thailand has adopted an "accommodative posture," there's also the matter of territorial dispute between the Philippines and Malaysia.
Some Southeast Asia analysts believe that should hostilities occur in the Taiwan Strait, Southeast Asian nations will be in a dilemma, especially as they are well aware they won't be "insulated from the fallout of a Taiwan conflict." Destabilization is the biggest fear in Southeast Asia, especially since Taiwan plays a major role in regional supply chains, is home to the world's biggest chipmaker, and is strategically placed in terms of transport and communication.
The stakes are much higher for Southeast Asia in the event of armed conflict involving Taiwan, compared to Russia's war in Ukraine. Yet, the region has "limited" space in responding to the tensions and analysts believe Southeast Asian nations will try to stay as neutral as possible as they protect their own interests.
© Copyright IBTimes 2023. All rights reserved.