Taiwan Earthquake: Videos, Photos Of Destruction In Hualien
A 6.4 magnitude earthquake in Hualien, Taiwan, claimed the lives of at least four people, as more than 140 others went missing on Tuesday night.
According to the Central Emergency Operations Center, at least 241 civilians were reported injured, with more than 20 of them in a critical condition, following the earthquake that originated 5.9 miles deep and around 13 miles from the city of Hualien, a little before midnight, ABC News reported.
There was also structural damage throughout the city. Four buildings collapsed and two bridges were closed down. Firefighters and emergency rescue teams were seen pulling people out of buildings which were vicariously tilting sideways after disaster struck the famous tourist destination.
Here are some videos and photos posted on social media showing the aftermath of the earthquake:
First responders focused their energies on getting civilians safely out of the Marshal Hotel and the Yun Tsui residential building, the latter housing a restaurant, shops and a hostel. As of 2 p.m. local time (1 a.m. EST), the national fire department told AFP that 88 occupants of the buildings were unaccounted for, although it was not clear as to how many people remained trapped inside still.
A local resident described how the ground floor of the Yun Tsui caved in, causing it to tilt sideways. "I saw the first floor sink into the ground. Then it sank and tilted further and the fourth floor became the first floor," said Lu Chih-son, 35, adding that he saw 20 people being rescued from the partially collapsed building.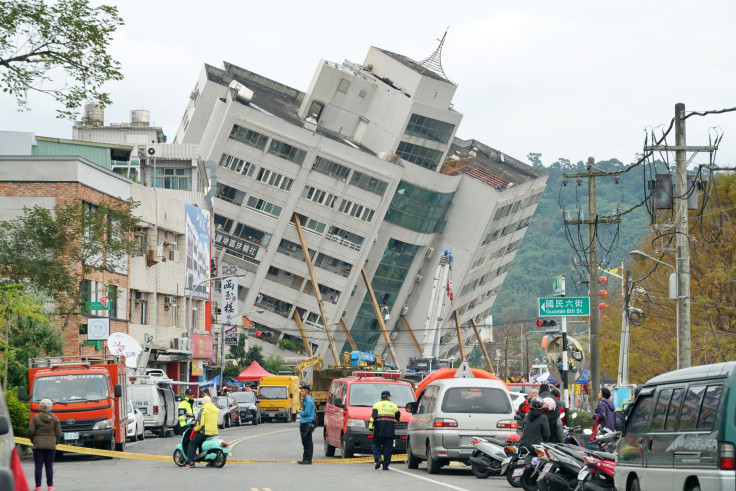 "My family were unhurt but a neighbor was injured in their head and is bleeding. We dare not go back home now. There are many aftershocks and we are worried the house is damaged," he told AFP.
Chen Chih-wei, 80, who lived on the top floor of the Yun Tsui, also recounted his experience of the being thrust from a sleeping to a standing position all of sudden at night. "My bed turned completely vertical. I was sleeping and suddenly I was standing," he said. Chen crawled to a nearby window and waited for the emergency services to rescue him from his apartment.
Around 830 survivors had been taken to various shelters around the city, while 1,900 houses remain without power.
© Copyright IBTimes 2023. All rights reserved.