Taiwan Gas Leak Explosions Kill At Least 25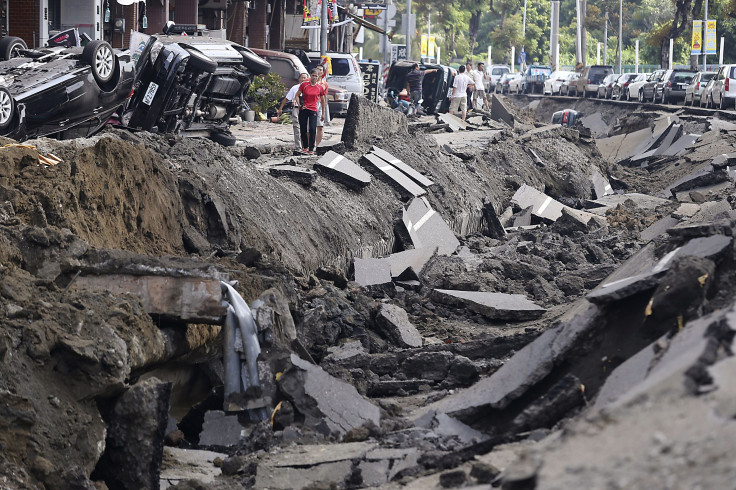 Update as of 3:13 a.m. EDT: At least 25 people have been killed in a series of massive explosions triggered by a gas leak, Reuters reported, adding that the blasts set entire city blocks on fire, and leveled buildings and shops in the the port city of Kaohsiung in southern Taiwan.
Update as of 12:38 a.m. EDT: The death toll from the underground explosions that struck Taiwan's second-largest city has risen to 24, Associated Press reported Friday, adding that 271 people have reportedly been injured. The dead include four firefighters who had reportedly been called to investigate a gas leak in the area.
The multiple explosions sent cars and concrete flying through a thickly populated area of Kaohsiung where gas pipelines run parallel to underground sewage pipes, the report added.
At least 22 people are dead and another 270 are injured after a series of explosions were triggered by underground gas leaks in Kaohsiung, a city in southern Taiwan, the state-run news agency CNA reported, according to CNN. The death toll was likely to rise further, the Kaohsiung government said.
The blasts ignited enormous fires and left cars overturned and destroyed, Reuters reported. Reuters photographs showed utter devastation.
Firefighters from nearby cities helped battle the flames in Kaohsiung, CNA said, and the government called upon hundreds of soldiers to help with rescue efforts.
According to Reuters, smoke with a "gas-like smell" was seen emanating from streets drains prior to the explosions, Formosa TV and the China Times newspaper reported.
To pull the injured from a deep crater in the road, rescuers formed a chain, according to Reuters. Local media said some people compared the situation to being hit by a massive earthquake.
The Kaohsiung government has set up an emergency center.
© Copyright IBTimes 2023. All rights reserved.