Taiwanese Rally For Same-Sex Marriage In Wake Of US Supreme Court Decision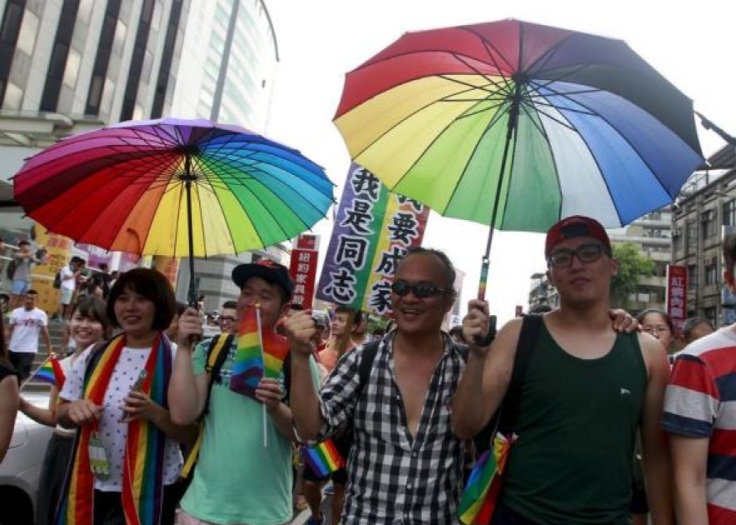 TAIPEI, Taiwan -- Thousands of gay-rights supporters marched through Taipei Saturday, months ahead of elections that are likely to usher in a pro-gay party and could make Taiwan the first place in Asia to legalize same-sex marriage. Demonstrators waved rainbow flags, lit candles and shouted, "Gay votes are still votes," as they marched between parliament and the headquarters of Taiwan's two main political parties.
The recent U.S. Supreme Court decision legalizing gay marriage has given a renewed push to the movement in Taiwan, where a marriage bill has been held up in parliament ahead of January elections.
"Taiwan society has reached the point of acceptance of gay marriage," said protester Rafael Tsai. "It's a shame our politicians don't seem to be on the same level as the people."
Taiwan is one of Asia's most gay-friendly places, boasting a vibrant social scene and little overt discrimination. Polls show a majority in favor of gay marriage, and a recent study commissioned by the country's Ministry of Justice advocated legalization.
There is no formal recognition of same-sex couples, however, and many young people are still reluctant to come out to their parents.
"There's a huge generational split on the issue," said Mei-Nu Yu, main author of the stalled marriage bill. "The opponents mostly come from the older generation, who also happen to be the most heavily represented among lawmakers."
Yu's opposition Democratic Progressive Party (DPP) supports gay causes more than the ruling Nationalist party, whose fortunes have been in steep decline, particularly among young people who accuse it of cozying up to China.
The marriage push in proudly democratic Taiwan has not elicited a response from the mainland, which views the island as a renegade province and has not ruled out the use of force to bring it under its control.
Large Chinese cities have thriving gay cultures, and there is public discussion of gay rights. However, the government has detained activists as part of a broader crackdown on civil society, and there is little chance of legalizing gay marriage anytime soon.
Representatives of both the Nationalist party and DPP came out to address the marchers and voiced their support. But activists lamented the reticence among the overall Taiwanese political establishment to touch the issue.
"It's becoming a bigger electoral cause for voters," said rally organizer Victoria Hsu. "Young people in particular are fed up with politicians' silence."
(Reporting by Michael Gold; Editing by Robin Pomeroy)
© Copyright Thomson Reuters 2023. All rights reserved.