Taiwan's Former President Chen Shui-Bian Released From Prison On Medical Parole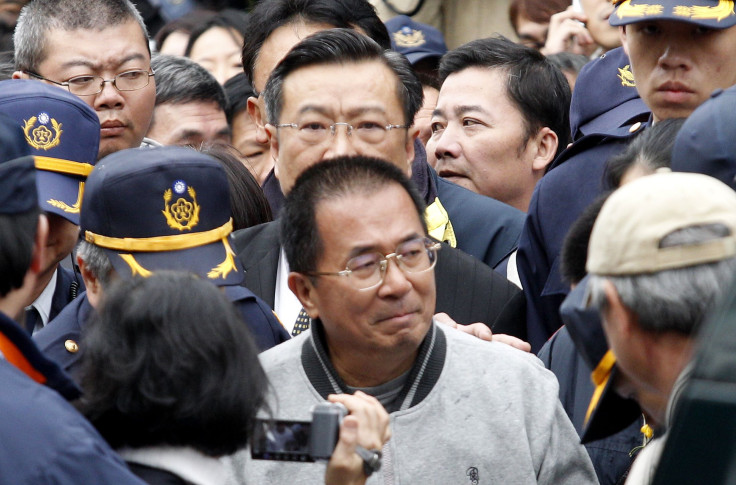 Taiwan's former President Chen Shui-bian was released from jail on Monday after he was granted a one-month medical parole, officials said, according to media reports. Chen had served six years of his 20-year sentence for money laundering and accepting bribes.
A panel of medical experts had recommended that Chen's health problems could be treated in a better manner at home, according to New York Times. The justice ministry, which acted on the recommendation, said that it will decide if the parole needs to be extended at the end of each month, BBC reported. The former president reportedly suffers from neural degeneration, depression, brain atrophy and Parkinsonism. People who have visited him in the jail reportedly said that his condition has worsened noticeably over the years. He reportedly also attempted suicide in 2013.
"It is believed that only on medical parole can his life and health be ensured, and the degeneration be prevented from worsening," the ministry said, according to The Associated Press.
Chen was prosecuted in 2008 after he left office and was convicted in September 2009 for taking over $12 million in embezzlement and bribery. He was initially sentenced to life in prison, which was later reduced to a 20-year prison term. His wife, Wu Shu-chen, was also convicted of corruption charges and granted a medical parole in 2011.
Chen's supporters had expected him to be released on Dec. 31 after a civilian hospital team recommended that he be granted medical parole. The hospital said it had sent the report on the same day, but it reached the authorities only few minutes before the closing business time due to heavy traffic, the South China Morning Post reported.
"These four days are as long as four years [to our family]," Chen Chih-chung, Chen's son, said in a post on Facebook, according to South China Morning Post, adding that his family members had been taking turns to visit the former president.
Chen, who had irked China by supporting Taiwan's formal independence, had accused the current Taiwanese government of political persecution to appease China, BBC reported.
© Copyright IBTimes 2023. All rights reserved.