Takata Set To Meet Automakers Over Financial Aid, Shares Plunge After Another Death Linked To Faulty Airbag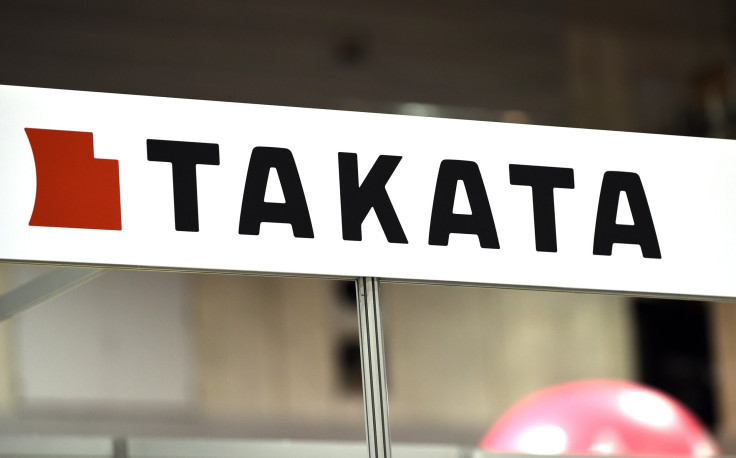 Takata Corporation is set to meet major automakers to analyze how supportive they would be if it asked for an extension of financial aid after outlining to them its business outlook, Bloomberg reported, citing sources. While Takata is trying to get its business back on track amid a faulty airbag scandal, yet another death linked to the Japanese company's components sent its shares plunging Monday.
Nissan Motor Co Ltd. and Honda Motor Co. said they were called for a meeting with Takata but did not give further details on the topic of the meeting, Bloomberg reported. The report also said the meeting will aim to bust rumors about the company, which has been embroiled in controversy due to its faulty airbag inflators. Takata officials did not comment on the news of an upcoming meeting.
"It's really a rare case for a Japanese supplier to call up automakers and hold such a joint meeting," Takeshi Miyao, an analyst at researcher Carnorama in Tokyo, told Bloomberg, adding: "Takata might have been asking for help from individual car makers before but I would guess this time they decided to hold a meeting in a larger scale."
The latest death to be linked to the company's components occurred in December when the driver of a 2006 Ford Ranger pickup truck died after the vehicle swerved off a road in South Carolina. The Takata-manufactured airbag in the vehicle reportedly deployed with excessive force — a factor that the coroner and investigators said contributed to his death, Bloomberg reported, citing National Highway Traffic Safety Administration (NHTSA) spokesman Gordon Trowbridge.
The NHTSA did not say how many additional vehicles would be recalled in the wake of the latest death. Further recalls would add to the cost of over 600 billion yen ($5 billion) that the carmakers have spent on recalls so far. Part of the cost would be needed to be paid by Takata once the responsibility is finalized, the source told Bloomberg.
"Takata has to share costs from the recalls to some extent," Tadashi Ono, a Tokyo-based analyst at Japan Credit Rating Agency Ltd., told Bloomberg, adding that even if the portion Takata has to pay is small, it amount to a "huge" loss to the company due to the number of cars recalled.
An official at Japan's transport ministry told Bloomberg that it is looking into the latest recalls, by Ford Motor Co., Honda, Volkswagen AG, Daimler AG, Audi AG, Mazda Motor Corp., Saab AB and BMW AG, over Takata airbags. About 100 people in the U.S. have also been injured in incidents linked to the airbags.
Takata is currently in talks with rival airbag maker Daicel Corp to ensure a stable supply of inflators, but no decision has yet been made on the investment into the joint venture. Masahiko Hirokawa, a Daicel spokesman reportedly said.
On Monday, Takata's shares fell to a seven-year low of nearly 10 percent during trading in Tokyo. The company's market capitalization has fallen to about 50 billion yen ($421 million), according to the Wall Street Journal.
Over 24 million vehicles have been recalled in U.S. so far over the issue while over 60 million vehicles have been recalled globally, the Journal reported, citing Japan's transport ministry. Automakers and Takata have said that they would be able to decide how the burden should be ultimately split, once they determine why the inflators are exploding.
© Copyright IBTimes 2023. All rights reserved.