Taper Timeline Still Uncertain As Labor/GDP Mismatch Weighs On FOMC: Fed's Lockhart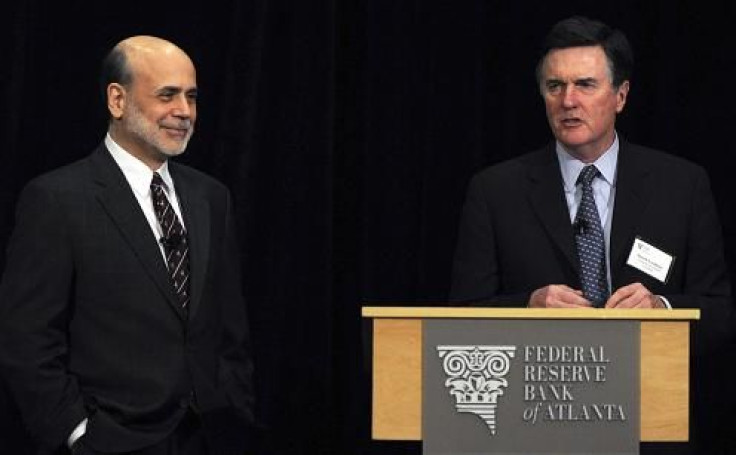 Atlanta Federal Reserve President Dennis Lockhart said on Tuesday even once the Fed begins to taper its asset purchases in the open market interest rates will remain low for some time.
Reiterating colleagues' comments in the recent past, Lockhart said, "…keeping short-term interest rates near zero for a considerable time after asset purchases end will help maintain a high degree of monetary policy accommodation. Very low rates will continue for a while. The Committee's guidance on the policy rate is that it will stay near zero for at least as long as the unemployment rate stays above 6.5 percent… This is a key point. Decisions to reduce asset purchases will be data-dependent. Economic performance will dictate the path of policy."
Lockhart, generally acknowledged to be somewhere in the middle of the extreme hawk-dove Fed factions, acknowledged the parlor game obsessing Wall Street about when the tapering will begin, but he explained that the nation's bumpy economic performance hasn't allowed the Fed to be any more specific.
Lockhart surmised that the fly in the ointment in the data appears to be a weakening productivity. Recently the nation has seen solid employment growth with only tepid economic growth. "As a matter of arithmetic, healthy employment growth coupled with tepid GDP growth implies weak labor productivity growth. And in fact, productivity growth in recent quarters has been significantly below historical norms," Lockhart said.
He suggested that until employment growth and GDP are more historically correlated it's ill advised to begin tapering.
"As of September, the FOMC will have in hand one more employment report, two reports on inflation, a revision to the second-quarter GDP data, and preliminary incoming signals about growth in the third quarter. I don't expect to have enough data to be sure of my outlook. For that reason, I don't think a decision that commits the Fed to a full phase-out of asset purchases and lays out a precise, beginning-to-end path for doing so would be advisable," he concluded.
© Copyright IBTimes 2023. All rights reserved.
FOLLOW MORE IBT NEWS ON THE BELOW CHANNELS