Teacher Evaluations a Stumbling Block for 'Race to the Top' Winners: Report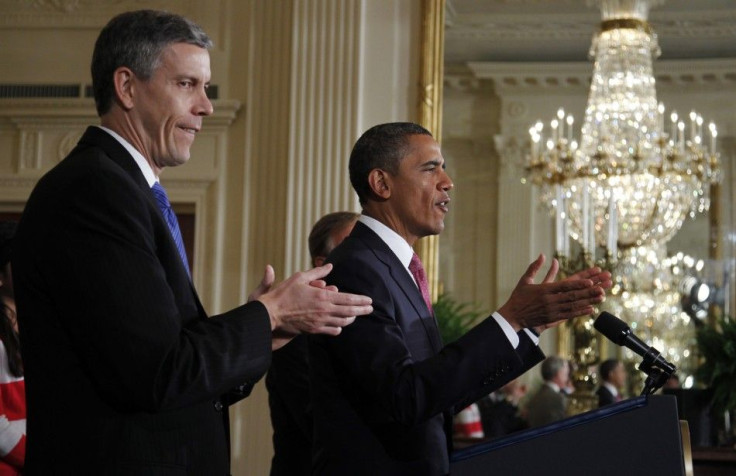 Several states that won a federal contest to pursue education reforms are struggling to institute comprehensive systems for evaluating teacher effectiveness, according to a progress report released by the U.S. Department of Education.
The push to devise ways to gauge teacher performance has been one of the most divisive pieces of education reform because those measurements are then tied to teacher compensation or the ability to fire poorly performing teachers. While education reform advocates argue that schools have no meaningful way to hold teachers accountable, opponents that include teachers unions believe that proposed tools for evaluating teachers are rigid, inconsistent and could unnecessarily punish good teachers.
The Obama administration has fallen squarely on the side of the reformers. Under its Race to the Top program states competed for federal money by offering proposals to institute a number of reform measures prized by the Obama administration, including new systems for evaluating teachers.
But a federal Department of Education report detailing the efforts so far of the 11 states who won the competition found that several faced delays in formulating or implementing teacher evaluation systems. In some cases political battles were to blame, with school districts unable to strike necessary collective bargaining agreements with unions who remained staunchly opposed to proposals on the table. In others it was merely a matter of states struggling to find a fair and accurate way to judge teachers.
New York was one of three states described as facing significant hurdles in reaching the goals it had established. Ten of New York's school districts, including New York City's, have been unable to secure deals with unions over teacher evaluations. While New York City's teachers union had signed on to a pilot teacher evaluation system in July, negotiations collapsed in late December in part over disagreements about the types of recourse available to poorly rated teachers.
Cuomo Criticizes Slow Pace of Reform
The forces that protect this bureaucracy have stymied reform at every turn, and as a result, hundreds of millions of dollars in education funding are now at risk, New York Gov. Andrew Cuomo said in a statement after the report was released.
Hawaii, designated as at high risk of falling short of its goals, has fallen significantly behind in implementing a statewide teacher evaluation system, the report said. Hawaii's teachers union has argued that the state has not involved them in launching a pilot project, and the impasse has left the two parties unable to agree on a new contract.
Other states have faced delays in determining what factors will go into rating teachers and principals. There is little consensus on the best way to evaluate educators, and states have struggled to find the balance between considerations such as classroom observations and student test scores. The formulas by which teachers are assigned grades are often complex and difficult to understand.
Finding ways to measure student progress has been particularly problematic. Student growth measures judge teachers partially based on whether their students demonstrate gains on test scores. But because statewide assessments only test students in reading and math, it is difficult to find a system that also evaluates teachers of science or art of foreign languages. Delaware is facing delays in instituting teacher evaluations large part because of the complexity, time, and effort involved in devising ways to judge teachers in non-tested subjects, the report said.
It's too much too fast, Debbie Stevens, director of Instructional Advocacy for Delaware State Education Association, told Delaware First in reference to the rollout of student growth measures. We need to focus on not just getting it done, but getting it done right.
If trying to quantify teacher performance through student data is difficult, more subjective measures also pose problems. In Tennessee, classroom observations count for 50 percent of teachers' final evaluations. Teachers have complained that the heavy reliance on observations produces haphazard ratings that don't always reflect teachers' true worth, and principals have said that the frequent observations are too time-consuming. Responding to pressure from state lawmakers, Tennessee Gov. Bill Haslam has called for a five month review of the new evaluation system.
For many months, teachers have been frustrated and overwhelmed with the requirements and seemingly unobtainable expectations that are set forth in the new system, Melanie Buchanan, an elementary school teacher who serves on the board of directors for the Tennessee Education Association, told the Tennessean after the governor announced the review.
--
© Copyright IBTimes 2023. All rights reserved.