Ted Cruz 2015 CPAC Speech: 'Obamacare Is A Train Wreck,' Hillary 'Embodies The Corruption Of Washington'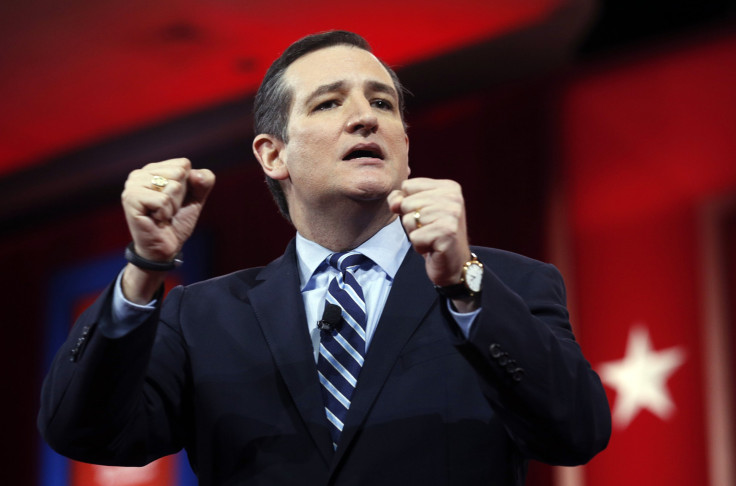 U.S. Sen. Ted Cruz, R-Texas, aimed to differentiate himself from the crowded 2016 GOP presidential field during a fiery speech at the Conservative Political Action Conference Thursday in Maryland. While not mentioning other possible candidates by name, Cruz argued that he has fought for conservative principles while others have no record of action to back up their conservative credentials.
Cruz said it was "fantastic" and "terrific" for CPAC speakers to say they opposed Obamacare or want to rein in the national debt. But "if you're really conservative, you will have been in the trenches, you will have bared the scars, you will have fought the fight," he told a packed crowd at CPAC, the conservative movement's largest annual event and a place where prospective candidates often go to test their message for the Republican base.
Cruz, who hasn't officially started a campaign for the presidency, said the country "is in jeopardy" and that Republicans can win only if they reassemble the coalition of Republicans and Reagan Democrats. "We need to run a populist campaign standing for hard-working men and women," he said. "We need to take the power out of Washington and bring it back to the American people." Cruz said the biggest divide in the country isn't between Republicans and Democrats, but "between career politicians in Washington and the American people."
The Texas senator also ripped into President Barack Obama's health care agenda and the president's refusal to call the actions of the Islamic State group Islamic terrorism. "Obamacare is a train wreck, and that's actually not fair to train wrecks," he said.
Cruz also took a swipe at Hillary Clinton, the presumed Democratic frontrunner. "Hillary Clinton embodies the corruption of Washington," he said. In a short question-and-answer session with Fox News host Sean Hannity in which Cruz was asked to describe Clinton in one word, he said, "Washington." He also characterized Obama as a "lawless imperator."
As one of the most conservative members of the Senate, Cruz is behind the strategy to tie funding for the Department of Homeland Security with a bill that rescinds Obama's executive actions on immigration. Cruz accused his Republican colleagues of caving in after Senate Majority Leader Mitch McConnell, R-Ky., offered a plan Tuesday to consider the issues in separate bills -- a strategy that Cruz is at odds with. "Unfortunately, Republican leadership is standing with [Senate Minority Leader] Harry Reid and the Democrats to give in on executive amnesty and the question, 'Why?', is because they're not listening to you," he said, referring to the American people.
If he becomes president, Cruz said his top priority would be to "repeal every blasted word of Obamacare," followed by abolishing the IRS, stopping "out-of-control regulators at the EPA [Environmental Protection Agency] and the alphabet soup of Washington," defending constitutional rights and restoring "America's leadership in the world as a shining city on a hill."
© Copyright IBTimes 2023. All rights reserved.