Ted Cruz 2016: Why Hispanic Voters Might Not Be Thrilled If Texas Senator Becomes First Latino President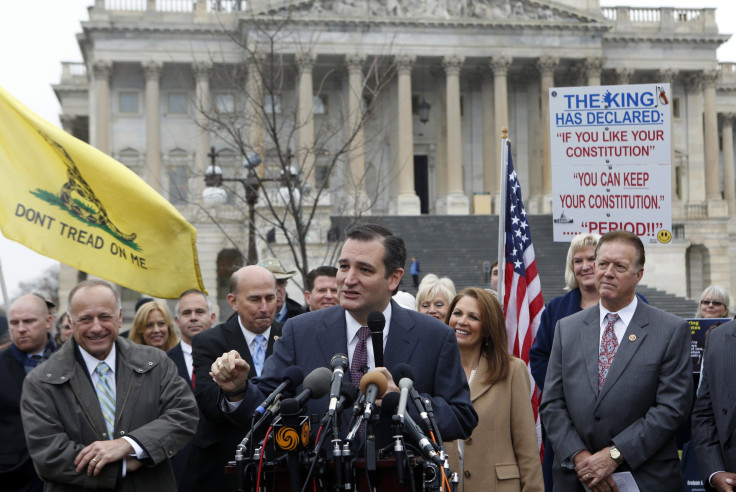 U.S. Sen. Ted Cruz is vying to become the nation's first Latino president, but the conservative Republican won't be able to count on Hispanic voters in 2016. Despite his heritage, Cruz, the son of a Cuban immigrant, is unlikely to rally voters around his potentially historic candidacy the way President Barack Obama did in 2008, when black, Hispanic and other important voting demographics were eager to elect the nation's first African-American commander in chief.
"I can't envision any scenario in which Ted Cruz can make any appeal to Latinos at this point," said Matt Barreto, co-founder of the polling and research firm Latino Decisions and a political science/Chicano studios professor at the University of California, Los Angeles. "If anything, he will hurt Republican chances [with Latino voters]. It will be worse than Mitt Romney."
Cruz has often cited his father's move from Cuba to the United States with only $100 as a symbol of his own tough work ethnic and resilience. But Cruz has otherwise largely shied away from using his Hispanic heritage as a selling point on the campaign trail. He also has made no grand overtures in the past to Hispanic voters, unlike some of his likely GOP primary rivals, including U.S. Sen. Marco Rubio, whose parents were born in Cuba, or former Florida Gov. Jeb Bush, who speaks Spanish and married into a Latino family.
"The real question is whether the senator perceives himself as a Latino candidate," said Hector De Leon, co-chairman of the Associated Republicans of Texas, which reaches out to Hispanic voters. "And I don't know if he does ... I have never heard him use that phrase or even hint at it."
But Cruz's biggest problem with many Latinos is his harsh views on illegal immigration. Cruz, the first Hispanic U.S. senator from Texas, rose to national prominence after his election in 2012 as a staunch foe of so-called "amnesty" policies. He backed an extensive fence along the U.S.-Mexico border and has blasted Obama's immigration policies granting temporary work visas to undocumented immigrants, measures largely supported by Latinos voters.
"He's not even going to go after the Latino vote, that's not his constituency, that's not his base at all," Barreto said. "He is going to go after the vote of the people who don't like Latinos, that's his crowd, the anti-immigration crowd."
Cruz's tense relationship with Latinos likely won't matter during the Republican primary contests, when white, conservative voters are the demographic to win. But it could hurt him in a general election campaign, when moderate voters and Hispanics might be turned off by his anti-immigrant rhetoric.
In 2012, Texas Latinos overwhelmingly backed Cruz's Democratic opponent, with Cruz only securing about 35 percent of the Hispanic turnout, according to polling data from Latino Decisions. In contrast, Obama won 70 percent of the Latino vote that year in Texas, where Hispanics comprise almost one-third of the electorate.
Obama's historic election in 2008, when he won 95 percent of the black vote and 67 percent of the Latino turnout, sent a message to Republicans that the country's shifting demographics meant relying on white, male voters was no longer a surefire path to victory in national elections. Cruz will need to inspire a similar movement in 2016, especially if he is pitted in the general election against former Secretary of State Hillary Clinton, who has campaigned heavily in the past on her potential to become the nation's first female president.
Overall, Latinos made up just 8 percent of the nation's voters in 2012 and they typically have the lowest turnout rate of any race or ethnic group, according to the Pew Research Center. But they are a growing force in swing states that decide national elections, including Florida, Nevada and Colorado. Latinos in those states heavily backed Obama over Republican Mitt Romney, who won only 27 percent of the Latino vote in 2012.
Cruz can appeal to Latino voters by making the case that his economic policies will create better job and education opportunities, said Daniel Garza, executive director of The LIBRE Initiative, a conservative outreach effort targeting Latino voters, and a former White House aide to Republican President George W. Bush. "The ability to connect for Ted Cruz is going to be key, to have Latinos feel inspired and to have a sense that the future is going to be better if he is president," Garza said. "That means in his political narrative he needs to be inclusive."
Playing up his Latino roots will be crucial for Cruz, Garza said.
"Just because he is Latino obviously doesn't make him the favorite with the Latino community. What it does is give him an opportunity to be heard," Garza said. "You are not going to hear Ted Cruz say, 'Vote for me because I am Latino.' Of course, he is going to talk about his father, his immigrant roots, his shared experiences, the struggles he has endured as a Latino."
Cruz seems to have gotten the message. After announcing his presidential campaign Monday, he released a 30-second spot on YouTube. The ad, titled "Ted Cruz Para Presidente," is in Spanish.
FOR FREE to continue reading
✔️ Unlock the full content of International Business Times UK for free
offer available for a limited time only
✔️ Easily manage your Newsletters subscriptions and save your favourite articles
✔️ No payment method required
Already have an account?
Log in
© Copyright IBTimes 2023. All rights reserved.