Ted Cruz To Head NASA Subcommittee: Is The Space Agency In Trouble?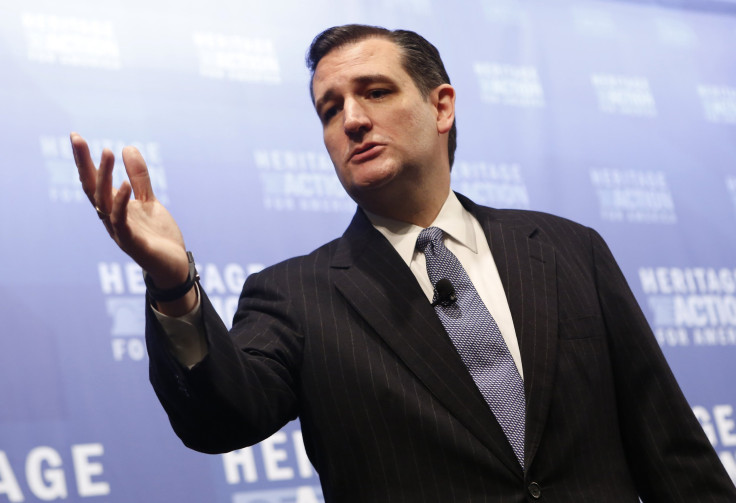 Republicans have picked U.S. Sen. Ted Cruz, R-Texas, to chair the Senate Subcommittee on Space, Science and Competitiveness, positioning him to oversee many of the country's leading scientific and research programs, including NASA. Many have raised concerns over the appointment of the politically polarizing figure and Tea Party favorite, who has spent much of his political career touting smaller government and denying climate change. And with a possible presidential run in 2016, Cruz's appointment could be seen as a strategic position for him to flex some congressional muscle over the federal bureaucracy.
"NASA satellites collect a lot of very important data about the earth," including weather and climate data, said Brian Weeden, the technical adviser for the Secure World Foundation and an expert in science and technology policy. "The message from some in the Republican Party is that that should not be a mission that NASA does."
Much of the space agency's research has focused on climate change and its effects on the planet's ecosystems and weather patterns. NASA did receive a handsome infusion of funds in December to its 2015 budget. The bonus, to the tune of $530 million, came at the White House's request and was meant for the Space Launch System rocket, which is expected to launch in 2018 and is designed to take humans into deep space.
When the new Congress came to Washington in January, its caucus was markedly more skeptical of climate change science. Fifty-six percent of Republicans in the new Congress either disregard it as a conspiracy or hoax or deny it altogether, according to Think Progress, a liberal group. Thirty-nine of Republicans in the Senate have expressed the same opinion.
Among them is Cruz. Cruz has denied the existence of manmade climate change, despite the consensus among 97 percent of NASA climate scientists that evidence points toward manmade global warming. "You always have to be worried about something that is considered a so-called scientific theory that fits every scenario," Cruz told CNN in February last of last year. "Climate change, as they have defined it, can never be disproved, because whether it gets hotter or whether it gets colder, whatever happens, they'll say, well, it's changing, so it proves our theory."
In the age of climate change debate, a struggle has emerged in the Republican Party over how to define its stance. The rise of the Tea Party after 2008 managed to cow many Republicans who may have softened their stance on climate change in the face of new and better data into silence.
"Ted Cruz clearly is one of the strongest voices for the Tea Party contingent," said Anthony Leiserowitz, director of Yale Project on Climate Change Communications. "He is at that more extreme end, and he's not shy about it."
Cruz's appointment to the science panel in the new GOP-led Senate was not unexpected as he served as the subcommittee's top Republican last year, opposite Chairman Bill Nelson, D-Fla. The committee plays a huge role in coordinating the country's research programs, including allocating funding for new technology, space exploration and atmospheric sciences.
Cruz hasn't exactly been NASA's biggest advocate. In 2013, he attempted to amend a spending authorization bill that would have reduced NASA's funding, but the amendment was ultimately shot down. "I'll work with Martians," Cruz told "Fox News Sunday" in August 2012. "If — and the if is critical — they're willing to cut spending and reduce the debt."
Last summer, Cruz, who was born in Canada, renounced his Canadian citizenship, a move that raised eyebrows and could signal a presidential run in 2016. A straw poll at a Republican leadership conference in New Orleans last year showed Cruz in the lead over conservative activist and Fox News commentator Dr. Ben Carson, as well as Sen. Rand Paul, R-Kentucky.
Whether Cruz will actively work to disrupt NASA's scientific program to appeal to his Tea Party followers has yet to be seen. But one thing that is certain is that Cruz will have his Texas constituency to consider. The Johnson Space Center in Houston employs some 15,000 government workers and contractors.
"I think he's going to have to find a way to balance his Tea Party rhetoric with the reality that this particular government bureaucracy provides many thousands of high-paying jobs in his own state," Weeden said. "I haven't seen any details on what direction they plan NASA to take, but my suspicion is that they'll continue to focus on the [Space Launch System] program, because that has had some congressional support from congresspeople with NASA centers in their district."
© Copyright IBTimes 2023. All rights reserved.