Ted Cruz Tells Iowa Evangelicals There Is 'No Room For Christians In Today's Democratic Party'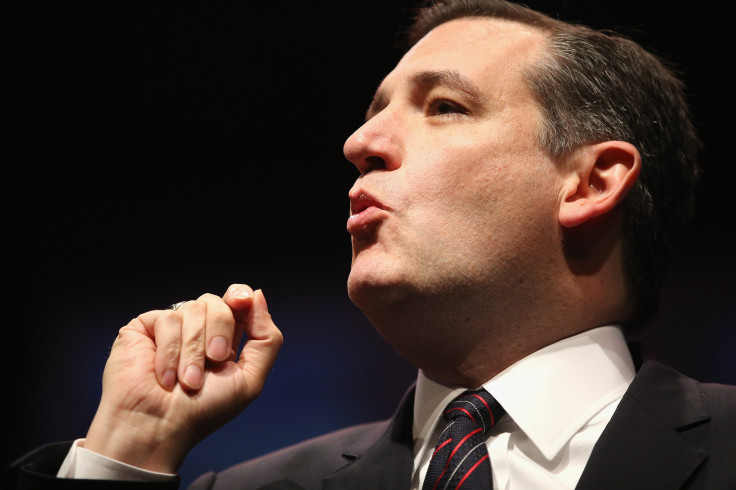 Senator Ted Cruz, R-Texas, told a gathering of conservative Republicans that there was "no room for Christians in today's Democratic party," in a speech Saturday, according to reports.
Speaking at the Faith and Freedom summit in Iowa, along with several other GOP 2016 hopefuls, Cruz said: "There is a liberal fascism that is dedicated to going after believing Christians who follow the biblical teaching on marriage," according to CNN.
The Texas lawmaker told his audience that the issue of same-sex marriage had produced rabid zealotry in Democratic ranks. This ideology, he argued, was excluding people of faith, the Hill reported.
Cruz's speech, and those of his fellow Republican presidential aspirants, were aimed at courting the votes of Iowa's evangelical Christians -- a demographic that was key in providing support to the last Republican president, George W. Bush.
Other Republican speakers at the event included Rick Santorum, Mike Huckabee, Scott Walker, Rand Paul, Bobby Jindal and Marco Rubio.
The intense competition for evangelical votes however, may bode ill for the GOP, with the wide variety of conservative candidates raising the possibility that the Christian vote would splinter.
"The problem for Christian conservative candidates is they're all running in the same lane," Kedron Bardwell, a political scientist at Simpson College in Indianola, Iowa, who studies religion and politics, told the New York Times.
Out of all of the candidates vying for Christian support in the state, Cruz had the edge, according to the Politico Caucus, a weekly survey of influential activists, operatives and elected officials.
After Cruz, former Arkansas governor Mike Huckabee was best placed to benefit from conservative Christian support in the Iowa, the paper added.
The issue that seemed to elicit the strongest reaction from the crowd was that of marriage, with some speakers drawing their loudest applause from the crowd when saying that they would defend the principle that marriage was between a man and a woman only, Bloomberg reported.
© Copyright IBTimes 2023. All rights reserved.
FOLLOW MORE IBT NEWS ON THE BELOW CHANNELS