Tennis 2016: Will Novak Djokovic Catch Roger Federer's, Rafael Nadal's Grand Slam Title Totals?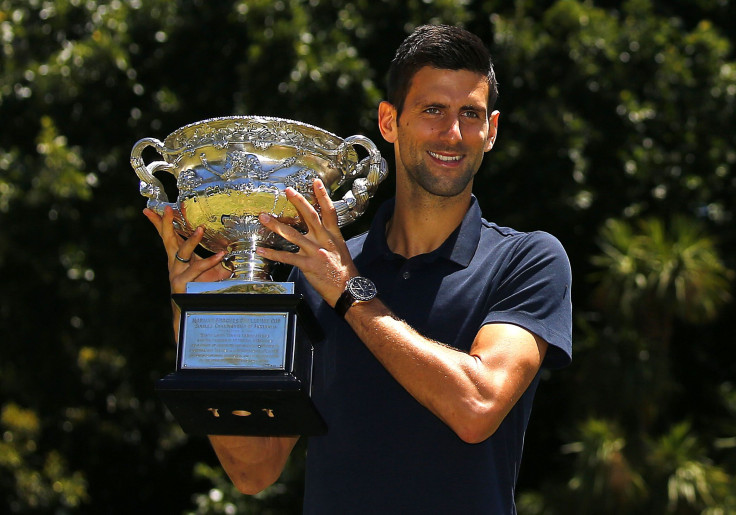 Any hope that the rest of men's tennis may have had that Novak Djokovic would be unable to maintain his extraordinary level of last year in 2016 has already been emphatically shot down. Indeed, Djokovic's performances at the start of the season suggest that far from resting on his laurels, the world No. 1 is only continuing to get better and more dominant.
Against Rafael Nadal in the final of the Qatar Open and Roger Federer in the semifinals of the Australian Open, Djokovic played spectacularly faultless tennis to brush aside the two dominant players of this era and his two greatest rivals. In the final in Melbourne, even Djokovic's B game was enough to conquer world No. 2 Andy Murray in straight sets.
The gap between Djokovic and the rest is growing rather than contracting. He has now reached the final of the last five Grand Slams, winning four of them, and last year won six of the nine top-level events on the ATP Tour, as well as the season-ending World Tour Finals. Amazingly, it is now more than a year since he failed to reach the final of any event he has entered. With 16,790 points, Djokovic has an advantage of nearly 7000 points at the top of the world rankings. No longer can men's tennis be considered to have a Big Four, it is now a Big One; even if that is an idea that Djokovic is unwilling to countenance.
"I don't want to allow myself to be in that frame of mind," he said after lifting his sixth Australian Open title. "Because if I do, the person becomes too arrogant and thinks that he's a higher being or better than everybody else. You can get a big slap from karma very soon. I don't want that.
"Of course staying respectful to all my opponents and my colleagues and to this sport is a key to continue on and maintain this level of success and performance. I hope. This is kind of approach to help me to get to where I am. I don't want to step away from it."
However, with 11 Grand Slam titles to his name and still very much in his prime at the age of 28, it is now difficult to imagine Djokovic not seriously threatening the totals of both Nadal and Federer.
Djokovic will be the favorite in every tournament he enters for the foreseeable future. While he has never won the French Open, it has taken the greatest clay-court player of all time and last year a stunning performance from Stan Wawrinka to stop him. This year he will be more motivated than ever to get his hands on the trophy at Roland Garros and take possession of all four Grand Slam titles at the same time.
Nadal, who still has to shake the perception that he is in permanent decline, will not only be battling to reassume his champion status at the French Open, but to stop Djokovic from getting ever closer to his haul of 14 Grand Slam titles. Just two years ago the question was whether Nadal would catch Federer and take his title as the greatest player of all time. Now Djokovic, a year younger, could leave the Spaniard trailing in his wake.
The Serbian would then have Federer's once apparently insurmountable record total of 17 in his sights. While the Swiss great could yet add to that number, Djokovic has now ended his hopes in the last three Grand Slams. And, six years older than Djokovic, Federer has now been forced to undergo knee surgery. The idea of Djokovic getting to 17 and even beyond is now far from fanciful.
While he may not have the balletic brilliance of Federer or the pummeling physicality of Nadal, Djokovic's all-round game offers his opponents no weakness to exploit. And he is constantly improving. The serve that was once his undoing is now unwavering, while he has started this year playing even more aggressive, complementing his incredible movement and defensive skills.
With Federer and Nadal no longer at their peaks, nobody from the next generation has yet emerged as a serious challenger. No player currently under the age of 27 has won a Grand Slam title and there is currently no one under the age of 26 in the world's top 10. Having for so long had to fight for recognition in the era of Federer and Nadal, this is Djokovic's time.
© Copyright IBTimes 2023. All rights reserved.