VIDEO Australian Open Men's Final 2016 Highlights: Novak Djokovic Beats Andy Murray For Record-Equaling Sixth Title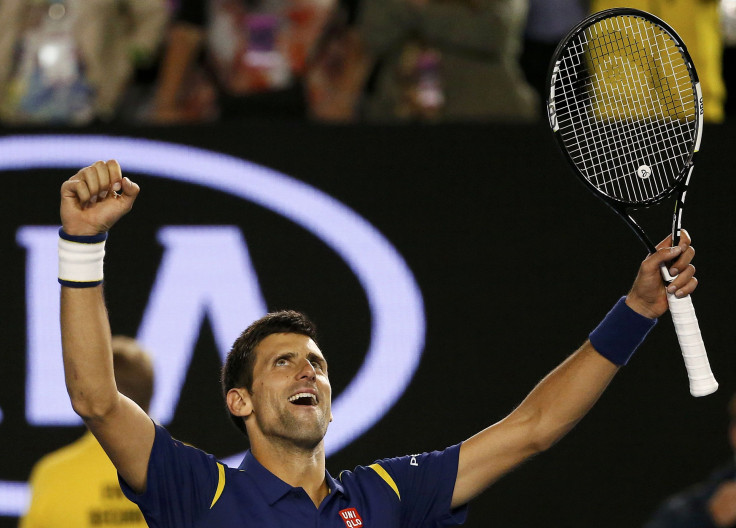 Novak Djokovic sealed a record-equaling sixth Australian Open title, brushing Andy Murray aside 6-1 7-5 7-6(3). It was the fourth time the duo have met in the final of the first Grand Slam of the year, and Murray remains searching for his first title as the man he grew up playing against in the junior ranks etches his name in the record books. With a comprehensive victory that was rarely in doubt against a largely listless Murray, the world No. 1 moves level with Australian great Roy Emerson for the most Australian Open of all time.
At a tournament he broke through to win as a 20-year-old in 2008, Djokovic has become supremely dominant, never more so than over the past two weeks. Playing some of the most flawless tennis ever witnessed in the semifinals, Djokovic blew away world No. 3 Roger Federer. And now, without having to reach quite those same heights, he has inflicted a heavy beating on man closest to him in the rankings. Add in the crushing win he secured over his other great rival, Rafael Nadal, in Doha at the start of the year, and the signs are that 2016 could be even more dominant than his three-Grand-Slam-title winning 2015.
Indeed, rarely has there been a time when there has been such a gap, as there evidently is now, between the world No. 1 and the rest. Having had to fight to emerge through the era of Federer and Nadal, this is now very much Djokovic's time. Meanwhile, he continues to edge closer to those two greats' historical accomplishments. With this latest win, Djokovic moves onto 11 Grand Slam titles, level with Bjorn Borg and the man for whom the court he sealed his latest triumph on is named, Rod Laver. Now only four men stand in front of him, including Nadal, on 14, and Federer, leading the way, on 17. It is hard not to see Djokovic closing that gap further. And fast.
"I'm extremely honored to be mentioned alongside the legends of our sport, like Rod Laver, who is present here tonight," he said on-court afterward. "Roy Emerson, who is not here with us tonight, but we miss him. It's a great privilege to match the record of six Australian open titles with one of the greatest that has ever played this game."
In truth, on Sunday Djokovic rarely reached the heights of his sensational first two sets against Federer. He didn't have to. Murray had endured a draining two weeks in Melbourne. As well as his wife being in her final of weeks of pregnancy with their first child back home in Britain, last weekend his father-in-law collapsed courtside and was rushed to hospital. On the court, he had to battle for five sets and over four hours to outlast Milos Raonic in his semifinal. And all of that physical and emotional energy expended, as well as having 24 hours less to prepare for the final than his opponent, were evident, particularly in the first set.
After earning a break point in the opening game of the match, it was all one-way traffic for Djokovic in the first set. Just playing at what for him is now a routine, solid level was enough to cruise to the opening set in exactly 30 minutes against a flat opponent.
There was little change early in the second set, although with Murray able to grind out a couple of service holds to stay with his opponent. At one point he screamed to himself that "This is the worst match I've ever played." It wasn't quite that, with the first Australian Open final played between these two men, born just a week apart, in 2011 witnessing a full Murray meltdown and straight-sets humbling.
But still he was heading for a heavy defeat. Then, midway through the second set, Murray began to find some much-needed energy. At long last, the final gained some real intensity, and when Murray broke right back to level at 4-4 it appeared that it might get a dramatic twist.
Murray was fighting with everything he had just to try and stay alive and competing in some grueling rallies, while Djokovic appeared to still be playing slightly within himself, not operating with the same aggression as recently against Federer and Nadal. His unwavering consistency from the back of the court and ability to step up his game when required proved enough to secure another break. And this time, despite two double faults from the racket of the Serbian, Murray couldn't break back, coughing up costly errors to drop down two sets to love.
From there, against a player as physically honed as Djokovic, the task was all-but insurmountable. And when Djokovic broke in the opening game, it appeared there might be a repeat of last year's final, when Djokovic humbled Murray by taking the final set of the match 6-0. That the same scenario didn't unfold is a credit to Murray, who managed to break back and again make a contest of a set that could easily have seen Djokovic run away with it.
He held out until a tiebreak, too, to give himself of improbably extending the final. But his second serve, which has so often been a major weakness against Djokovic, and was again on Sunday -- winning just 35 percent of points off it -- proved his undoing in the tiebreak. After Murray coughed up two double faults, Djokovic raced to take it 7-3. His clenched-fist reaction and no great dramatics told a story. For Djokovic, this was a routine win.
It leaves Murray, who did beat Djokovic to claim his two Major titles at Wimbledon and the U.S. Open, as the first man ever to lose five finals at one Grand Slam without winning one. And no man has been more responsible for that than Djokovic, who remains a class apart in Melbourne and across the tennis world.
© Copyright IBTimes 2023. All rights reserved.