VIDEO Novak Djokovic vs. Roger Federer: Highlights From Australian Open Semifinal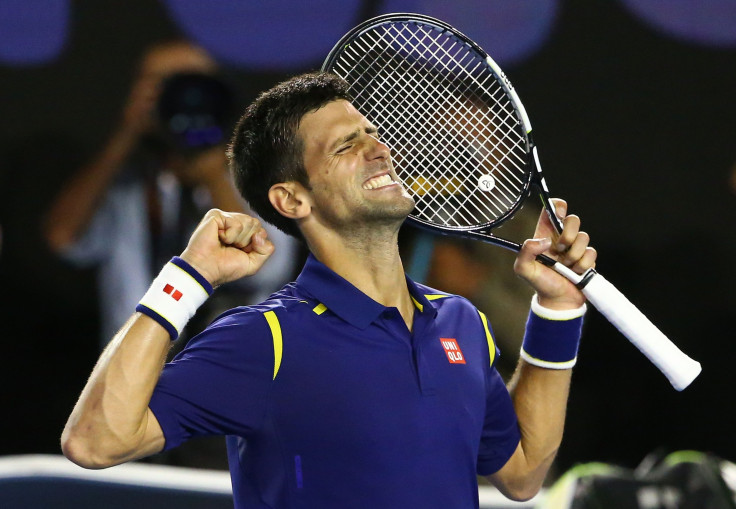 Novak Djokovic shook off a brief Roger Federer fight back to surge into the final of the Australian Open with a dominant performance and a 6-1 6-2 3-6 6-3 victory. The world No.1 had ended Federer's hopes of adding to his record haul of 17 Grand Slam titles in the last two Major finals, but for two sets this was a beating unlike anything the Swiss has suffered outside of being on the receiving end of a peak Rafael Nadal at the French Open.
On a hard court, and at a venue where he had been champion four times, Federer had never been on the receiving end of such a one-sided evisceration since he began his ascent to becoming the most decorated player in the history of men's tennis. The opening two sets flew by in just 54 minutes, before Djokovic's level dipped just a little and Federer, fueled by huge backing from the Rod Laver Arena crowd, threw everything thing he had left at the Serbian to stay alive. Yet such was the effort required by Federer, and the fact that a precautionary closing of the roof delayed the fourth set by 10 minutes, a continuation of the comeback always appeared unlikely.
As it was, the delay appeared to harm both men, with the fourth set beginning with diminished quality. But the level soared upward in a memorable eighth game, yet Djokovic proved too tough once again, breaking in Federer and serving out for a place in a fifth consecutive Grand Slam final.
Djokovic, utterly imperious and impenetrable for long stretches on Rod Laver Arena, will now play for an 11th Grand Slam title and his sixth Australian Open crown in the final on Sunday against either Andy Murray or Milos Raonic. For the benefit of their state of mind, one can only hope that neither took in the first two sets on Thursday on the eve of their semifinal.
On that form it is difficult to envisage Djokovic not furthering his place in history on Sunday. Having dominated 2015, winning three Grand Slam titles, the scary aspect for the rest of men's tennis is that he has started this year even better. His display under the lights on Thursday mirrored that which he put in to brush Nadal aside in the final of the Qatar Open earlier this month. In its absence of any weaknesses, it is a level of dominance different even from Federer and Nadal at their magnificent peaks. And, just as that win in Doha gave Djokovic a head-to-head edge over one of his great foes, this latest victory did the same in his other great rivalry.
For Federer, going into the contest, he had reason to be wary of Djokovic's threat, but not overawed by it. He had, after all, beaten Djokovic three times last year. And, even though he had lost in the final of both Wimbledon and the U.S. Open, they had been competitive battles, particularly for the first two sets.
But the first set was always going to be key, given that he lost it in both those four-set defeats and in only one of his 22 wins over Djokovic had he overcome the loss of the opening set. Almost immediately, though, all hope of a quick start was taken away. Djokovic broke Federer in his every first service game and never looked back.
Hitting the ball remarkably cleanly and with unwavering force and depth, Djokovic had Federer constantly rushed and unsettled. And Federer was unable to help himself, with his first serve percentage at only 50 percent for the first set. When he was, all too often, forced into hitting a second serve, Djokovic's returns left Federer immediately in trouble. The aggressive play that was key to Federer's fine form in the second half of last year didn't even have a chance to be implemented against the metronome brutality coming at him from the other side of the net.
Fans came to see a battle between two of the greats, instead they were witnessing an exhibition from one of them. The first set was settled inside 22 minutes, and, after Djokovic broke to love in the third game, the second set did not take much longer.
Staring at the possibility of humiliation on the big stage, Federer deserves huge credit for not simply going down meekly. Helped by a huge roar from the crowd at the start of the third set, Federer clung on. And, after earning his first break points of the contest in the sixth game of the third set, he finally broke to inspire a standing ovation from those in attendance who sensed they may be about to get a competitive contest.
But the closing of the roof, with showers on the way, halted Federer's momentum and appeared to slow the 34-year-old's legs when play got back underway. The level of both men increased in a pivotal game with Federer serving down 4-3. Yet, despite Federer playing one of the points of the tournament climaxing in a sensational backhand winner, Djokovic was able to get the decisive break. The ending may not have been as spectacular as the beginning, but Djokovic was still a level above, as at this moment he is against every other player on the planet.
© Copyright IBTimes 2023. All rights reserved.