Tense Calm In Donetsk After Airport Battle That Killed Dozens Of Pro-Russian Separatists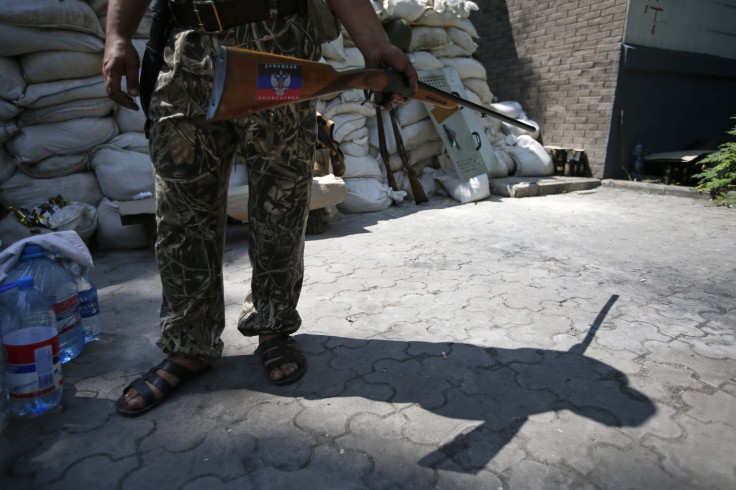 After government forces killed dozens of rebel fighters on Monday and Tuesday in eastern Ukraine, an uneasy calm has returned to the streets of Donetsk. Ukrainian fighter jets were reported flying overhead and some gunshots were heard.
The fighting has been described as some of the most severe between pro-Russian separatists and Ukrainian forces, who began clashing following rebel demonstrations in February. The recent clash came about after separatists seized the airport after Ukrainians overwhelmingly elected Petro Poroshenko as president on Sunday.
Pro-Russian separatists say up to 100 fighters were killed in the fighting, which included Ukrainian aircraft to strafe the airport and paratroopers to reclaim it. The government said no casualties were reported among its forces.
Many of the separatists involved in the fighting at the airport were reportedly part of a unit called the Vostok (East) Battalion, which includes fighters from the northern Caucasus. In a statement on Instagram, Chechen leader Ramzan Kadyrov has denied sending troops to eastern Ukraine.
"Ukrainian sources have been circulating reports that some Chechen units from Russia have invaded Donetsk. I officially declare that this is not true," Kadyrov said. "There are 3 million Chechens and two-thirds of them live outside the Chechen Republic, including in the West. We cannot know and are not supposed to know which of them goes where."
Kadyrov is a former rebel who fought Russian forces in the first of two devastating separatist wars. When his father became the region's pro-Russia leader, he switched sides. Kadyrov has since rebuilt the region using Kremlin funding and squashed any opposition to rebel resistance using paramilitary forces, which have been blamed for extrajudicial killings, torture and other abuses.
Kadyrov has vowed an unswerving loyalty toward Putin and has hailed the Russian leader's policy in Ukraine. His pro-Russia forces helped Russia win a quick victory in Georgia in 2008.
"If the Ukrainian authorities want so much to see 'Chechen units' in Donetsk, why go to Donetsk if there is a good highway to Kyiv?" he said in Wednesday's statement.
Poroshenko, a billionaire confectionery tycoon nicknamed the Chocolate King, has become the first Ukrainian president to be elected in a single round of voting since 1991. He has vowed to restore peace to the region.
"We are in a state of war in the east. Crimea is occupied by Russia and there is great instability. We must react," Poroshenko told Germany's Bild newspaper. "The anti-terrorist operation has finally begun in earnest. We will no longer permit these terrorists to kidnap and shoot people, occupy buildings or suspend the law. We will put an end to these horrors -- a real war is being waged against our country."
© Copyright IBTimes 2023. All rights reserved.