Terror Attacks Take Toll On Tourism In Turkey, Visits Drop 10 Percent In February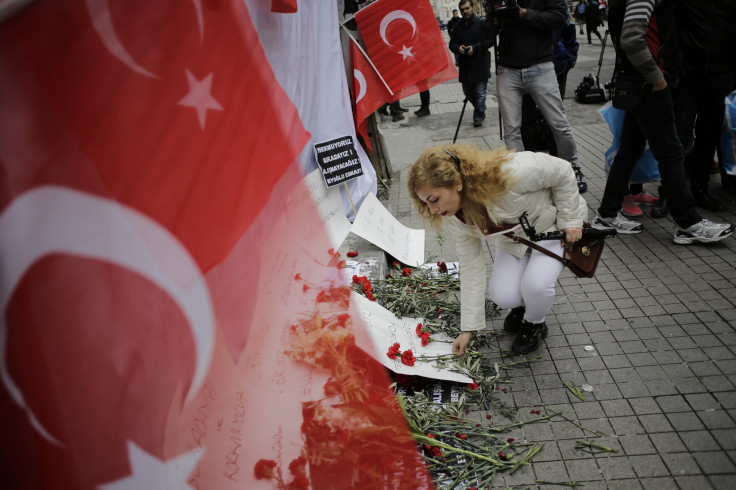 A wave of terror attacks in recent months appears to be taking its toll on Turkey's vital tourism sector, with the number of tourists visiting the country dropping 10 percent in February compared to the previous year.
Last month, 1.24 million foreigners visited Turkey. In February 2015, 1.38 million did, according to numbers released Tuesday by the Turkish Tourism Ministry, the Associated Press reported. In January, foreign arrivals were down 20 percent.
Tourism in Turkey contributed 2.13 million jobs and $95.8 billion to the country's nearly $800 billion economy in 2014, according to the World Travel & Tourism Council. In 2014, leisure tourism spending in Turkey amounted to $54.7 billion.
Those numbers are taking a hit, as the death toll in attacks in Turkey continues to rise.
In January, two attacks in Istanbul killed 12 German tourists. In March, three Israelis and an Iranian were killed in a suicide bombing. Overall, Turkey has seen six suicide-bomber attacks in the last eight months, including on a bustling street in Istanbul as well as in the capital Ankara.
"There could be large economic costs from these attacks, particularly in terms of long-investment and the tourism sector," William Jackson, a senior emerging markets economist at Capital Economics in London, told Agence France-Presse.
Israel issued a travel warning Monday urging citizens not to travel to Turkey. The second such warning in a week, it raised the threat level to "high concrete" and urged Israelis to leave Turkey "as soon as possible."
Visitors from Russia, another crucial source of tourists for Turkey, have also declined, most severely after a spat between the countries over a downed plane in November. The Turkish military shot down a Russian jet along the Syrian-Turkish border, and Russian officials were quick to threaten consequences.
"We do not recommend that our citizens travel to Turkey for tourism or any other reason," Russian Foreign Minister Sergey Lavrov said the day the jet was shot down. Already, Russian tourists to Turkey were down by 800,000 in 2015 compared to the year before, due to an ailing economy in Russia.
Revenue from tourism could fall below $17 billion in 2016 from $21 billion, or 3 percent of GDP, in 2015, Inan Demir, an analyst for Finansbank in Turkey, told AFP.
© Copyright IBTimes 2022. All rights reserved.
FOLLOW MORE IBT NEWS ON THE BELOW CHANNELS