Terrorism In Europe: NATO To Open Anti-Terror Headquarters In Italy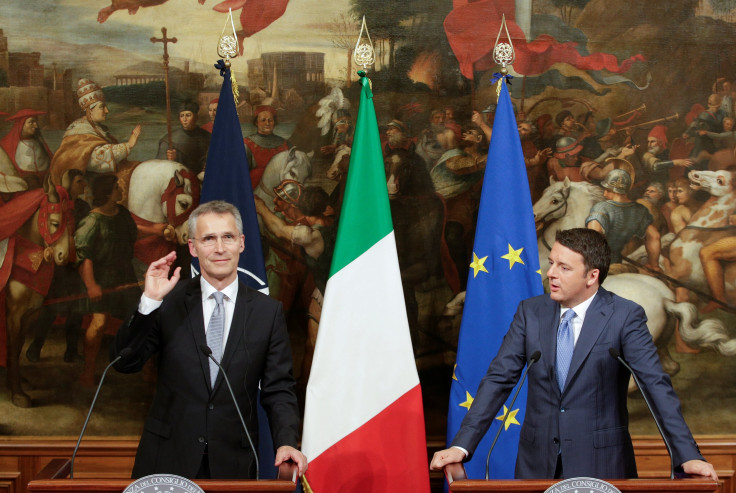 NATO was expected to approve a plan to build an anti-terrorism headquarters in Italy that would predominately focus on threats to the alliance's southern borders.
NATO Secretary-General Jens Stoltenberg said the new defense hub, which was expected to employ 100 people, will be tasked with "increasing the capacity to identify threats and improve situational awareness." NATO strategically wanted the hub's location to be in Naples in order to monitor intelligence surrounding terrorist activities in North Africa and the Middle East trickling into southern Europe, according to local reports Wednesday.
"This will help us to coordinate information on crisis countries such as Libya and Iraq, and help us address terrorism and other challenges stemming from the region," Stoltenberg said.
Stoltenberg's announcement of the defense hub Tuesday came amid President Donald Trump routinely criticizing other NATO members for not allocating enough of its monetary resources to combat terrorism.
Trump has pointed to the failure of many European allies of upholding the NATO mandate requiring member countries to spend 2 percent of its GDP on military matters.
Defense chief James Mattis told his European counterparts that NATO was a" fundamental bedrock for the U.S. and all the transatlantic community" but that Washington will "moderate its commitment" to the alliance if they didn't increase their spending on defense, CNN reported Wednesday.
Mattis' message was aimed at reassuring NATO members about the U.S.'s commitment to the alliance as Trump has expressed increasing military cooperation with Russia in Syria, political analysts said.
European defense experts have pointed to the ability for immigrants who were also terrorists to reach Europe by traveling across the Mediterranean Sea without as many regulations as on land. Many called for greater surveillance of the continent's southern shores in December after a Tunisian national entered Italy on a migrant boat from North Africa and went on to kill 12 people in Berlin by driving a truck into a crowded city square.
Italian Defense Minister Roberta Pinotti, who witnessed more than 50,000 migrants arriving to his country in 2015, told local reporters that creating a NATO anti-terrorist hub in Naples was "particularly important" to Italy. She personally "requested this thing at every opportunity" to ensure the safety its southern border.
The NATO defense hub will also share intelligence with NATO's Istanbul Cooperation Initiative that monitors terrorist activity in the Middle East, said Stoltenberg.
© Copyright IBTimes 2023. All rights reserved.