Terrorists Target Egypt's Red Sea Tourism -- And It's Working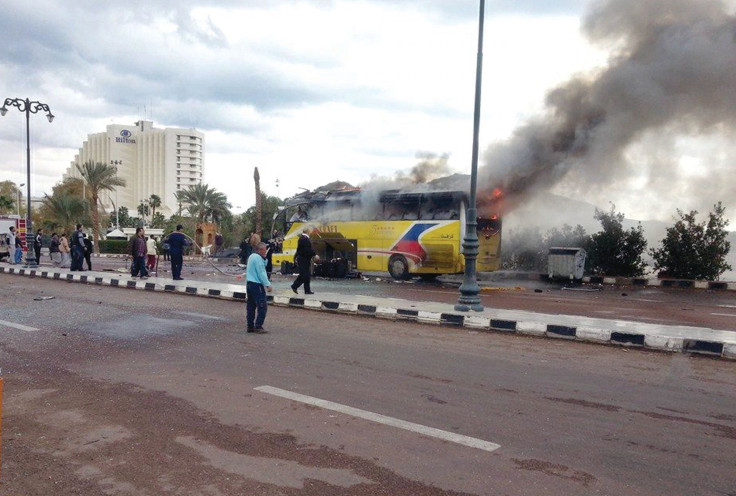 CAIRO, Egypt -- When a yellow tourist bus full of South Korean pilgrims traveling from St. Catherine's Monastery to Israel exploded on Sunday in Taba, near the Israeli border, at least four people were killed and 17 wounded.
Beyond that personal tragedy, the terrorist attack could be the death knell of Red Sea tourism in Egypt's Sinai peninsula.
According to Egyptian interior ministry spokesman Hani Abdel-Latif, a suicide bomber pushed himself inside the bus and detonated the explosives. It was the first time that jihadists' attacks have targeted Sinai tourists, but the tourism industry was already reeling due to previous attacks on military and security targets.
"Striking tourists is a big jump," said David Barnett, research associate at the Foundation for Defense of Democracies.
Ansar Beit Al Maqdis, a Sinai-based group that has claimed responsibility for most of the recent attacks, also claimed responsibility for the Taba explosion.
"We will target [the Egyptian regime's] economic interests everywhere to paralyze its hands from what they do to the Muslims," the group said in a statement on Monday.
The Muslim Brotherhood condemned the Taba attack, according to a statement posted on its website on Monday.
While the latest attack represents a significant departure and a potential radicalization of the group's strategy, the troubles for Egypt's tourism industry began long before the Taba explosion.
Since the ouster of former Muslim Brotherhood President Mohamed Morsi and the military's crackdown on Islamists in July, Egyptian businesses have been struggling in general, and since the January 2011 uprising the inflow of tourists has declined to a record low.
Suspended Flights
Mick Hargreaves and his wife, Jill, told International Business Times that, driven by declining tourism and dwindling business, they moved their Puddleduck restaurant from Luxor, an ancient city in Upper Egypt, to El Gouna, an upscale Red Sea coastal town, at the end of 2013.
"At the end of July, problems in Cairo completely killed us [in Luxor]," Mick Hargreaves said. Direct flights from the U.K. to Luxor were suspended in July. But Luxor is about 450 miles from Cairo. "People tend to associate, and they don't realize how far Cairo is from Hurghada and Sharm El Sheikh," he said.
Now, the troubles have followed the Puddleduck to the Red Sea coast.
By the end of 2013, the number of tourists still coming to Egypt declined by 31 percent to 678,000, compared with December 2012, according to the state statistical agency CAPMAS.
The turmoil and ongoing instability have resulted in sluggish economic growth, increasing unemployment and poverty, and a sharp depreciation of the Egyptian pound by 19 percent in December 2013, compared with December 2010 -- before the January uprising that toppled Hosni Mubarak.
The resulting rocky transition and political instability, with two former leaders jailed within a period of two years, have hit foreign direct investment and led to massive capital flight during the past three years. Egypt's foreign reserves fell from $35 billion in 2010 to less than $15 billion in 2012.
"The tourism sector remains the most affected by the political scene in Egypt," said Omneia Helmy, director of research at Egyptian Center of Economic Studies. "Security concerns are considered a main business constraint." At the end of last year, Egypt's tourism revenue declined to $6 billion for the year, compared to $10 billion the previous year.
The tourism sector, long an Egyptian mainstay, is among the hardest hit, and 70 percent of the industry focused on South Sinai and the Red Sea, according to Egypt's tourism data. After investors began pulling out, construction was halted on massive tourist resorts, leaving unfinished hotels and resort towns all along the Red Sea coast.
Business in Egypt's main tourist hubs along the Red Sea coast, which range from budget diving centers to upscale golf resorts, were biding their time, hoping for a turnaround. Sunday's bus attack will inevitably worsen the prospects for those businesses.
"In Gouna it's a quiet winter period, but there are more locals here, there are Europeans who live here," Hargreaves said, noting the recent increase in attacks and violence that already had a negative impact on tourism.
"There is a faithful customer base, but new customers and the all-inclusive clients are not coming back," said Aron Daniel Arngrimsson, co-owner of Dahab Divers Technical.
Across Egypt, the number of hotel bookings declined by 63.1 percent, with 5.1 million bookings at the end of 2013 compared to 13.9 million bookings in December 2012, according to CAPMAS data.
In an interview with local Al Hayat newspaper, Egypt's Tourism Minister Hisham Zazou called 2013 the "worst year on record" for the tourism industry.
Well-Funded Jihadists
The latest wave of bombings and attacks by Sinai-based jihadist groups on military targets in Cairo increased the potential threat of a wider jihadist movement, further encouraging tourists to stay away from Egypt.
Even before the bus attack, Sinai-based jihadist groups had in recent weeks demonstrated an increasing ability to stage and coordinate attacks on military and security targets beyond the peninsula.
According to Stratfor analysts, the Sinai-based jihadists appear to be better funded and have secured outside international support since the ouster of the Muslim Brotherhood's Mohamed Morsi in July 2013.
"Based on recent operations, especially the progression of attacks that began in mid-2013 and accelerated over the past quarter of the year, Ansar Beit al-Maqdis now appears to be sufficiently armed," wrote Scott Stewart in a research note on Jan. 30. "This may indicate that the group has found a new source of revenue either from foreign donors or from willing or extorted local sources."
In response to declining tourism revenues, the Egyptian government has stepped up its efforts to bring tourists back to Egypt.
"Tourism is of course related to safety and security," says Rasha Azaizi, press adviser to the minister of tourism, adding that the government has "a strategic plan to recover this, to attract 12 million tourists in 2014."
The Egyptian government planned to step up advertising and PR campaigns outside Egypt to bring tourists back, including what it calls the "Egypt Now" project, which will distribute 25 cameras in resort locations to show tourists sunbathing, diving and otherwise enjoying themselves in real time. The government plans to double the number of cameras in 2014 and invite international celebrities to demonstrate Egypt is safe and open for business.
"The Egyptians are determined to counter terrorism," Azaizi said. "We are at war against black terror."
The government sees the Sinai-based jihadists and its own anti-terror efforts as a part of a broader crackdown on Islamist extremists and supporters of the Muslim Brotherhood, outlawed in 2013.
"There are elements in the Muslim Brotherhood that don't support violence, but the Muslim Brotherhood has not cut the umbilical cord with the jihadist groups," argued Mohamed Gomaa, an analyst with the regional studies unit at Al Ahram Institute in Cairo.
Increasingly, both Egyptian and U.S. officials have sought to link Sinai-based jihadist groups with al-Qaida's growing regional presence. Though al-Qaida's emir, Ayman Zawahiri, praised Sinai jihadists' attacks in late January, there is currently no evidence of cooperation between al-Qaida and any of the Sinai groups beyond ideological affiliation.
"The car bombings have features of al-Qaida -- it indicates they have experience," Gomaa said. In addition, he pointed to al-Qaida's latest strategy and increased presence in the Middle East and North Africa. "The purpose now is to fight close enemies, not the far ones," he said. "We see more activity of al-Qaida now in Libya, Yemen, Lebanon, Egypt."
Top U.S. intelligence officials echoed this assessment of al-Qaida as a franchise and its shifting regional focus at Senate Armed Services Committee on Tuesday.
The "core al-Qaida -- the central leadership -- picks and chooses who is among the wannabes or are actually knighted, if you will, so designated as an al-Qaida organization," said Director of U.S. National Intelligence James Clapper.
Given the groups' fluid organization and sources of financing, analysts say the rate of attacks against strategic targets, including tourists, is likely to continue.
"While the Taba attack is an extremely worrying development that will likely result in a harsh response from Egypt's rulers, it is too early to deem this a game-change," said Barnett. "Targeting tourists on a regular basis will over the long run likely do more harm to the group and its attempts to garner greater support." However, he noted "further attacks against tourists cannot be ruled out now that that line has been crossed."
© Copyright IBTimes 2022. All rights reserved.
FOLLOW MORE IBT NEWS ON THE BELOW CHANNELS