Tesla Has 'Serious Competition' In Start-Up Rivian, Morgan Stanley Says
Morgan Stanley is talking-up virtually unknown American auto-tech firm Rivian LLC as the next serious competitor to Tesla Inc. and its stable of all-electric sedans.
Rivian won't make sedans, but will instead focus on developing SUVs and light trucks, which are vehicles Tesla doesn't have right now. Tesla makes about 80 percent of the electric vehicles in the U.S. while accounting for some 90 percent of U.S. electric vehicle revenues.
Rivian's choice of vehicles to build is noteworthy. It will only build SUVs and light trucks whose gasoline-powered versions are today heavily outselling sedans throughout the United States.
Rivian hopes to take the American motorists' infatuation with SUVs and trucks to the electric vehicle (EV) arena. It's no wonder Rivian chose its electric truck prototype, which it calls R1T, to make a statement about its challenge to Tesla at the Los Angeles Auto Show in November 2018.
Rivian said the R1T will have a range of 400 miles, with its four individual electric motors allowing for all-wheel-drive. Rivian CEO R.C. Scaringe said the R1T will be able to hit 60 mph in 3 seconds. The truck can tow up to 11,000 pounds.
In early testing, R1T sprinted from 0 to 97 km/h (60 mph) in 2.8 seconds. It waded through 1.1 meters (3.6 feet) of water and climbed a 45 percent incline.
Rivian is also building the R1S, an electric seven-passenger SUV. Rivian said the R1S will also have a range of more than 400 miles.
Both R1T and R1S are Level 3 autonomous, which is a step below Level 4 or a fully autonomous vehicle. In Level 3, a driver is still present and will intervene if necessary, but isn't required to monitor the situation on the road as intently as he would in a manned vehicle.
Both vehicles will also have extra features such as automated trailer backup. Both have a ground clearance of 14 inches. Rivian said it designed both vehicles to facilitate "car-sharing" because of their autonomous features.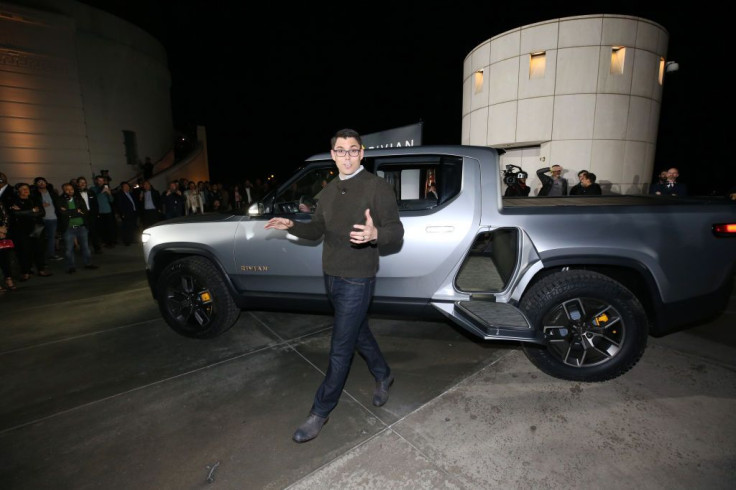 Tesla CEO Elon Musk, however, has said Tesla might reveal its first all-electric SUV this summer.
Morgan Stanley analyst Adam Jonas expects Rivian will be "the next serious competition from a 'clean sheet' start-up with access to talent & capital focused on the fastest growing segments of pickup trucks & SUVs."
Jonas believes that all-electric vehicle architecture will need a truly 'clean sheet' approach" to challenge Tesla, rather than adapting existing legacy OEM (Original Equipment Manufacturer) architecture.
"We believe companies like Rivian will take elevated importance in investors' minds as EVs become the focus of OEM investment and strategy," said the analyst.
© Copyright IBTimes 2022. All rights reserved.
FOLLOW MORE IBT NEWS ON THE BELOW CHANNELS