Tesla Motors' $35,000 Electric People's Car: How Elon Musk's Company Will Keep Model 3 Costs Down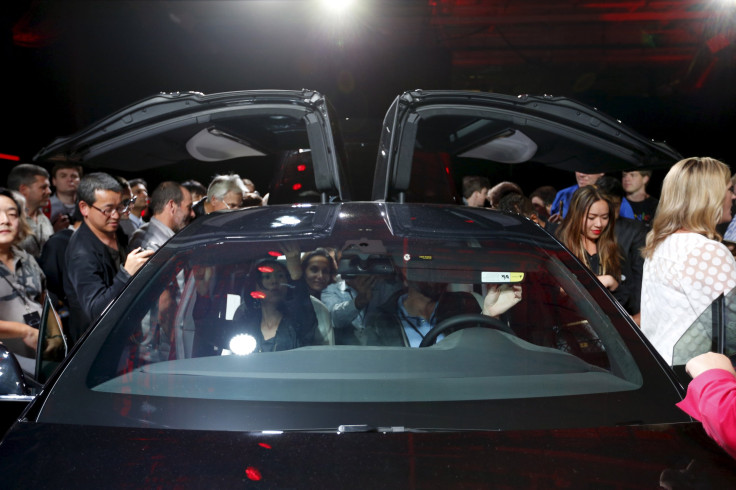 For Tesla Motors, the unveiling of the $35,000 Model 3 at the end of the month will mark an important milestone for the Silicon Valley-based electric car company. It will be the first glimpse of the company's electric people's car, the Tesla for the masses that helps to fulfill co-founder and CEO Elon Musk's lofty vision of a world weaned off dirty internal-combustion engines.
Mass adoption, Musk has known all along, isn't going to happen when you're selling six-figure sedans to wealthy technology-obsessed environmentalists. But soon the company will begin taking $1,000 down payments for an electric car that will cost about the same as an entry level BMW 3-Series.
But a sub-$40,000 Tesla? What gives?
The company is likely betting the Model 3 will wind up selling – at least initially – for a higher price after customers tack on performance and interior options. The Model 3, due out in early 2018, will likely come with several pricey add-ons, including a $5,000 all-wheel-drive upgrade, a $2,500 improved sensor-based "smart" suspension package, and $2,500 to activate the car's semi-autonomous driving features.
"We could expect options to bring the price up to between $45,000 and $55,000," said Ben Kallo, clean technology analyst for Robert W. Baird & Co., who recently raised Tesla's 12-month target stock price to $300 from Friday's $232. "It will be very interesting when they start taking reservations to see how fast they get to $50,000."
The pricing structure compares to that of BMW's 3-Series, an entry-level luxury car that starts at around $33,000 in the U.S. but can top $60,000 when it's fully decked out with options. Likewise, the high-end BMW 7-Series, the closest comparably priced BMW to Tesla's Model S, ranges from $81,000 to over $110,000.
Jessica Caldwell, senior analyst for Edmunds.com, says consumers can expect noticeable differences in the base Model 3, at least from the inside, in a way similar to BMW's entry-level and premium cars.
"For Tesla the most important thing for the vehicle is what it looks like on the outside," said Caldwell. "It's the interior where you would notice the difference the most, like using plastic instead of metal and vinyl instead of leather."
Another way Tesla is putting the Model 3 within reach of customers who could afford an entry-level BMW is what's beneath the skin.
While the Model S and Model X have pricier aluminum frames, Tesla is likely deploying lower-priced metals, like steel. Frames can be built with a number of different alloys to help lower materials costs. In January, Tesla plucked materials engineering expert Charles Kuehmann from Apple Inc., the kind of expert you would need to efficiently build vehicle body frames.
The company will begin taking orders after the car is shown publicly for the first time, on March 31 in Hawthorne, California.
Correction: The original version of this story said the Model 3 would cost less than $30,000 after a $7,500 U.S. federal tax credit. Unless the rules of the green-car incentive changes, Tesla will use up all or most of its quota of 200,000 vehicles per manufacturer that are eligible for the credit by the time the Model 3 begins delivery to customers.
© Copyright IBTimes 2023. All rights reserved.
FOLLOW MORE IBT NEWS ON THE BELOW CHANNELS