Tesla Motors Inc (TSLA) Q4 2014 Earnings Preview: Can Tesla Thrive Against Electric Cars Like Chevrolet Bolt And Audi Q8 E-Tron?
Elon Musk's dream of a world filled with energy efficient electric cars is also a nightmare for Tesla Motors Inc. The reason is simple: If battery-power is the future of mass transport, as the CEO and chief architect of Tesla Motors envisions, then his company will become a David in a field of Goliaths.
"Suddenly it looks as if the car industry is about to disrupt Tesla's high-flying plans, not the other way around," said automotive industry veteran Bertel Schmitt ahead of Tesla's fourth quarter and full-year 2014 earnings announcement due Wednesday. "Silently humming around test tracks everywhere are prototypes for [electric vehicles] that go twice as far on a single charge," said Schmitt, who runs the Tokyo-based Daily Kanban blog.
At the luxury end, German automakers are preparing Tesla Model S challengers. Audi's Q8 e-Tron, due out in 2017, is aimed at the upcoming Tesla Model X crossover. An all-electric version of the Porsche Panamera is scheduled for release by 2018. And the Mercedes-Benz EV has a tentative 2021 release date.
For the mass market, General Motors and Nissan are planning modestly priced electric cars with improved battery and drivetrain technologies. The Chevrolet Bolt, revealed last month in Detroit, is due out around the same time as the Tesla Model 3. Nissan CEO Carlos Ghosn said in December that the Nissan Leaf, the automotive history's bestselling electric car, will soon have a range of around 250 miles, up from about 84 miles. Volkswagen AG (which owns Porsche and Audi) has announced it will launch 20 green vehicles, including all-electric and gasoline-electric hybrids, for China, a key market in Tesla's global growth plans.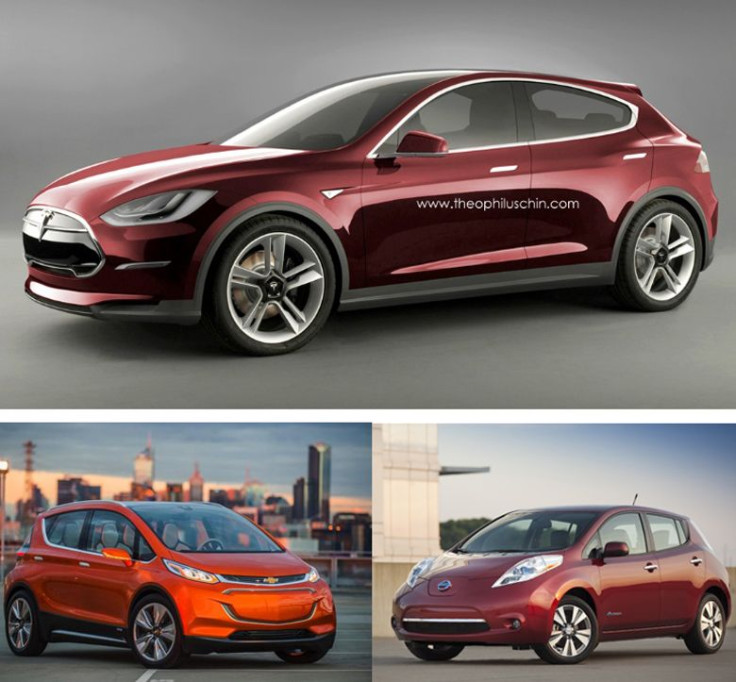 Most of these cars will be on the market by the time Tesla plans to hit a 500,000-vehicle annual sales benchmark in 2020, with the help of its planned $35,000 Tesla Model 3
The car is due out around 2017. But even as the competition for fully electric cars stiffens, Musk recently doubled down on his projections. Speaking last month at an automotive conference in Detroit, he said Tesla would be making "a few million cars" a decade from now. In 2014, the company sold about 32,000 cars, according to estimates that will be confirmed next week.
"One thing is abundantly clear: Elon Musk views the future of transportation, and not just automotive, as electric," Akshay Anand, analyst at the automotive pricing provider Kelley Blue Book, said in an email. "His comments on Tesla hoping to sell 'a few million cars by 2025' indicate he has plenty in store for the brand. Still, this is a tall task, given that Musk indicated the Model 3 won't hit full production [until] around 2020."
Tesla will report financial results after markets close on Wednesday. Economists polled by Thomson Reuters expect $1.23 billion in revenue in the fourth quarter of 2014, up from $761.3 million in the same quarter the previous year. Net profit is seen increasing to $46.1 million from $45.9 million. Adjusted earnings per share for the quarter are forecast at 31 cents, down from 33 cents in the same quarter last year.
For the year, economists expect Tesla to report $3.7 billion in 2014 revenue, up from $2.48 billion in 2013. Net profit is predicted to be $80.1 million, down from $103.6 million the previous year. Adjusted earnings per share is seen falling to 57 cents in 2014 compared to 78 cents in 2013. The public can listen to the earnings conference call webcast here starting at 5:30 EST on Feb. 11.
A significant portion of Tesla's revenue comes from the sale of zero-emission credits in California, where Tesla has an advantage because it doesn't make cars with internal-combustion engines. It also generates revenue through a lease-accounting arrangement with banks, a deal that lets Tesla report all the revenue it would collect over three-year Model S leases at once instead of spreading out the revenue gains over multiple quarters, in accordance with general lease-accounting principles. Musk has said the company won't turn a profit based on generally accepted accounting principles until 2020.
Still, the company's bullish investors view Tesla as a growth stock, much like Amazon.com, a company with future profit-growth potential. This means revenue growth is more important than profit. As long as Tesla can keep increasing car sales, and maintain ideal profit margins, then investors will be satisfied with losses. Tesla's stock price is up 28 percent over the past year, to around $223 on Thursday.
"Revenues should accelerate to a 63 percent rise in 2015," S&P automotive equity analysts Efraim Levy said in a research note. "In November, the company warned of sharply lower than-expected profits in the fourth quarter due to production shortfalls, but expects to see more than 50 percent production growth in 2015. Margins may fluctuate among quarters, but we see improvement overall due to manufacturing cost reductions and more efficiencies from higher Model S production."
Tesla's costs are running high. It's spending heavily on development of the Model X and Model 3; a typical car can cost a billion dollars to develop before the first one is sold. It continues to flesh out its global network of rapid-charge stations. It will eventually need to expand capacity at its sole Fremont factory, and invest in more production capacity elsewhere to meet Musk's goals. Meanwhile Tesla is building a massive multi-billion-dollar battery facility east of Reno, Nevada, in partnership with its battery supplier, Panasonic Corp. Boosting battery supply and lowering cell costs is vital to Tesla's Model 3 plans.
Wall Street will want to know on Wednesday how many cars Tesla sold globally in the fourth quarter and for the year. Last month, Musk said revenue in China "was not a significant contributor to our sales" in the quarter, which immediately drive down the company's stock price by 6 percent (it has since recovered). Like other luxury automakers, Tesla is betting China's rapidly expanding luxury car market, along with government efforts to combat pollution in its smog-choked cities by promoting EV use, will be a boon to sales. However, wealthy Chinese consumers there will need to see more Tesla charging stations – which offer free power to Tesla customers – in the mainland before they can be enticed to buy more Model S sedans, Musk has said.
Investors will also want to know how many cars Musk plans to sell this year, and whether the Model X will come out as scheduled in early 2016. The highly anticipated luxury crossover has been delayed three times as the company works out some engineering challenges, including its so-called "falcon wing" doors designed to allow easier movement inside the cabin when they're open.
Musk has lofty ambitions for Tesla that might be too optimistic. To go from around 32,000 cars in 2014 to "a few million" in 10 years is unheard of in the automotive industry. "For a company of Tesla's size, it is absolutely impossible to scale [to grow production quickly while lowering manufacturing costs] from nobody to a size bigger than Audi in just 10 years," said Schmitt. "It took Audi more than 80 years to get from zero to the 1,740,000 units it made in 2014."
For now Musk seems confident he can do what's never been done before, even in the face of an increasingly crowded electric vehicle market.
For more conceptual digital car renderings like the Model 3 image above, visit theophiluschin.com.
FOR FREE to continue reading
✔️ Unlock the full content of International Business Times UK for free
offer available for a limited time only
✔️ Easily manage your Newsletters subscriptions and save your favourite articles
✔️ No payment method required
Already have an account?
Log in
© Copyright IBTimes 2023. All rights reserved.