Tesla Motors: Japanese Officials, Automakers Betting That Fuel Cell Vehicles Can Take On Elon Musk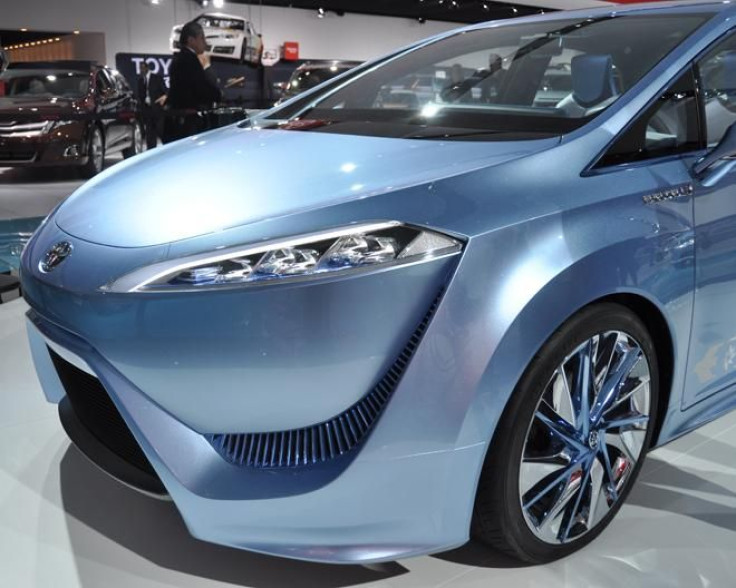 Japan's top leaders and automakers are betting that their fledgling fuel cell vehicles can take on Tesla Motors Inc.'s (NASDAQ:TSLA) all-electric cars.
Prime Minister Shinzo Abe earlier this week called for government subsidies and tax breaks to encourage Japanese drivers to choose domestic fuel cell cars over battery-powered electric vehicles like the Tesla Model S.
A day later, Toyota Motor Corp. (TYO:7203), the world's top carmaker, revealed more details about its much-anticipated fuel cell model, the FCV, including a teaser video and news that the car will launch in Japan next April. The Camry-sized sedan will be priced at 7 million yen ($68,687), the automaker said — about $1,000 less than the sticker price of a Model S.
The pricing is unlikely to have been a coincidence, Lisa Jerram, a senior research analyst at Navigant Research, told Business Insider. "It does seem as though they're attempting to compete in that category," she said.
Abe didn't flesh out further details on his administration's fuel cell subsidies. But he has outlined a goal of bringing fuel cell car prices down to $20,000 by 2025, which in turn should help meet his target of generating 1 trillion yen ($9.8 billion) for Japan through fuel cell sales by 2030.
The news from Japan underscores the tensions in the zero-emission driving sector over which fledgling technology is likely to win out.
Tesla CEO Elon Musk has derided fuel cell vehicles in the past, calling them "fool cells" and a "bull****" marketing gimmick. "Hydrogen is suitable for the upper stage of rockets, but not for cars," he told a crowd of German Tesla fans in Munich last fall.
With a fuel cell car, drivers pump compressed hydrogen into vehicle storage tanks, just as they would pump gas into a conventional car. The hydrogen interacts chemically with oxygen to produce electricity, which powers the engine. Unlike gasoline-powered cars, which spew pollution and greenhouse gases from their tailpipes, the fuel cell car's only byproduct is water.
Electric vehicles, by contrast, are powered by large battery packs, which are recharged by connecting to a charging station.
About half the auto industry seems to be ditching electric vehicles in favor of fuel cell models, according to a note this week from Morgan Stanley.
Analysts attributed the swap to waning consumer demand for electric models and the slow build-out of necessary battery-charging infrastructure, which is critical for extending driving range, Business Insider noted.
© Copyright IBTimes 2023. All rights reserved.