Tesla (TSLA) CEO Elon Musk Speaking In Germany To Promote Model S Sedan: Hydrogen Fuel Cell Cars Are 'So Bull****'
Musk says automakers researching the technology are doing it for marketing purposes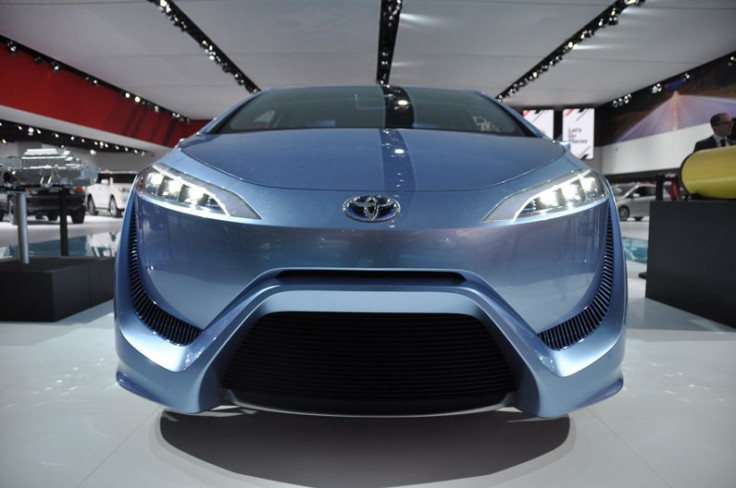 During a press event in Germany Tuesday evening to promote the Tesla Model S luxury electric sedan, Tesla Motors Inc. (NASDAQ:TSLA) CEO Elon Musk took a swipe at efforts by rival automakers to develop hydrogen fuel technology – which would power vehicles using cells that produce electricity derived from a chemical reaction between hydrogen and oxygen.
"Oh God, fuel cell is so bull****," Musk told a crowd of German Tesla fans in Munich, pointing to hydrogen's volatility. "Hydrogen is suitable for the upper stage of rockets, but not for cars."
Musk scorned automakers that are developing the technology, calling into question the sincerity of their stated goals and suggesting they are engaged in hydrogen research and development just for marketing purposes. And for sure questions need to be answered about the viability of a car powered from an onboard pressurized tank of hydrogen gas.
In recent years major automakers including Volkswagen AG (FRA:VOW3) , Daimler AG (FRA:DAI), Ford Motor Co. (NYSE:F) and Honda Motor Co. (TYO:7207) have all devoted significant resources to what Musk (perhaps cheekily) called a marketing ploy. If so, it's a costly one.

In 2008, Honda rolled out its FCX Clarity – a six-figure Civic-based hydrogen fuel cell vehicle – basically as a test run for a possible full rollout in 2018. Toyota recently upped the timeline ante by announcing it would roll out a hydrogen-powered Prius. If these cars are as dangerous as Musk claims, we'll know soon enough if hydrogen is a dead end toward truly zero-emission vehicles.
Musk's visit to Germany was mainly to promote the Model S electric sedan, whose sales in Europe's largest economy have so far been dwarfed by those in the Netherlands and Norway. He outlined the progress in building Tesla's Supercharger network in the country – the first six stations are currently in construction and at least 34 more stations are in the planning stages. By the end of next year, Musk says 80 percent of the German population will be within 62 miles of a Tesla Supercharger station. Of course, Musk's biggest challenge will be to convince Germans to buy American cars.
But the appeal of the Tesla event in Germany was as much about Musk as it was about his critically acclaimed car. And he didn't disappoint. He even tossed in a profanity for extra measure.
Note: the video of Musk's Munich appearance is below, following what appears to be an odd 15-minute German-language spiel. You can fast forward to the Tesla event by clicking the timeline bar in the video below to around the fifteen-minute mark.
© Copyright IBTimes 2023. All rights reserved.