Toyota Rolls Out Hybrid Fuel Cell Car Video, Announces Price, Sets Japan Release Date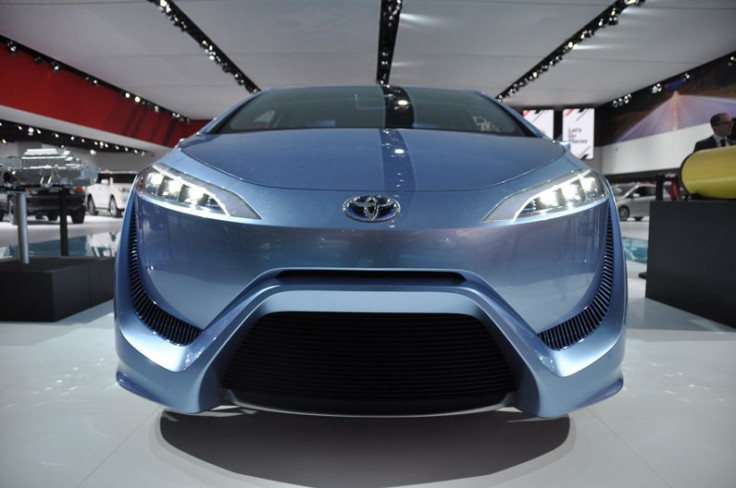 Toyota Motor Corp. (TYO:7203) has taken a different route in the quest for zero-emission driving, one that electric car innovator Elon Musk, CEO of Telsa Motors Inc. (NASDAQ:TSLA), has derided as a "bull****" marketing gimmick.
If that is so, it's been a long and expensive one for Toyota. The first automaker to mass-produce a hybrid car, the Prius, insists that hydrogen fuel cell technology is the future of zero-emission driving. The world's top automaker revealed Wednesday more details about the FCV, the hydrogen-powered car that has been making the rounds at global auto shows over the past two years.
The sedan, about the size of a Camry, will go on sale in Japan next April for 7 million yen ($68,687). Toyota released a teaser video of the car on Tuesday ahead of a company press briefing at its Japanese headquarters. The video doesn't show much, but it's the first time the FCV is shown being driven on city streets, at least in computer-rendered form.
Toyota has been investing in fuel cell infrastructure in California, which has also committed nearly $50 million to build stations that pump compressed hydrogen into vehicle storage tanks. Last year it announced a $7.2 million investment in a startup to build out fuel cell stations in the state. The hydrogen interacts chemically with oxygen to produce electric power whose byproduct is water.
Telsa's Musk says the systems are good for space transport -- he uses the technology in SpaceX, his own space cargo transport company -- but are impractical for mass-produced passenger cars.
Toyota and other automakers that have been working on the technology disagree. Honda Co. Ltd. (TYO:7267) is expected to release its own updated hydrogen car in the coming years to replace its FXC Clarity, the $100,000 hydrogen-powered Civic that has been undergoing tests in Southern California and a few other markets since 2008. Meanwhile, the Japanese government is calling for subsidies and tax breaks for buyers of hydrogen fuel cell cars, the New York Times reported on Wednesday.
Japan's auto sector is vital to the economy, and the country's Big Three, Toyota, Honda and Nissan Motor Co. Ltd. (TYO:7201) are all jockeying to be the first to mass-produce cars that run on the technology.
© Copyright IBTimes 2023. All rights reserved.