Tesla Stock Dips Ahead Of Battery Day: What Elon Musk Said To Trigger It
KEY POINTS
Tesla's Battery Day has helped drive Tesla's stock to new highs over recent months
A really big announcement Tuesday could see the stock skyrocket once again
On Monday, however, Musk tweeted people won't see Tesla new battery tech advances any time soon
The hype pervading Tesla's "Battery Day," which begins in earnest Tuesday evening following the shareholders' meeting at Palo Alto, Calif., has been a key catalyst in the recent rise of Tesla's stock price.
All that momentum, however, seems to have gone out the window Monday when Tesla CEO Elon Musk tweeted people won't see Tesla battery tech advances any time soon, sending Tesla's stock price falling.
"Important note about Tesla Battery Day unveil tomorrow. This affects long-term production, especially Semi, Cybertruck & Roadster, but what we announce will not reach serious high-volume production until 2022," tweeted Musk.
This dour declaration immediately led to Tesla stock plummeting 6% overnight. Shares closed Monday up 1.6% to $449.39 after tumbling intraday to $407.07. Analysts pointed out Tesla Battery Day rumors, buzz and hype helped boost shares from their 50-day line after Sept. 8.
The stock closed at $330.21 on Sept. 8 and $449.39 Monday, an epic 36% gain. Tesla's stock has shot upwards by an incredible 415% since Jan. 2, when the price stood at only $86.05.
Despite Musk's cold-water announcement, readers of tea leaves still expect Musk to reveal at least some stunning news on Battery Day. Word is Tesla plans to unveil at least two of its new Roadrunner battery cells at the event.
Battery cells for Tesla's EVs are currently being made by Japan's Panasonic Corporation, the exclusive supplier of 2170 cells for the Model 3. It also builds batteries for the Model S and Model X.
There are rumors of the much-anticipated "million mile battery" and Musk announcing Tesla will make its own batteries in-house. Musk himself previously said Battery Day "will blow your mind. It blows my mind, and I know it!"
"Many exciting things will be unveiled on Battery Day," tweeted Musk on Sept. 11. Only six days later, Musk fueled the fire by tweeting Battery Day "will be very insane."
Electrek said an anonymous source provided two pictures of a battery cell, claiming these were Tesla's new in-house cell. It later said an independent source confirmed these images were the real deal and the cells were produced by the Roadrunner system. The images reveal a tabless cell, which is something Tesla is known to be working on.
Early this year, Tesla took out a patent for a new battery cell with a tabless electrode Musk claimed was "way more important than it sounds." The absence of a tab cuts cost and simplifies manufacturing.
One expert believes Tesla's Roadrunner cells will be built to a 54×98 form factor, which has 10 times the volume of a 2170 cell. Resorting to this larger cell would mean Tesla could produce battery packs that use only one-tenth the number of cans, electrolyte fills, and welds compared to the 2170.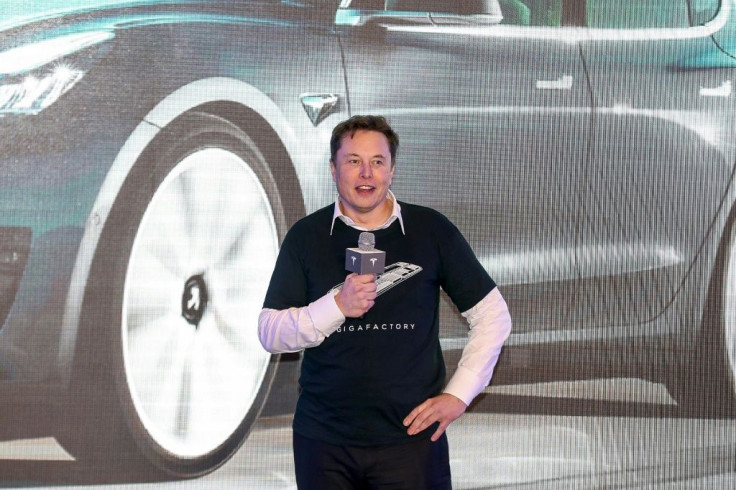 © Copyright IBTimes 2022. All rights reserved.
FOLLOW MORE IBT NEWS ON THE BELOW CHANNELS