Tesla Stock Price Plunges 10% Amid Battery Day Disappointment, Network Outages
KEY POINTS
Tesla's Battery Day event fails to live up to the hype
Instead of anticipated news about a powerful, million-mile battery, Elon Musk presented long-term updates
Tesla's stock fell Tuesday and Wednesday due to Battery Day and netwrok issues
Tesla's "Battery Day" proved to be a misnomer, and the company paid a heavy price for the misstatement.
Tesla's failure Tuesday to show-off any new electric vehicle (EV) battery, or to reveal any news at all about the eagerly anticipated "million mile battery," sent its stock tumbling 10.3% to $380.36 on Wednesday. The stock fell further to $368.75 in extended trading.
The hefty regular-hours plunge wiped out more than $50 billion from Tesla's market cap, which now stands at $354 billion. The stock now finds itself 24% below its Aug. 31 record close of $498.32.
Also contributing to Tesla's stock price woes Wednesday was a massive network outage that prevented customers from using the Tasla app and seemed to have accelerated the sell-off. Tesla hasn't commented on the system outage and the reasons behind it.
Despite Wednesday's beating, the stock is still up 357% so far this year. Many analysts still rate Tesla a "Buy" stock.
"Notable about the recent gyrations in (Tesla) is that the stock is still above its 50-day (moving) average, meaning weakness has been in proportion to year-do-date strength, i.e., the stock's uptrend is intact, in our view," wrote Ari Wald, technical analyst at equity researc firm, Oppenheimer & Co. Inc.
Wald said the Tesla's 50-day moving average (50-DMA) now stands at $362.56. The 50-DMA has supported Tesla's stock since it last closed below that number on April 9.
What investors, analysts and the public got from CEO Elon Musk and other Tesla bosses during a disappointing Battery Day were underwhelming long-term updates on battery and manufacturing plans.
Musk, however, did reveal plans to produce a cheaper, lower-cost battery. He unveiled a strategy allowing Tesla to mass-produce its own battery cells that will increase range by more than 54%, slash battery costs per kWh by 56% and cut investments by 69%. He again stated Tesla's intent to build a $25,000 EV and to eventually produce 20 million vehicles a year -- by 2023.
On the other hand, investors that had boosted Tesla to record highs were especially anxious to hear something about the "very insane" battery tech Musk tweeted about beforehand.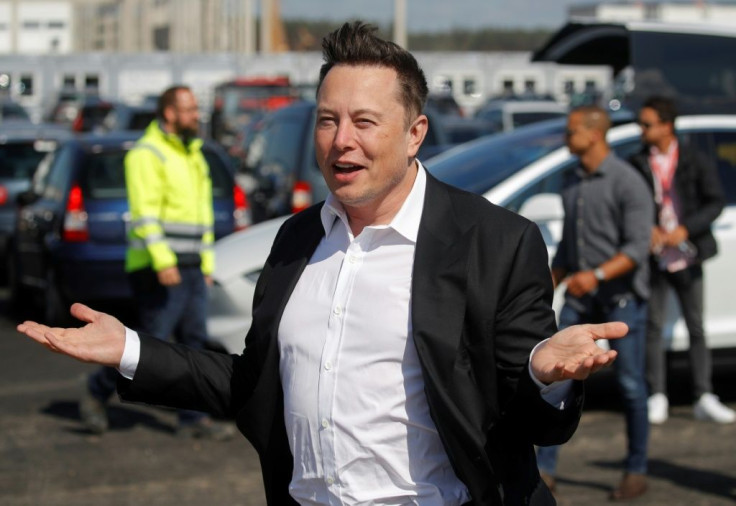 The overhyping of Battery Day led some to surmise Tesla planned to unveil at least two of its new Roadrunner battery cells during Battery Day. It never happened.
Musk himself said Battery Day "will blow your mind. It blows my mind, and I know it!"
"Many exciting things will be unveiled on Battery Day," tweeted Musk on Sept. 11. And only six days later, Musk fueled the fire by tweeting, "It will be very insane."
All that hype went out the window Monday when Musk tweeted people won't see Tesla battery tech advances any time soon.
"Important note about Tesla Battery Day unveil tomorrow. This affects long-term production, especially Semi, Cybertruck & Roadster, but what we announce will not reach serious high-volume production until 2022," tweeted Musk Monday.
Musk's declaration led to Tesla's stock taking a dive Tuesday, while the actual disappointing results of Battery Day itself led to Wednesday's sell-off.
© Copyright IBTimes 2022. All rights reserved.
FOLLOW MORE IBT NEWS ON THE BELOW CHANNELS