THAAD In Korean Peninsula: New Location For Missile System To Be Announced By South Korea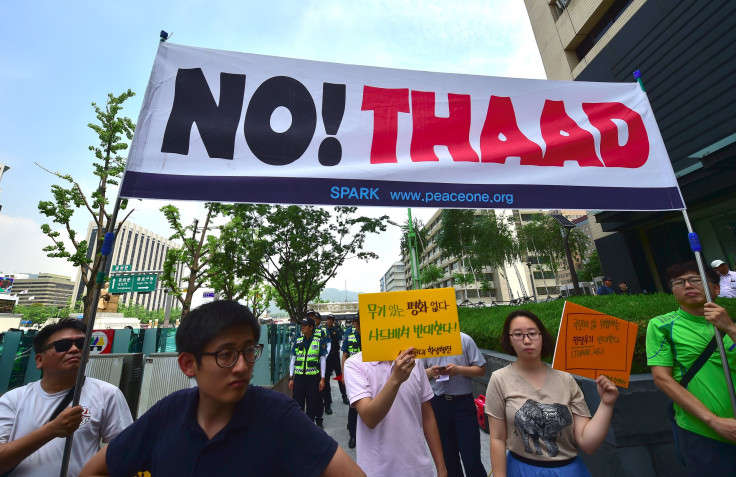 South Korea is shifting the location of an advanced U.S. anti-missile system from its current chosen location in the southern Seongju County after residents protested, saying the installation could be a health and environmental hazard. Seoul is expected to announce the new site, in the same county, Friday.
"We are planning to release the evaluation results of three possible candidate locations to host the Terminal High Altitude Area Defense [THAAD] system [in Seongju County] … tomorrow," the South Korean defense ministry said, according to Yonhap News Agency.
THAAD deployment in Seongju County — 134 miles south of Seoul — drew massive protests from locals who demanded the government look for another place for the missiles. Residents said that powerful radar waves from the system's battery may trigger health and environmental problems.
The Yonhap report said that Lotte Skyhill Country Club in northern Seongju, located 11 miles north of the Seongju County center, was likely to be chosen as the new site for THAAD. The place reportedly has fewer residential areas. But the report speculated that locals from the neighboring town of Gimcheon may oppose the deployment. They have already warned of protests if the place is chosen for the missile system's deployment.
In July, Seoul and Washington agreed to deploy THAAD amid growing threats from rival and neighbor North Korea, which has conducted several nuclear and missile tests this year. The South Korean defense ministry said at the time that they wanted to make the system operational by the end of 2017.
However, China and Russia opposed Seoul and Washington's move to the deploy THAAD, citing security threats, and urged Seoul and Washington to reconsider their decision.
© Copyright IBTimes 2023. All rights reserved.