Thai Tourist Economy Feeling The Pain Of Nation's Political Crisis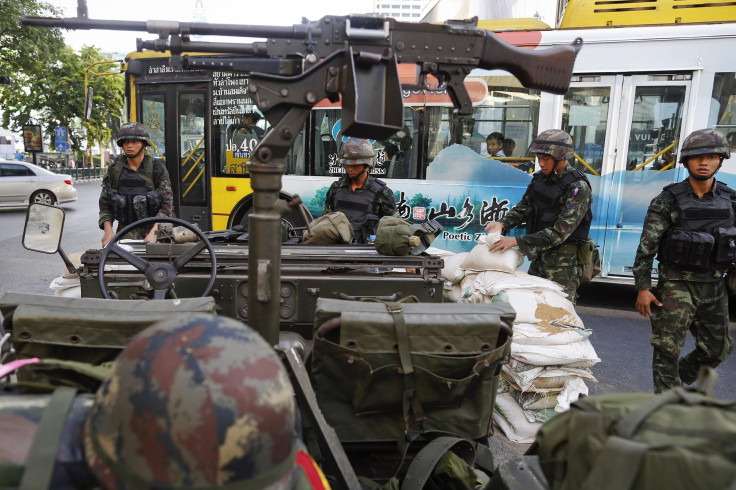 Thailand, long a dream destination for international tourists chasing pursuing pristine beaches as well as more sordid attractions, is beginning to see vital tourist spending weaken and individuals and event sponsors alike are deciding to delay activity as political unrest grows.
The latest victim of the unrest is The OneAsia-Japan Tour Thailand Open, whose sponsors late Monday cancelled the tournament after having already postponed it once.
"The Thailand Open is a world-class tournament and we want to hold it when the environment is stable," said Rungsrid Luxsitanonda, President of the Thailand Golf Association (TGA). But he told Thai paper The Nation, "It is difficult to find a suitable date later this year as the golf calendar is busy during that period,"
Thailand's ongoing political crisis has already hurt the nation's economy, and Tuesday morning's declaration of martial law is not going to help as its key tourist economy and related exports and private investment flows stutter, the nation's latest data show.
In the first four months of 2014 8.6 million international tourists visited Thailand according to the nation's Department of Tourism, suggesting an annual visitor total of just above 20.5 million. By contrast 26.5 million visitors arrived in 2013.
The nation's National Economic and Social Development Board said late Monday that it expects 2014 economic growth to be 1.5 percent to 2.5 percent, sharply lower than its previous estimate of 3 percent to 4 percent.
"Together with the decline in the numbers of inbound tourists, which were adversely affected by the domestic political unrest and the new Chinese tourism law to improve quality of Chinese tourists, export volume of goods and services declined by 0.4 percent," Thailand's National Economic and Social Development Board (NESDB) said in its Monday report. "The tourism sector also needs to be stimulated particularly by restoring tourists' confidence and promoting additional tourism campaigns," it added.
Tourists who decide to go ahead with travel to Thailand during martial law are unlikely to see many changes from past trips, excepting perhaps smaller beach crowds. "You should avoid protest sites, demonstrations, and large gatherings. Be alert and aware of your surroundings and pay attention to local news media reports. You should allow extra time when travelling throughout the city or to/from airports. Consider using public transportation," the agency Website cautions.
According to Phil Sylvester from Travel Insurance Direct, if one stays away from the direct vicinity of protests things should be alright for them.
"As a tourist you're very unlikely you'll notice a difference. The beer will continue to flow, the pad Thai will be served up as usual along Khaosan Road," Sylvester told the website for the Melbourne, Australia-based Herald Sun. "You might see a few armed soldiers on the streets guarding buildings and TV stations, you may run into checkpoints if you're going anywhere near a known trouble spot, but like most sensible travelers you're not going anywhere near the trouble spots, are you?"
However the U.S. State Department takes a bit more cautious tone urging U.S. travelers to Thailand
In the first quarter the Thai economy slowed by 0.6 percent amid the political turmoil, the agency said. Not surprisingly, private investment is expected to be hit especially hard. The Board said it now expects 2014 private investment to rise a mere 0.2 percent, down from its 3.8 percent previous prediction, due to the political situation.
Singapore-based bank DBS said Monday that, "Both private consumption expenditure and investment growth underperformed our expectations, signaling that the impact from the current political impasse on the economy may have been greater than we had initially thought," according to a report on the Asia News Network.
Exports are also taking a hit, and according to the government's data release on Monday, "Coupled with a downward revision of tourist numbers, volume of export of goods and services is projected to grow by 3.6 percent, declining from 6.0 percent in the previous projection," the Thai government said.
© Copyright IBTimes 2023. All rights reserved.
FOLLOW MORE IBT NEWS ON THE BELOW CHANNELS