Thailand Coup Is 'Uncharted Territory' Despite Past Overthrows: Human Rights Watch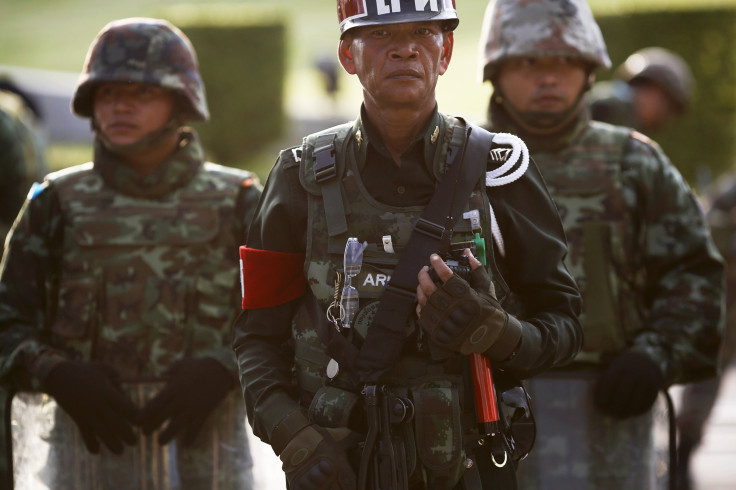 Two days after martial law was declared in Thailand, the country's army chief, Gen. Prayuth Chan-ocha, officially seized control of the government in a coup. It's the 12th such overthrow to take place during the current king's reign, but some observers say this one is profoundly different.
Soon after Thursday's coup was announced on Thai television stations at 5 p.m. local time (6 a.m. EDT), the "redshirt" activists' group supporting the former government vowed "retaliation." The allied group United Front for Democracy against Dictatorship tweeted, "NOW it is COUP – stand by for a retaliation from the UDD."
Despite this being the 12th coup that the 86-year-old ailing king, Bhumibol Adulyadej, has seen in his 68-year reign, a spokesman for Human Rights Watch organization called this one is unprecedented.
"We're in uncharted territory," John Sifton, the Asia advocacy director for the Human Rights Watch told International Business Times. Unlike previous coups in Thailand that were result of conflict between the civilian government of the time and the military, this one is rooted in a complicated political environment involving the royal succession. While the current king, who has reigned far longer than most Thais have been alive, is revered, his son and heir, Crown Prince Vajiralongkorn is widely reviled.
"Part of this coup may be to set the stage that if the king were to die or fall into a coma, their hand would be strengthened against what they see as the next head of state, who has much more tendency to favor Thaksin than they do," Sifton said, referring to the former Prime Minister Thaksin Shinawatra, who was deposed by the last military coup in 2006 and whose party has won every election in Thailand since 2001. Thaksin's sister, Yingluck Shinawatra, was premier until this week.
"Their allegiance is to the old man, not the crown prince. As long as his heart beats, that's the way they're going to look at it," Sifton said.
For the average Thai citizen who is not politically involved, the coup may bring few changes. For now, there are reports that Western TV stations and several websites have been blocked and replaced with a constant military feed featuring a succession of brief announcements related to the government takeover. The military also announced schools will be closed Friday through Sunday.
But for those with political affiliations, and journalists, this could be a angerous time.
On Thursday afternoon, witnesses said, hundreds of extra troops arrived at Bangkok's Army Club and took away the leader of the anti-government protests, Suthep Thaugsuban. It is unclear who else has been detained. Political party leaders and one Cabinet member are reportedly in hiding.
"They're arresting political leaders. The next step might be the arrest of journalists or even our own staff who are reporting on abuses that are carried out," Sifton said.
Soon after the coup was announced, a curfew was declared from 10 p.m. to 5 a.m. The military junta also said the constitution has been suspended.
While this military coup may differ from those before it, Sifton predicted the U.S. State Department will have a similar reaction to this one, where foreign military assistance will be cut off until a new democratically elected leadership comes into power.
"The U.S. military's relationship with Thailand is decades old. It goes back to the '50s and '60s," Sifton said. "It gets suspended during coups, like in 2006, but then it goes back up right afterwards. No lesson was learned." Among the lessons this coup may provide, he said, is that "one key piece of leverage the U.S. has, has not been properly utilized."
© Copyright IBTimes 2022. All rights reserved.
FOLLOW MORE IBT NEWS ON THE BELOW CHANNELS