Thousands In Beirut Again Demonstrate In 'You Stink!' And 'We Want Accountability' Protests Against Lebanese Government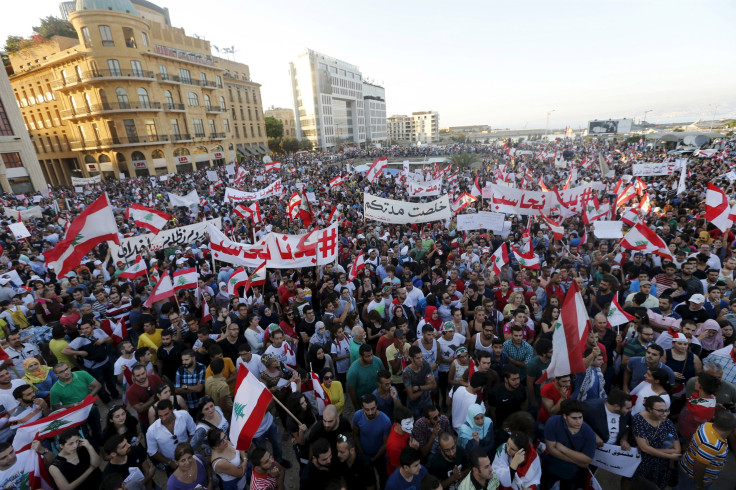 More than 10,000 people took to the streets of downtown Beirut Saturday, demanding the resignations of Lebanon's top government officials for the second consecutive weekend. The demonstrations began after weeks of tension over the government's inability to deliver essential services such as water, electricity and garbage collection.
Police have called on peaceful protesters to depart Riad Al Solh Square in Beirut so they can focus on rioters there, according to Al Jazeera.
Two rallies descended into violence last weekend when Lebanese security forces deployed water cannons, tear gas, rubber bullets and even live ammunition, injuring hundreds of people.
Frustration with the government has quietly simmered in Lebanon for years, but it came to a head last month when politicians shut down a massive landfill without providing an alternative place for waste disposal. Parliamentary elections have been repreatedly delayed, and critics contend the government's structure, allocating power to various religious sects, has created an environment of political cronyism.
"People are not 'welcome' to join, people should join -- it's their duty as Lebanese citizens to come down today," Marwan Azzi, a 34-year-old business professional, told Al Jazeera Saturday. "We are all here today because we are sick of the politicians taking us for fools."
Primary drivers of the demonstations are the You Stink! and We Want Accountability movements.
Security forces estimated that 10,000 people assembled in Beirut Saturday, while organizers affiliated with the You Stink! movement suggested the figure was closer to 30,000.
Lebanon's problems run much deeper than garbage. Areas of Beirut, a city with an estimated population of as much as 2 million, suffer near-daily power outages -- 25 years after the Lebanese Civil War drew to a close in 1990. The country's presidential office has been empty for more than a year and the current parliament, elected in 2009, extended its term until 2017, citing national instability.
"We need a revolution to free ourselves from these politicians," Hani Abu Hamdan, a 23-year-old civil engineer, told Reuters. "We want power, we want water, we don't want rubbish in the streets. We want these politicians to get lost."
© Copyright IBTimes 2023. All rights reserved.
FOLLOW MORE IBT NEWS ON THE BELOW CHANNELS