'You Stink' Protests In Lebanon Quiet Down After Another Night Of Clashes In Country's Capital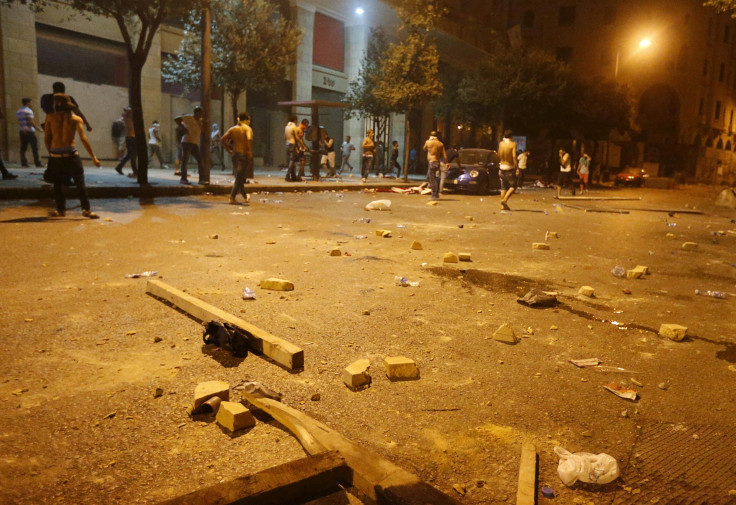 Beirut's streets quieted down around 1 a.m. Lebanese local time amid a heavy security presence following another night of protest against the government. Peaceful demonstrations turned violent for a second night Sunday evening, as more than 50 demonstrators and security forces were injured. One demonstrator reportedly died, the first fatality since the protests began, Al-Jazeera English reported.
Anger at Lebanon's government spilled into the streets in recent days as demonstrators blamed officials for their failure to resolve a protracted garbage disposal crisis. The campaign, "You Stink," has charged government officials with inept and corrupt governance. The country has grown increasingly fractured amid rising sectarian tensions across the region -- particularly in neighboring Syria -- which have exacerbated Lebanon's already tenuous political fabric.
Prime Minister Tammam Salam, warning that the country was on the brink of collapse, threatened to resign amid the public show of discontent with his government. Salam said the country faced a greater crisis from "political garbage" than the trash disposal crisis, according to the Daily Mail.
Riot police responded to the site of protests with water cannons and tear gas Sunday night as protests grew increasingly rowdy, and demonstrators responded by throwing sticks and stones at the police. The protesters chanted, "The people want the downfall of the government," and "Revolution!" as they marched toward Martyrs' Square in downtown Beirut, Lebanon's Daily Star reported.
Dozens of people have been injured in the two nights of rioting.
Protests are expected to continue, as some have drawn comparisons with the early demonstrations that broke out during the Egyptian revolution in February 2011, which ultimately led to the ousting of President Hosni Mubarak, who ruled Egypt for three decades.
Lebanon's government, long fractured by sectarian politics, has struggled for a year to select a president. The Parliament has extended its own grace period to rule without selecting a leader until 2017. Power outages are common in much of the country, and the inability to solve the garbage crisis seems to have exacerbated long simmering grievances with the government.
© Copyright IBTimes 2023. All rights reserved.