Lebanon Update: 'You Stink' Protests Carry On In Beirut After Clashes And Message From Prime Minister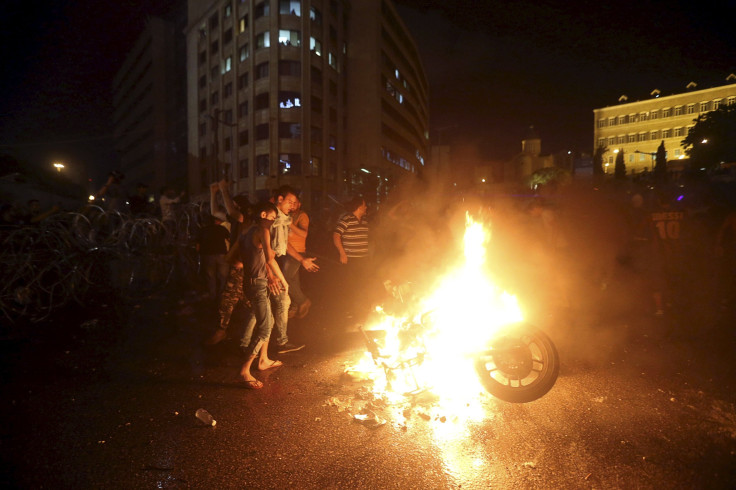 UPDATE 6:25 p.m. EDT: The Lebanon Daily Star reported rioting broke out Sunday night with at least 50 people injured as police chased rioters through the streets of Beirut. Chants of "The people want the downfall of the government," and "Revolution!" could be heard. The Star said a couple hundred protesters clashed with police across a barbed wire barrier and set fire to a police motorcycle. The Lebanese Red Cross said 53 people were taken to hospitals as police tried to break up the "You Stink" demonstration.
UPDATE 4:15 p.m. EDT: The Lebanese Red Cross said over 43 people were wounded in clashes between police and protesters on Sunday, the Daily Star reported. Police said that 30 officers were wounded in the clashes, though it was not clear whether there was overlap between the police and the Red Cross numbers.
UPDATE 2:30 p.m. EDT: Authorities fired tear gas at demonstrators Sunday, the second day of "You Stink" protests. The protest was marred by gas and water cannons on Saturday as well.
Original post:
Protestors in Lebanon demanded elections and a new regime in a second day of "You Stink" demonstrations in Beirut Sunday. Security forces unleashed tear gas and rubber bullets on demonstrators during Saturday's protest, prompting Prime Minister Tammam Salam to appeal to the public.
"I will not cover up for anyone," he said, the Washington Post reported. "I am ready to hear your demands." Salam threatened to resign, Reuters reported.
At least 75 demonstrators and 35 officers were injured Saturday, the Beirut English-language paper the Daily Star reported. Meanwhile, former Prime Minister Saad Hairiri expressed his support for his successor Sunday.
"We are compelled to remind [people] that this Cabinet's mission is to maintain stability, security and push forward state affairs until the yearlong presidential vacuum ends," Hariri said in a statement, the Star reported.
"Toppling the government means the fall of the last legal bastion and pushing Lebanon into the unknown," he added.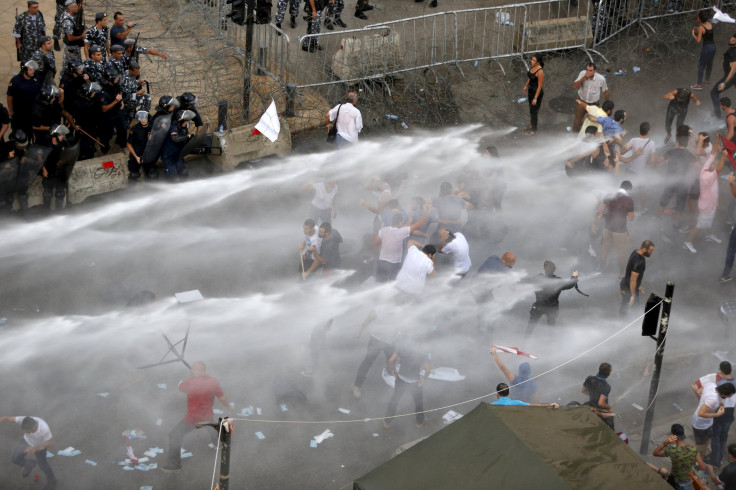 Protestors reportedly rejected Salam's message and continued to demand fresh elections and an end to endemic corruption.
The movement, sparked initially by a crisis surrounding the government's inability to collect and dispose of trash, has become a broader push for new elections. It pledged Sunday to demonstrate until the government dissolved, Al Jazeera America reported.
The massive crowds accusing the regime of corruption and dysfunction call to mind images of the Egyptian revolution of February 2011, which resulted in the ouster of President Hosni Mubarak and a series of political upheavals, which eventually resulted in the rule of Gen. Abdel Fattah el-Sisi.
Lebanon's dysfunctional government has struggled for a year to select a president, while the Parliament has extended its own grace period to rule without resolving the leadership question until 2017, the Post reported. Basic services and goods such as electricity are spotty in many areas, and the recent protests appear to be the explosion of grievances that have simmered for some time.
In addition, Lebanon is caught up in the power plays of Islamic State group and al Qaeda militants in Syria, whose forces have carried out attacks inside the tiny nation. Hezbollah, which controls the south of Lebanon, has involved the country in the Syrian conflict as well, supporting embattled President Bashar Assad.
© Copyright IBTimes 2023. All rights reserved.