Thousands Of Refugees Rush Over Border From Greece To Macedonia To Reach Western Europe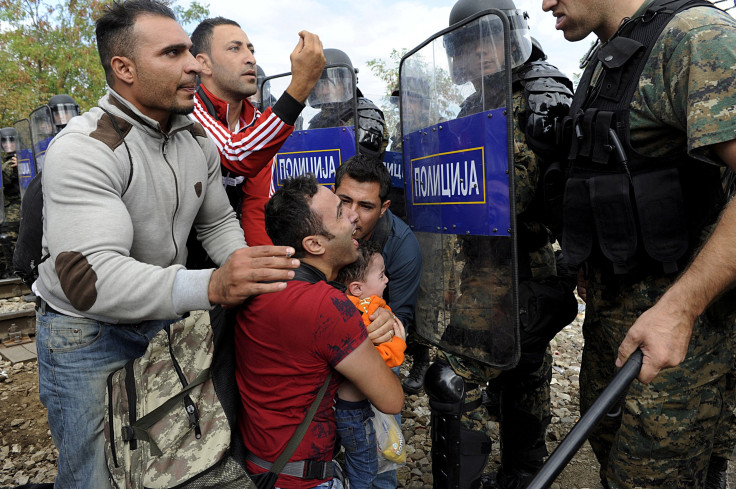 UPDATE 4:35 p.m. EDT: Police fired stun grenades Saturday at hundreds of refugees massed along the Greece-Macedonia border as Italian authorities sent rescue boats out to 18 vessels carrying some 3,000 refugees off the coast of Libya, Al Jazeera reported. Refugees, many escaping wars in Syria, Iraq and Africa, scattered into nearby fields as the stun grenades were fired in an attempt to keep them from crossing into Macedonia.
The U.N. refugee agency urged Macedonia to open its border as thousands spent a cold night under heavy rains. Macedonia said it cannot handle the influx of refugees, which have been pouring in at a rate of 2,000 a day. A state of emergency has been declared.
Original post:
Thousands of migrants charged across the border from Greece to Macedonia, rushing past armed security officials Saturday, according to the Associated Press. The move came a day after Macedonian border police used stun grenades and tear gas to push back the growing crowds.
Security officials had been summoned to the border region after the Macedonian government in Skopje declared a temporary state of emergency on both its southern border with Greece and its northern border with Serbia. More than 3,000 predominantly Syrian and Afghan refugees had congregated in the border region in an attempt to travel north to wealthier European Union countries they believe are more capable of taking in asylum seekers.
"It is a fact that we are facing an increased pressure from the influx of migrants attempting to cross the border," Ivo Kotevski, a representative of the Macedonian Ministry of Internal Affairs, told the New York Times. "But so far we have the situation under control, and there haven't been any major incidents or injuries."
Greek GDP Growth Over Time | FindTheData
While Greece is an EU country, its continuing financial woes and the high number of refugees coming across its borders from Africa, the Middle East and Asia to escape war and poverty have overwhelmed its crumbling refugee facilities and made gaining asylum very difficult there. Some of the people arriving are migrants, seeking a better life. Others are refugees, fleeing war zones, violence or oppressive economic conditions.
The first mission for many migrants attempting to make it to mainland Europe is to find what's known as the Schengen Area, which consists of 26 European countries that do not impose border controls or require travel documents. Greece is within that area, but, because it has no common border with any other nation inside the free-travel zone, migrants generally have to scramble across the borders of other countries that do not want them there and have strict immigration policies.

Migrants and refugees would ordinarily be able to fly without any restrictions from Greece to another nation in the Schengen Area, but most are unable to pay for the expensive flights.
The nearest EU country to Greece in the free-travel zone is Hungary. Once there, those seeking asylum would be able to freely cross Europe's borders in search of a nation that is willing to help them. But those in Greece are in a race against time as the Hungarian government is already in the process of erecting an anti-immigrant fence to keep people out.
© Copyright IBTimes 2023. All rights reserved.