Three Pakistanis Slain In 'Honor Killings' For Marriage Decisions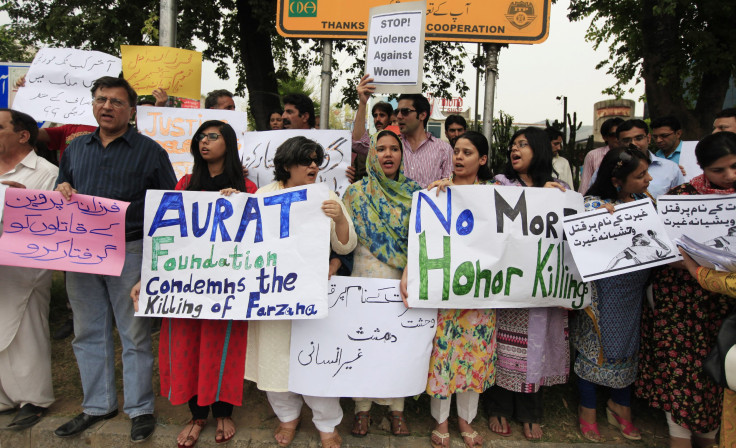 Three people were killed in Punjab, Pakistan, for their love lives during the weekend: a couple for marrying without familial consent and a young woman for refusing a marriage proposal, the Associated Press reported.
Muafia Bibi, 17, and her husband, Sajjad Ahmed, 30, were drugged and their throats were slit in Satrah on Friday night, allegedly by the girl's family, police said. Asghar Ali, the local police chief, said Bibi's parents and three other family members convinced the recently married couple to return to the family home by saying they approved of the marriage.
The couple was tied up in public, and Bibi's father "announced loudly that he was going to slit the throat of her and her husband," a witness said. The father reportedly told children to stay and "learn what would happen to them if they married someone of their own choice."
The offending family members turned themselves in and are currently in police custody.
Another Punjab woman was burned alive by a man Sunday when her family refused his proposal. The 20-year-old died in a hospital overnight.
The killings come little more than a week after a 20-year-old woman was gang-raped, strangled and hanged by three men in Punjab. In May, Farzana Parveen, a pregnant 25-year-old, was stoned to death by her father and family outside a courthouse in Lahore, Punjab's capital, for marrying without parental consent. Reports say police around the courthouse did not intervene. Parveen's husband said he killed his former wife to marry her.
The slayings are known as "honor killings" and are a widely accepted retribution for dealing with unapproved marriages in the region. The Human Rights Commission of Pakistan said 869 honor killings were reported in the country last year while the Aurat Foundation of Pakistan said there were more than 1,000. The United Nations says 5,000 women are killed worldwide in honor killings ever year.
© Copyright IBTimes 2023. All rights reserved.
FOLLOW MORE IBT NEWS ON THE BELOW CHANNELS