Another 'Honor Killing' In India: This One Even Features A Beheading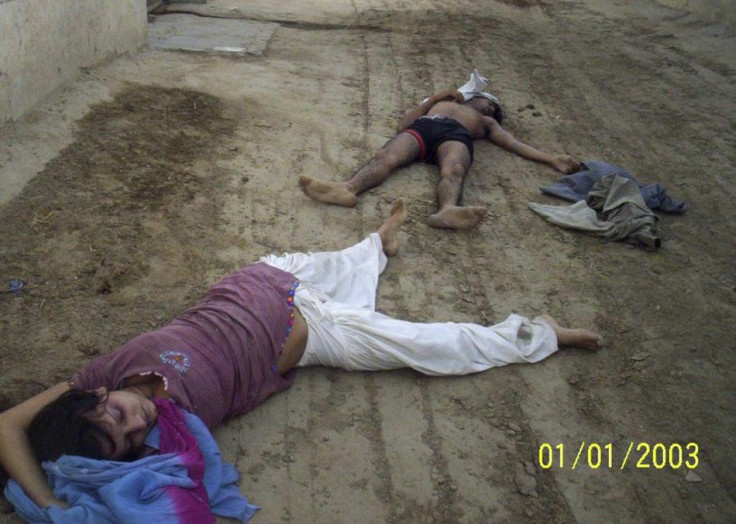 Police in Haryana, a state in northern India, have arrested four people in connection with the "honor killings" of a young couple who were planning to elope against their families' wishes. The 23-year-old husband-to-be was beaten and beheaded, while his 20-year-old bride-to-be was also murdered in the district of Rohtak on Wednesday. The killings reportedly occurred in public view.
The young woman's mother, father and brother were among the people detained by police, and authorities are searching for others who may have been involved in what amounted to a planned double execution.
The BBC identified the victims as college students Dharmender Barak and Nidhi Barak, who were both of the Jat community, and who had been in love for two years. "When Dharmender and Nidhi returned to the village on Wednesday, they were taken to Nidhi's home," police official Anil Kumar said, according to Indian Express. "They were both assaulted by her relatives. Nidhi's family first lynched her and then cremated her. Then they broke Dharmender's arms and legs and beheaded him." Another local police official told Press Trust of India it was a "cold-blooded murder."
The All-India Democratic Womens' Association expressed its anger, shock and anguish over the "barbaric case of honor killing" in Rohtak. AIDWA said in a statement that "such barbaric crimes continue unabated and [remind us] of [the] medieval period. Haryana alone has recorded dozens of honor killing incidents, but nothing has been done to curb such crimes against humanity." The Haryana state committee of Janawadi Mahila Samiti, an NGO devoted to human rights, condemned the killings as "a shame on the face of civil society". Also, the chairwoman of the National Commission for Women, Mamta Sharma, called for the arrest and prosecution of all those involved in the "horrific incident."
But according to NDTV, the girl's father said, "I have no regrets. I'll do it again, if I have to." The girl's aunt chimed in: "What happened was wrong, but if a father took such a big step there must be a reason."
Zubair Ahmed, a BBC correspondent in Garnauthi village in Rohtak, reported that the young girl was quickly cremated after her death. "Men looked grim but remorseless," Ahmed wrote. "They said they had no option but to kill the couple because they had brought disrepute to the families and village. Some of those attending the woman's cremation said they had had to kill the two to teach others a lesson. We cannot allow marriage in the same community, they said."
Honor killings, which are typically the result of two young people marrying in violation of their parents' wishes and often across caste barriers, are widespread in India, among all ethnic groups and religions, but especially so in rural regions of the north and northwest. The actual number of such murders is unknown, since many are disguised as accidental deaths or suicides. One study suggested that 900 such murders occur annually in the northern states of Haryana, Punjab and Uttar Pradesh alone – but that figure is likely a gross underestimation.
In remote rural areas of northern and northwestern India, in the absence of conventional law and order, rules and punishment are often handed down by "khap panchayats," councils of village elders who exercise supreme authority, particularly over issues like sex and marriage. Reports of honor killings frequently appear in Indian media.
In 2011, India's Supreme Court has already warned that those who kill for "honor" should face the death penalty. "It is time to stamp out these barbaric, feudal practices which are a slur on our nation," the court said.
Honor killings are also widely prevalent in Pakistan, Turkey and elsewhere.
© Copyright IBTimes 2022. All rights reserved.
FOLLOW MORE IBT NEWS ON THE BELOW CHANNELS