Throwback Uniforms for the Notre Dame - Michigan 2011 Game [Photo]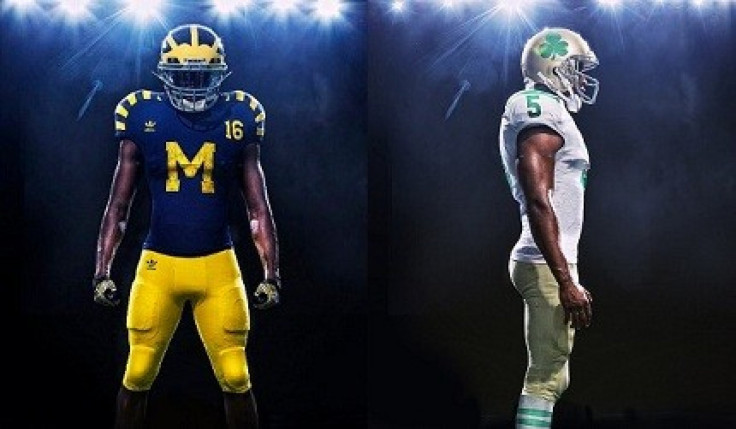 Historic Michigan Stadium will have its first night game ever when Michigan face Notre Dame on Saturday.
In honor of the 84-year old stadium, commonly referred to as The Big House, the two famed programs will wear throwback uniforms.
Unlike Maryland's hideous disaster last week, both teams have Adidas uniforms that will be pleasing to the eye.
Michigan will have numbers on their helmets and an M on the front of their jersey where their number usually stands. There will be a small number on the front of the jersey as well, along with stripes on the shoulders, while still in their traditional blue and maize colors.
Notre Dame will wear white jerseys that have green numbers and letters, and two green stripes on the shoulders. The socks will be white, and have two green stripes. For the first time since the early 1960s, a large shamrock logo will be on the gold helmets.
The game between the two storied programs takes place in Ann Arbor, Michigan, at 8:00 pm eastern time and airs on ESPN.
© Copyright IBTimes 2023. All rights reserved.