Tiger Woods Press Conference (June 28, 2011; FULL TEXT)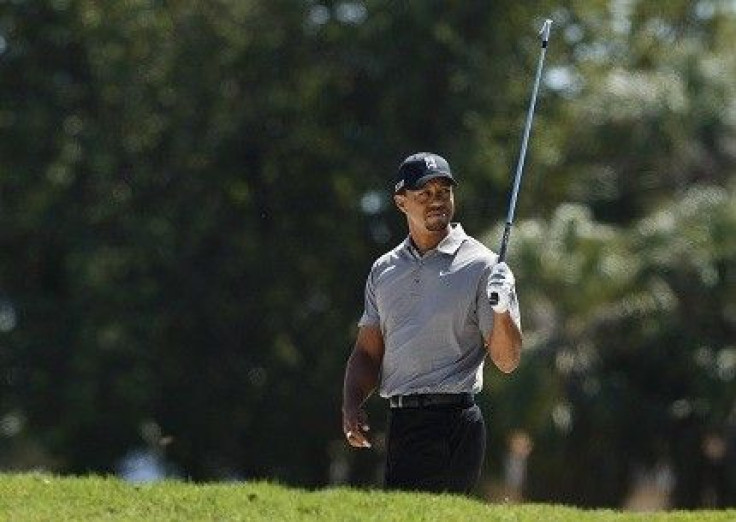 Tiger Woods has been out indefinitely due to two leg injuries.
After a press conference on Monday, Woods explained that he is actually out... indefinitely.
Here is the text from his press conference, according to www.pgatour.com.
We'd like to welcome Tiger Woods to the interview room here at the AT&T National. Welcome, Tiger. If you would get us started maybe talking about how you're feeling and then your plans for the week.
TIGER WOODS: Well, feeling good. Just had lunch, so I feel good. No, we're excited about this week. This is our fifth year hosting this event with AT&T National, second year here at Aronimink. We're excited about the week.
This week is actually a big week for us because we just launched a new learning center campus here in Philly, the KIPP DuBois School, so we're very excited about that. I know we're only here for two years, so it's exciting for us to leave a campus to leave behind here.
Our foundation obviously is a big week for us but also for the Boys & Girls Club as well as Jon Bon Jovi's foundation. It's a big week for all of us, and we're excited now the weather is cleared up, we're going to have a great week here. Obviously I'm disappointed I'm not playing. I want to be out there playing, but just not quite ready yet.
Everything is progressing. Both the knee and the Achilles are getting better. I haven't hit any golf balls yet. I have putted, so I guess that's not really hitting golf balls, is it.
Probably in retrospect it was a borderline call whether I should have played THE PLAYERS. I played the call on that and played and wasn't quite 100 percent. Unfortunately I hurt myself there. Now this time around, it's different. I'm going at it differently. I'm setting no timetable, which is very different for me. Usually I set a timetable when I want to come back and play when I've had injuries before.
This one is different. I'm just going to learn my lesson from what I did at THE PLAYERS and apply it this time and come back when I'm 100 percent.
I don't know when that is going to be. That's kind of the frustrating thing about it right now is I don't know. I am getting stronger, starting to get more explosive again, and going to eventually start practicing and playing again, then ultimately come out here and play against these guys.
Q. Can you make a decision now on the British?
TIGER WOODS: As I said, I don't know. I'm just playing it by ear right now. There's no timetable. You know, as I said, that's hard for me. I've always been very goal-oriented about when I'm going to play, how I'm going to peak, how I'm going to get ready, how my practice schedule is going to be, and I'm not doing that this time. As I said, in retrospect I came back probably too early at THE PLAYERS, and it was borderline whether I should play or not. I've played hurt before. I've played through injuries, I've played hurt, I've played in pain. That's just part of playing sports. And I felt that was the same thing.
Unfortunately I pushed it too hard and hurt myself, and this time around I'm not going to do that again.
Q. Is it because you're smarter or your body just won't let you?
TIGER WOODS: No, I'm being smarter this time. All the years of playing when my knee wasn't very good and playing through it, you know, unfortunately I broke my leg and still played. That's not exactly smart. I'm going to do it differently this time. I am going to come back when I'm 100 percent ready, which is different for me.
Q. I assume the two injuries are not healing at exactly the same pace. Is it the knee that's giving you more trouble or is it the Achilles?
TIGER WOODS: Well, it starts with the knee. The knee leads to the Achilles. They both are healing, which is good. But I still need to get both of them strengthened and eventually explosive again. You know, that's kind of what I'm working on. Unfortunately I've been through this process before in '08 and beginning in '09, kind of going through that whole process of strengthening and eventually getting explosive again, then coming back and playing. So I'm using that experience this time around. Only difference is there's no timetable. Then I was shooting for coming back at San Diego, so I always had a goal in mind once I had the operation back in '08 that that was the goal. This time it's open-ended. I'm using a different approach and learning my lesson this time.
Q. Is there a way to know once you start hitting balls two weeks out that you can be competitive, or is that to be determined, as well?
TIGER WOODS: You know, I don't know. I don't know. You know, I know that it's going to be -- I know the progression what it's going to be, just like it was in '08. It's going to be putting, then chipping, then pitching, eventually getting to wedges. We had a deal in '08 where end of '08, beginning of '09, each week I was able to progress either two or three clubs in the bag, and that's what I did in '08. It doesn't mean I'm going to do that now, but it's also dependent on how it all feels on a daily basis.
When I went through that injury then and the rehab schedule on it, I had to -- there are certain times when, yeah, I was only able to progress one club, and there are times when I went four or five clubs, started feeling better and better and better, and then it was eventually free reign, just go play, play as many holes as you want; go do it. I need to get to that point again.
Q. You said you set no timetable for the return. I'm just curious what your doctors have told you in terms of a timetable when you'll be healthy again. And then secondly, how have these injuries kind of related or compounded from the previous injuries?
TIGER WOODS: Well, the doctors are -- it depends on how my body heals. It's up to them and obviously my body and how it recovers. Obviously we're trying to push it every day and challenge my leg every day and see how it responds, and if it gets better, then we move progressively a bit further, and if it doesn't, then we either stay there or take a step back. It's just a progression. That's obviously how rehab goes.
As far as compounding it, I've played with obviously a leg that was surgically operated on in '94, and I've been through this, what, four times now. Yeah, obviously it's just wear and tear all the time.
Q. Is Jack's record starting to look more unattainable or more iconic like DiMaggio's hitting streak, something that looks like it's getting farther away?
TIGER WOODS: Absolutely not. He won when he was 46, right? I've still got some time. And on top of that, we're about the same pace, I believe, years on TOUR and majors won. So I feel pretty confident of what my future holds and very excited about it. I'm excited about coming out here and being ready to go instead of trying to kind of patch it, which I've been for a while.
Q. Are you still using the walking boot and crutches?
TIGER WOODS: No, I'm walking freely and no boot.
Q. What did you think of Rory at Congressional?
TIGER WOODS: That was pretty good, wasn't it? That was some seriously good playing.
As I was saying out there earlier, it was cool to see that he had softer conditions and he was able to go low but also was able to continue pushing it, and that's what's fun when you have a lead is to keep building on it and keep pushing. Those conditions weren't such where pars were going to build leads and an occasional birdie. You had to go out there and be aggressive and go get the birdies because everyone else was; everyone else was making three, four, five, six birdies a day, and he just didn't make any bogeys. That was very impressive playing. To do that at a U.S. Open, to be that aggressive the entire time, that was cool to watch.
Q. Prior to the injury we were talking about you implementing new swing changes and you kept saying you were close. How close were you prior to the injury, and how much or how little has this injury set you back in terms of implementing?
TIGER WOODS: Well, I was close to putting it all together, but I didn't have the reps. That's going on now. I haven't had any reps. The only thing that I've been able to do is work on it mentally, which as people have already proven and scientifically been proven that's how you get better anyways, but then I also need the physical reps. Sean and I, we've worked on a game plan of what I need to do when I come back and a progression I need to make, and I just can't wait to be able to do it, to try and actually implement all those and put it together and then come out here and do it. That's the fun part. I just need to get to that point.
Q. Obviously in our sports society people are forgotten pretty quickly and the next guy is going to be the next great thing. I'm sure you heard that talk about Rory a couple weeks ago. It was almost a sentiment that the baton has been passed and you were shuffled aside a little bit. Did you kind of feel that vibe at all and what's your reaction to that?
TIGER WOODS: Yeah, I'm 35, I'm not 65. I've still got some years ahead of me. Golf is unlike any other sport. I mean, Watson was, what, 59 years old when he almost won? We can play for a very long time. And given that we have the health to do it, guys have succeeded for a very long time.
That's what I would like to do is play this game for as long as I want to. I feel like my best years are still ahead of me working with Sean and some of the things that we're trying to do. I just need to get out there and practice and then implement it and put it all together and come out here.
Q. (No microphone.)
TIGER WOODS: No, it's not disrespectful at all. I think it's complimentary that I've had a pretty good career so far. What have I been out here, 14, 15 years now, and I've had my success. It's awfully complimentary that people look at it that way. Is it motivating? Absolutely not. My motivation right now is to get back to where I can play the way I know I can play and feeling good again because I haven't felt good in a number of years. I'm looking forward to that.
Q. Just wanted to make sure the only golf balls you've hit since THE PLAYERS is with the putter.
TIGER WOODS: That's it.
Q. And how are you strengthening the knee right now and how are they testing it?
TIGER WOODS: We're in the gym every day, most of the time two times, sometimes three times a day, and it's the whole chain. It's not just the leg, it's the whole body. Got to keep everything going. And obviously soft tissue, getting that worked on. So it's been arduous, but then again, I've done this before.
We're testing it every day to see what it feels like and see what -- as I explained to you earlier, you try and push it as far as the leg will go and then if it doesn't feel any good then you bring it back. And each day it's gotten better. We haven't had any setbacks, which has been good, but still, it's not as explosive or as strong as I'd like to be.
Q. Are you sick of watching cartoons yet?
TIGER WOODS: You know what's actually really tough to watch now all the time is Dora. That song is just brutal. Yeah, the kids are actually now watching other cartoons, which is great, so I don't have to listen to Backpack all the time.
Q. The terrain at Royal St. Georges is bumpy. Is that any factor at all?
TIGER WOODS: No, it's not about that. It's whether I can get strong enough and explosive enough to do what I want to do.
Q. Have you and your doctors discussed the potential of further surgeries?
TIGER WOODS: No, there's no surgery required at all.
Q. The subject of knee replacement --
TIGER WOODS: No, there's been no discussion of surgery at all.
Q. Kind of hypothetical, but if you had not played THE PLAYERS Championship, do you think you would have been playing now?
TIGER WOODS: Yes.
Q. And what was it about kind of the stubborn side of you yielding to --
TIGER WOODS: It was a big event, and on top of that it was a borderline call, 50/50. I could play or not play, and as I said before, I've played in pain before and I've played injured, and I've played through it, and I've been very successful at it. There's been a number of years where I've been hurt more than people could possibly understand, and I've played and I've won. I just felt that it was good enough to give it a go, and I did, and I hurt myself.
Q. I guess what I meant, though, is what was it about the way either you got hurt or the way you left or the fact you couldn't finish that caused you and the stubborn side of you to give way to a more practical, sensible approach?
TIGER WOODS: Well, I think I've pushed it enough times throughout the years, and I keep kind of resetting myself, setting myself back. You know, I had a number of years there in '01 I was struggling pretty bad and I had surgery in '02. Obviously I blew out my ACL in '07, complete rupture. I had a great British Open on, played really well, won tournaments. I don't know how many tournaments I won, whatever number, that year, then won four tournaments the following year with no ACL, cartilage damage, and then eventually I broke a leg.
So I've played through that before, and I felt this wasn't anywhere near that. But I hurt myself again. It's time to actually have a different approach. It's time.
Q. Your friend Mark O'Meara recently said that he thought Rory was a better player at the same age than you were. Other people said Rory is now a guy that can catch Jack Nicklaus. I'm wondering, when you hear that, what do you think when a guy like O'Meara who knows you really well feels that? Do you agree, disagree? Do you want to get a club and prove that's not true?
TIGER WOODS: No, I totally agree with what Mark said. In comparison to -- well, in '97 when I was, what, 21, granted, I had some success, but I didn't like my golf swing. That's why I changed it. I felt like at the same age, yeah, his swing is definitely better than mine was at the same age. But in '99 my swing came together and I had a pretty good next two years. That's kind of where at the same age comparatively, yeah, his swing is better. He needs to obviously continue working on it and continue getting better. And he's still young; Rory is 22. So it's fun to see obviously someone who's of that age play the way he did and handle himself the way he did after Augusta and apply it.
Hey, we've all fallen, we've all made mistakes and played poorly and lost golf tournaments, and I did it in '96 at Quad Cities. I had the lead and just absolutely blew up on Sunday, learned my lesson and came back and won golf tournaments after that, that same year.
It's fun to see someone do that. It's fun to see someone apply what they've learned and succeed while doing it.
Q. When you do your workouts every day, what is it that stops the workout? Is it fatigue or pain, or do you have pain, and if so, how much?
TIGER WOODS: No, I think it's time. We try and limit our sessions. They're I'd say an hour tops and sometimes as short as only 20, 30 minutes. But they're intense, and the intensity determines how many sessions we do in a day and what we do the following day. Obviously we're trying to push it to where it feels kind of right on the line but not go over the line and see how I recover the following day.
The good news and the bad news is that I've done this before, so I know where that line is, and I can tell them, hey, we need to go more, I can handle more, and there are certain times when, you know what, I can't, I really can't, we've got to shut it down right now, and we back off. So that's kind of where I'm at.
Q. Do you have a cutoff point where you feel you need to be ready, practicing and ready for Royal St. Georges? Do you have that set in your mind?
TIGER WOODS: No, not at all.
Q. Do you know when you would make that decision? Would you venture all the way over there or would you make that decision --
TIGER WOODS: I wouldn't go over there just to show up. I'd go over there to win the golf tournament, so I need to obviously get my body ready so I can practice and eventually play and apply.
Q. Just stepping away and not doing the U.S. Open, and if it comes to the point where you don't do the British, how difficult is that? Is that a line -- you talk about your patience and trying to do it right. Is that a real struggle that you have as much as you cherish these majors? Kind of talk about that.
TIGER WOODS: Yeah, you know what, unfortunately as I said earlier, I've been through this before. I've missed major championships before. I missed two at the end of '08. So missing the U.S. Open, yeah, it was really tough because it was on a golf course that I knew and I knew how to play. Obviously I've won on that site before, too, so that part was frustrating, and the fact that it was our national championship. As an American that's a big event, that's a big deal, and I've always loved playing USGA events ever since I was 14 years old.
Yeah, it was frustrating at the time, but it's one of those things, as I said, I've got to learn from what I did at THE PLAYERS and do it right and not come back when I'm not ready to. There's not going to be a 50/50 call this time. I'm going to come back when I'm ready.
Q. (No microphone.)
TIGER WOODS: I would be very surprised. I'd be very surprised because I'm progressing. If I had knee surgery and I was out for a while, then it's a totally different deal. I haven't gone under the knife, I'm just strengthening and trying to get this thing stronger and explosive again, so that's a totally different deal. This is not like what it was my previous operations because I didn't have one.
NELSON SILVERIO: Tiger Woods, thank you.
© Copyright IBTimes 2023. All rights reserved.