Tim Tebow Girlfriend: Virgin Unfazed by Scantily Clad Women at Super Bowl Party [VIDEO]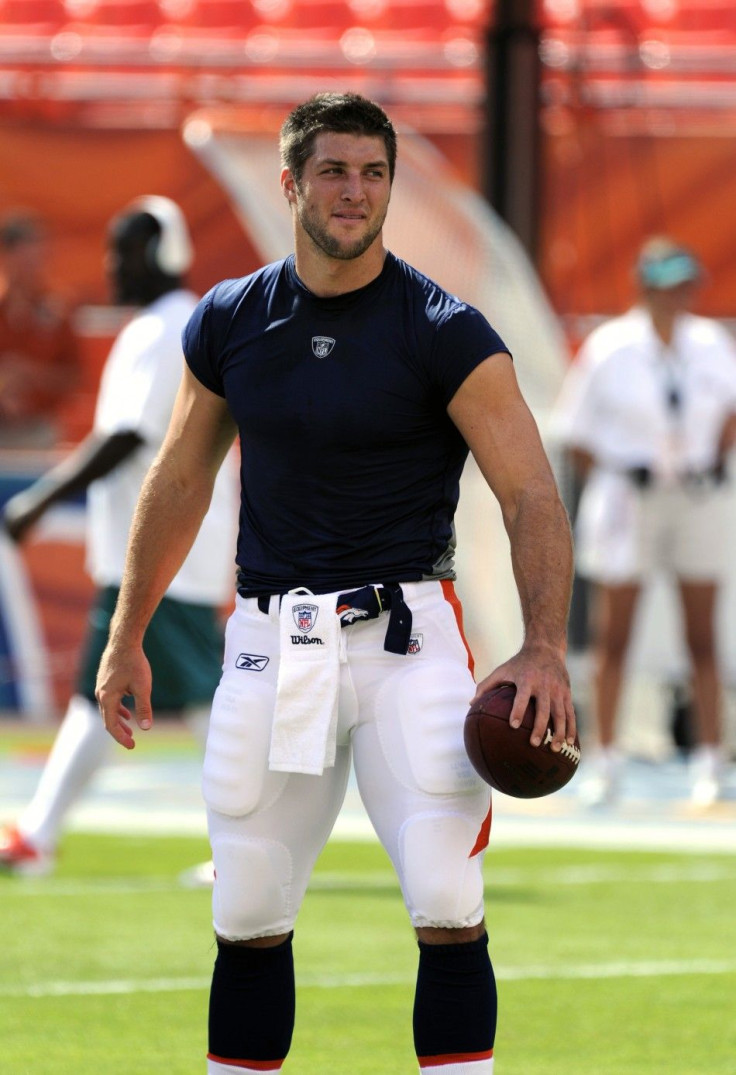 Denver Broncos quarterback Tim Tebow may not have a girlfriend as yet, but it is not every woman who catches his fancy. The 24-year-old virgin attended a Super Bowl pre-party in Indianapolis this week, where he was seen surrounded by scantily clad women but paid no attention to them whatsoever.
A video captured by TMZ, shows the perfectly toned girls dressed in black booty shorts and mesh stocking. But Tebow didn't really pay them much attention. Instead, he was chilling with his friends on the balcony at the Bud Light Hotel party and ended up signing a hat for a fan. (Watch the TMZ video below).
Tebow, a highly-sought after bachelor, has been photographed with a bevvy of beauties throughout the years. And of course, Internet rumors have labeled many of them as his girlfriend. There were rumors that Tebow was dating Erin Drewes, a brunette with whom he was photographed. But reports are that Drewes was a student at the University of Florida when Tebow was a player for the Florida Gators. Drewes is one of the many women Tebow has been rumored to have dated because he was seen smiling in photos with the usually gorgeous girls.
Then there were those rumors of Tebow dating Olympic skier Lindsey Vonn, which was quickly shot down by both parties. Tebow has said Vonn is a family friend he met at the ESPYs.
All those rumors have left many asking who is Tim Tebow's girlfriend.
But those who aren't asking who Tebow's girlfriend is are busy trying to either get themselves or a sibling a date with the NFL player. Do you remember those countless YouTube videos of Christian girls begging Tebow to date them or their sister, or to just join them at their proms?
Even singer Katy Perry's mother reportedly wants her daughter to date God's quarterback. The Daily Mail has reported that that Perry's mom believes Tebow is the perfect guy for her daughter. A source told the Web site that Perry's mom feels Tebow is handsome, charming, intelligent and above all, a good Christian.
But when it comes to a love life, Tebow said he is just too busy with life and sports. And regardless of how beautiful or scantily clad a woman may be, it seems as if Tebow won't be playing with any hearts any time soon.
The 6-feet-3-inches tall player told USA Today that he is careful about leading girls on.
I always want to be very careful about that,'' Tebow said. That is one thing that's a little frustrating.
Watch the TMZ video below:
Related Article: Tim Tebow Girlfriend: Is Quarterback Dating Former Playmate Jenny McCarthy?
© Copyright IBTimes 2023. All rights reserved.