Tim Tebow Impresses, Jets Lose Game and Swagger to Patriots: NFL Week 5 Results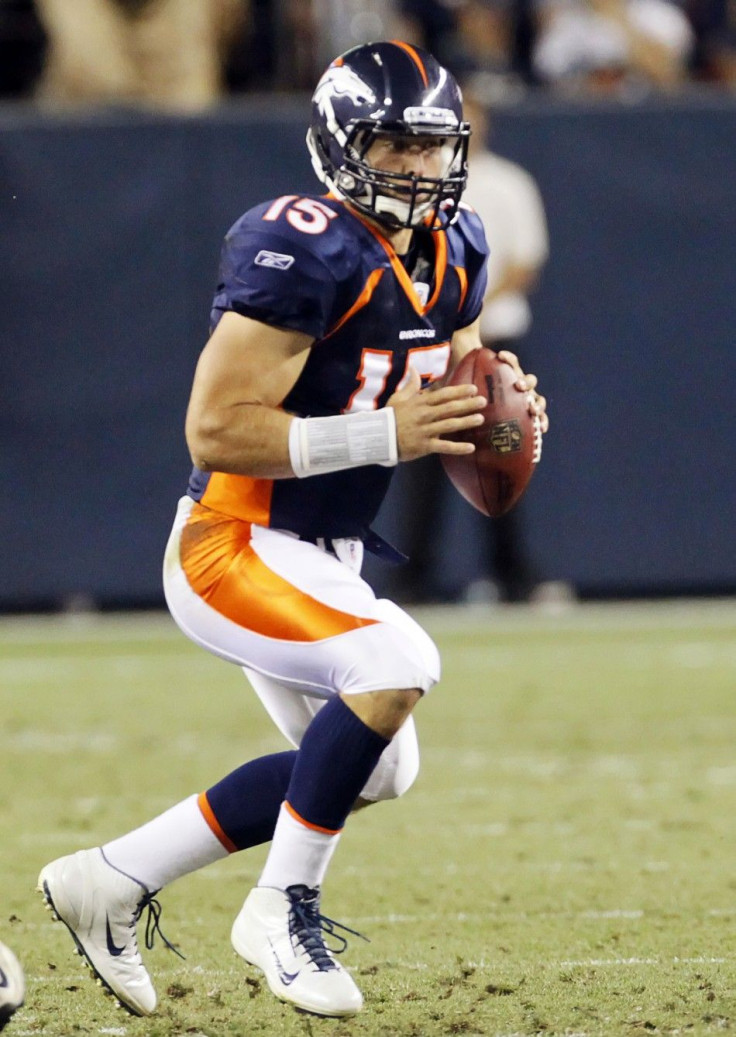 The Tim Tebow era begins in Denver, the Jets lose to the Patriots and seemingly have lost all of their swagger, the Eagles' Dream Season may already be doomed, and more in the NFL Week 5 Results Recap.
Tim Tebow Era Begins in Denver
After weeks of protesting by Broncos fans -- including purchasing billboards -- Tim Tebow finally got a chance to run the offense and it looks like he'll be the starter going forward. John Fox refused to name a starter after the team's loss, but Tebow provided a noticeable spark for a team that had given up on Kyle Orton.
Tebow came into the game in the third quarter and almost put together a fantastic comeback performance before falling just short to the Chargers, 29-24. Tebow ran for a touchdown, passed for a touchdown and generally looked pretty good on Sunday.
Tim Tebow sparked the team today, Fox told reporters after the game. (But) we haven't had a chance to watch the tape, we haven't had a chance to watch the film, we haven't had a chance to visit as a staff.
The Broncos are 1-4 and clearly not going to the playoffs with Orton, so at this point there isn't much to lose for Fox to start Tebow going forward. He's extremely popular throughout the country and could create some much needed buzz for the slumping team. He's not quite there mechanics wise and needs to continue to improve to be a bona fide NFL starter, but he played well enough on Sunday to start against the Dolphins in Week 7 after the team's bye next week.
Jets Have Completely Lost Their Swagger
With all of the parity in the NFL, quality teams consistently drop off and miss the playoffs and right now it's looking like the Jets might be one of those teams. After making it to their second consecutive AFC Championship game last season, Rex Ryan yet again promised a Super Bowl.
But a bad off-season and a few key injuries have the Jets looking like a team that will be watching the playoffs from their homes, if something doesn't change soon. The Ground and Pound game strategy that served the team so well the last two seasons simply isn't working with Shonn Greene, Mark Sanchez isn't a good enough quarterback to sling the ball around 40-50 times a game, and that Rex Ryan vaunted defense is miserable right now.
The Jets just don't seem to have what made them so special the last few years and have dug themselves into quite the hole at 2-3. The Patriots and Bills are both 4-1 and the Jets have to put together quite the stretch of wins to have a chance to make the playoffs.
The schedule isn't exactly easy, though. The Jets take on the always pesky Dolphins on Monday night, and then take on the 4-1 Chargers. After a bye week in Week 8, the Jets play the Bills twice, Patriots, Broncos, Redskins, Chiefs, Eagles, and Giants.
Not exactly a murder's row, but the Jets need to go at least 9-3 through that stretch to have any shot at the playoffs.
Season Over for the Eagles?
It's probably a bit early to call the Eagles season over, but it's certainly not looking good for Michael Vick and the 1-4 Eagles. The Eagles came into the season as the self-anointed Dream Team, but this season's been anything but a dream for the Eagles and their fans.
The Eagles now sit in last place in the NFC East and it could be only a matter of time before the pressure to dump Andy Reid intensified (More on that below). The Eagles just continue to make stupid mistakes on the field, including a few costly ones by Vick, and see their season quickly turning into a nightmare.
There's an incredible amount of talent on this team, but as cliché as it sounds - the chemistry might not be there. Something is just off about this team and no particular solution in sight. The Eagles get the Redskins next week in what is absolutely a must-win game for them. A loss would drop the Eagles to 1-5 and 0-2 in the division, which would essentially seal their fate.
Quick Hitters:
Atlanta Falcons: The Falcons looked fantastic during the first half of Sunday night's game against the Packers, but somehow it all collapsed in the second half. Similar to the Jets, this team doesn't look like it will be returning to the playoffs this year. Matty Ice Ryan hasn't been able to pull out the close victories and now the Falcons sit at 2-3 and two games behind first place New Orleans.
New York Giants: It came down to a freak play that bounced off of Victor Cruz's hands into a Seahawks defender that brought it back to the house for a touchdown, but the Giants never should have been in that position in the first place. For a team that considers itself a playoff contender, there's no way it should be losing to a Charlie Whitehurst-led Seattle Seahawks team - at home. Too much inconsistency right now for this team to make the playoffs, but luckily the rest of the division is a mess right now.
San Francisco 49ers: The 49ers have floated completely under the radar this season, but that's going to change after the team gave Tampa Bay an epic 48-3 beat down on Sunday. The 49ers -- after starting last year 0-5 and firing coach Mike Singletary -- are 4-1 under new coach Jim Harbaugh and are the clear team to beat in the NFC West. Not many gave the team a chance with Alex Smith still the team's starting quarterback, but the team is significantly better under Harbaugh and keep pulling off tough victories.
Coaching Hot Seat Barometer
1) Tony Sparano, Miami Dolphins
The Dolphins, currently at 0-4 and in the bottom of the AFC East standings, get two weeks to prepare for a desperate and floundering Jets team. The Monday night game isn't a must win for Sparano to keep his job, but it's not looking too good right now for the Dolphins' head coach.
2) Andy Reid, Philadelphia Eagles
Reid has been with the Eagles for 13 years -- so he'll get a lot of leeway -- but the Eagles loss on Sunday to drop the team to 1-4 will undoubtedly ratchet up some of the pressure on Reid. For a team that came in as the Dream Team and with Super Bowl aspirations, the season is quickly spiraling out of control. Reid could face the same outcome as former Red Sox manager Terry Francona if he can't turn it around soon.
3) Jim Caldwell, Indianapolis Colts
The Colts found a new incredible way to lose on Sunday giving Chiefs coach Todd Haley a bit more security, while adding more pressure to Caldwell. No one expected the Colts to be great without Peyton Manning, but the Colts have been flat out awful in the majority of their games.
Talty's Top 10
1) Green Bay Packers (5-0) Last week's rank: No. 1
Struggled a bit in the first half, but absolutely dominated Falcons to end the game.
2) Baltimore Ravens (3-1) Last week's rank: No. 2
Bye week allows team to get healthy for Texans next week.
3) Detroit Lions (4-0) Last week's rank: No. 3
Big-time showdown against NFC North rival Chicago on Monday night.
4) New England Patriots (4-1) Last week's rank: No. 4
Neutralized the Jets to shut up Rex Ryan and the rest of the bravado Jets
5) New Orleans Saints (4-1) Last week's rank: No. 6
Was closer than expected against Panthers, but a win is a win.
6) Buffalo Bills (4-1) Last week's rank: No. 10
Might be something very special brewing in Buffalo
7) San Diego Chargers (4-1) Last week's rank: No. 7
Not playing particularly great, but hard to fault a 4-1 team.
8) San Francisco (4-1) Last week's rank: NR
Absolutely throttled the Bucs. Provided most surprising outcome of the weekend.
9) Washington Redskins (3-1) Last week's rank: No. 8
Chris Cooley made the most noise during the Redskins' bye week.
10) Oakland Raiders (3-2) Last week's rank: NR
Won an emotional game against the Texans. Al Davis would be proud.
Want to reach this writer? You can email John Talty at j.talty@ibtimes.com or follow him on Twitter at @jtalty.
© Copyright IBTimes 2023. All rights reserved.